Update: macOS 13.1 brings the Locations feature back to macOS Ventura, so you can ignore this blog post. To use locations, open the Network section of System Settings, then tap the ellipsis with the down arrow at the bottom of the window: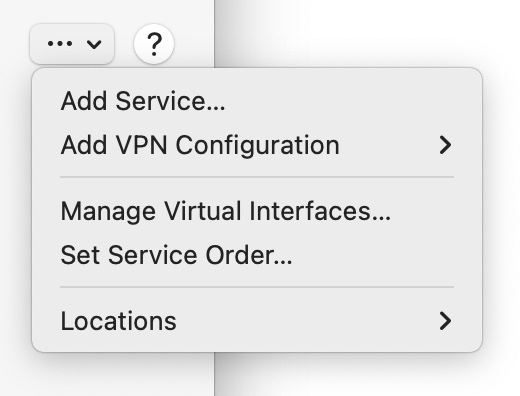 While this is still a bit hidden, it's much more usable than having to visit Terminal. I don't know why they vanished, but I'm glad Locations have returned from their brief hiatus.
This weekend, I finally migrated my 2019 5K iMac from Mojave to Ventura. There were many reasons for remaining on Mojave, starting with the fact that I liked the OS and it worked very well for me. But I also had a couple 32-bit apps I relied on, as well as a number of 32-bit games I enjoyed playing now and then. As time went on, though, there were more and more current apps that I couldn't update to the latest versions, as they all required something newer than Mojave.
(I wasn't a complete macOS luddite—my 14" MacBook Pro runs Ventura, and that's what I use when supporting Many Tricks customers.)
After the update, I remembered one of the bugaboos about Ventura: Apple, in their infinite wisdom, removed the Locations feature from the Network System Settings panel.