Jan 14 2022: Version 2.5 is out, with a bug fix and a new check for updates button on the help panel. Download the macro, or get the update by manually running the Update check macro within the 2.4 release.
Jan 14 2022: Version 2.4 is out, with an optional "no text" input dialog, a default mode to search a favorite site without a shortcut, and faster processing of search terms.
Jan 9 2022: Version 2.3 is out, with a new download verification feature (which will be useful starting with the next update), a much simpler update checker, and some minor bug fixes.
Jan 4 2022: Version 2.2 is out, with a fix for an annoying bug I introduced in the update checking code that could cause the macro to quit after being invoked. Sorry!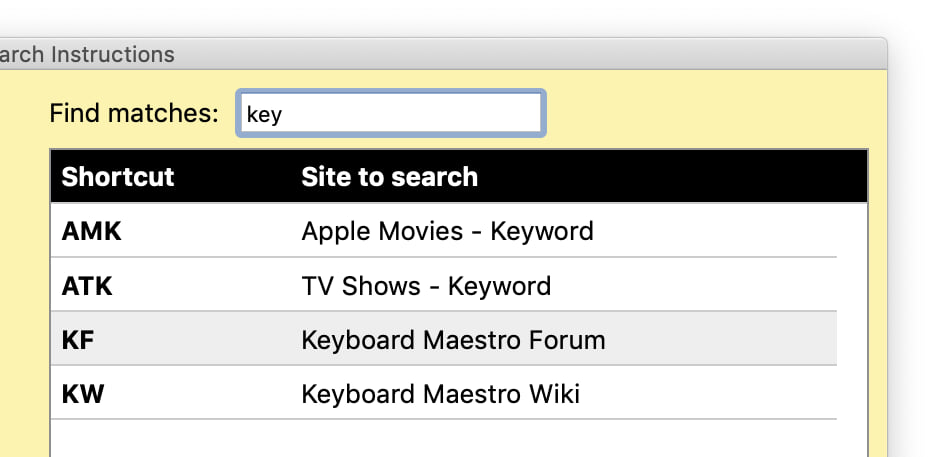 Jan 2 2022: Version 2.1 is out. The most-obvious new feature is shown at right—a live-filter option for the list of shortcuts in help.
But there's lots more—check out the release notes to see the full list, including the newly-added shortcuts.
A week or so ago, I published the first version of Web Search via Shortcuts, my Keyboard Maestro macro that lets you, well, search the web from anywhere via shortcuts—you can type rob macros, for instance, to search this site for entries related to macros.
I was very happy with how the macro worked, but behind the scenes, it wasn't all that good. What started as a small project (make it easier for others to customize the list) turned into a near-total rewrite. So…introducing Web Search via Shortcuts, version 2.0: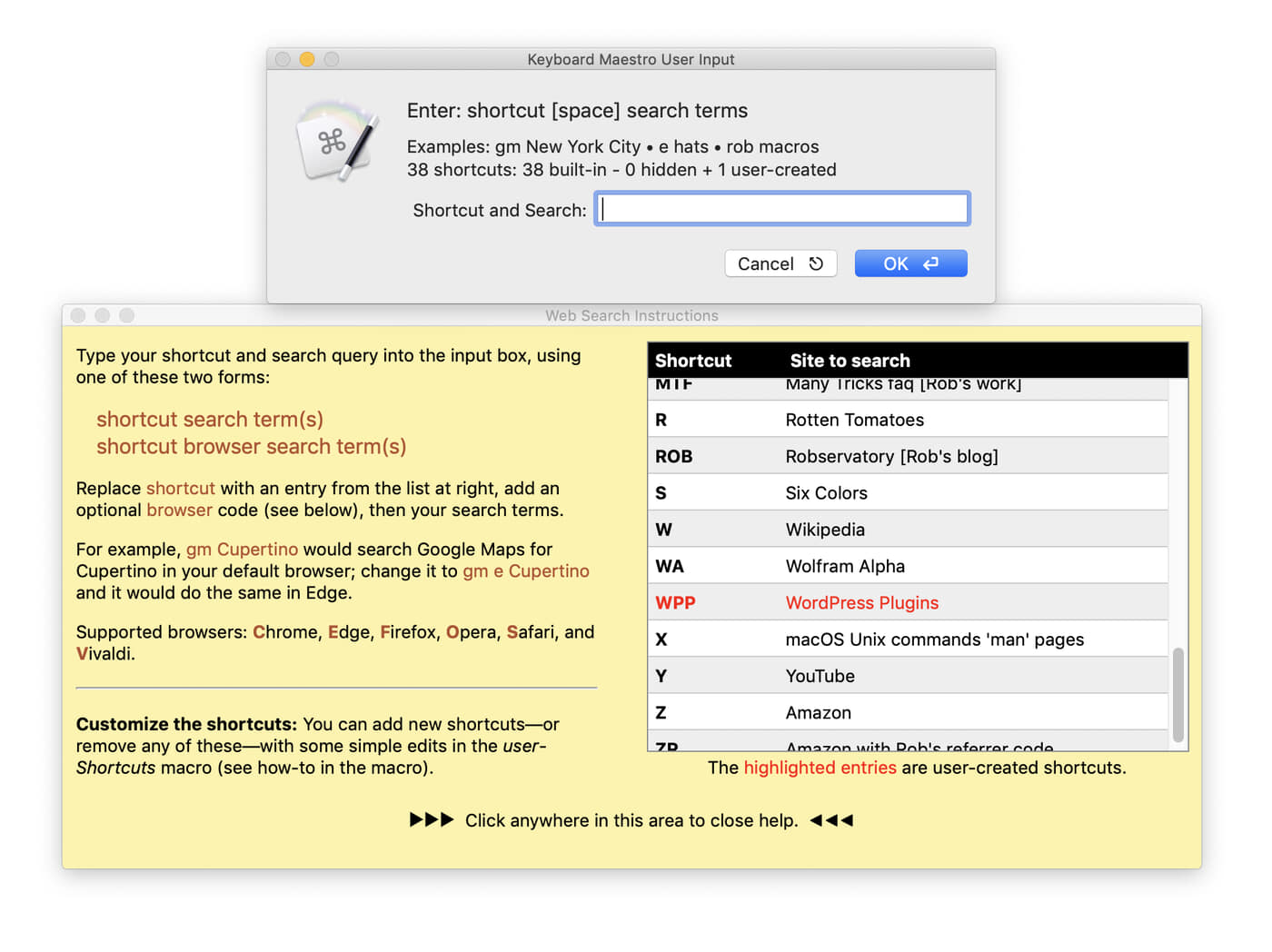 If you need more general information on how the macro works, please refer to the original post; there's a lot there I'm not repeating here.

This release has a slew of changes, as covered in the release notes.
Beyond the customizability (and the structural changes that made it possible), there's a new "start here" macro with lots of details. And in the user-Shortcuts macro, where you'll do your customization, there's a how-to for each type of customization you may want to do.
The duplicate shortcut finding macro is so fast now that it's on by default, so the macro will let you know if you accidentally duplicate any of your shortcuts: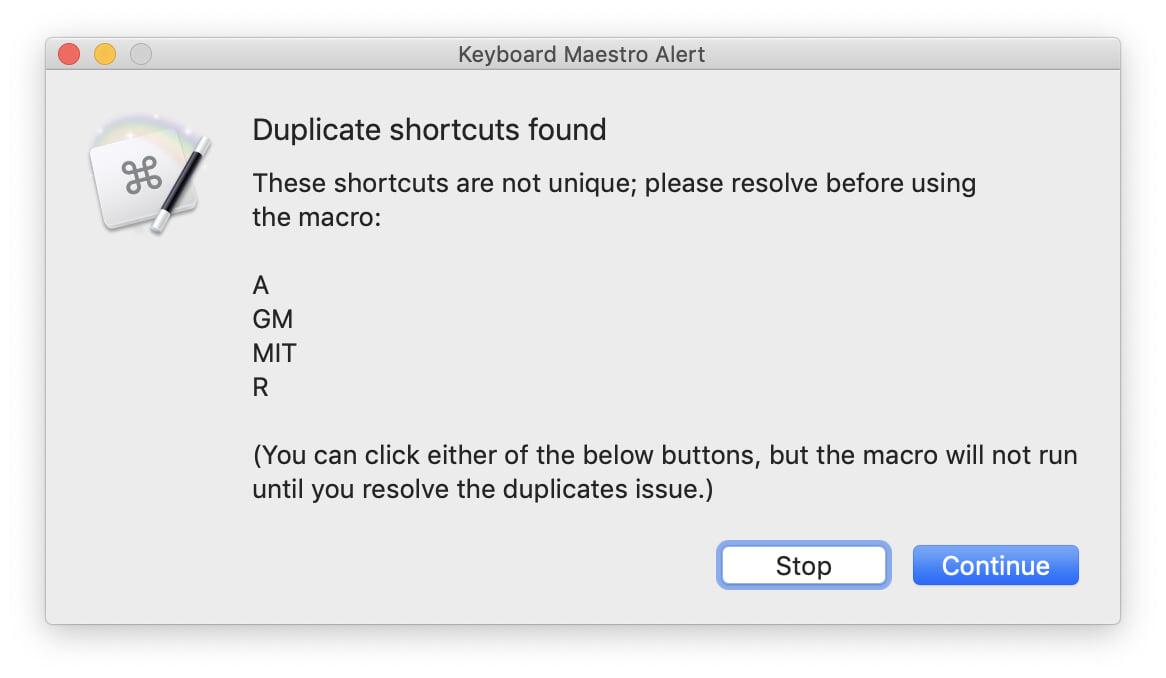 New users
If you're a new user of the macro (you must have Keyboard Maestro, obviously), just download the full macro, install it, activate it, and start reading and using.
Download Web Search via Shortcuts v 2.5
Existing users
If you're already using the prior version, hopefully the macro will tell you there's a new version available. Note: Due to a really dumb error on my part, the release notes you'll see will be for the version you're using…but trust me, you'll get 2.0. (And when 2.1 comes out shortly, you'll see the proper release notes in the macro.)
Click the button to download the new version, then import into Keyboard Maestro. Disable the old version, enable the new version, and activate it.
When launched for the first time, you'll see a screen with messages relevant to the release you're seeing. (You'll be asked if you want to see it again on next use; press Return for No, or you can opt to see it again if you wish. Once you say no, you won't see it again unless you manually enable the zm-First Run macro.)
That screen contains important instructions for upgrading your customized shortcuts—please read and follow those instructions (and let me know if you have questions or problems).
While the first version worked well, this one is even better, and is much more usable for everyone else, as you'll be able to keep your customizations during upgrades. When 2.1 comes out—in just a couple days—the first-run read me screen will explain exactly what you need to do (and it's quite trivial).
Please let me know how the update goes, and if there are things you'd like changed in this version of the macro.