Yes, it's the return of the return of Web Search via Shortcuts, now at version 3.0 and much better than either of the previous versions. This is my Keyboard Maestro macro that lets you easily search web sites via a pop-up menu and an abbreviation:

The above would search DuckDuckGo for the theory of everything, and open the results in your default browser. Here are the highlights of the 3.0 release:
The input dialog appears much more quickly—over 4x faster than in the 2.x series.
All customization is done within the macro itself; there's no need to muck about in the Keyboard Maestro editor.
You can modify (shortcut, description, URL) any search site, including the default sites.
A list of 80+ search sites is included, and you can activate any of them with a few clicks and the creation of a shortcut word for each site.
All updates are tracked in two small text files on your drive, which means future updates will be completely automatic.
Read on for the details, or if you'd like to get started with Web Search via Shortcuts version 3, download the macro now. (Current users can use the check for updates macro to download the new version directly from version 2.x.)

Speed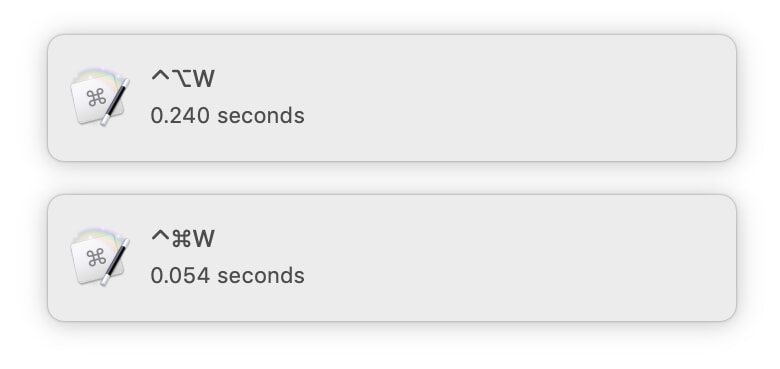 The input dialog in version 3 appears much more quickly than it did in version two—you can see the difference in the two images at the right, which measure the time from macro launch to dialog appearance. It's so fast now that it feels like a native tool. But where did I find such a big (better than 4x) improvement?
In the prior versions, user changes could only be made directly in the Keyboard Maestro editor, so the macro had to read those user-created variables every time you invoked it, and build the shortcut list on the fly—there was no other way to know when the user had made changes. That's not overly slow, but it does take a bit of time.
With version three, all changes are done in the macro itself, so the shortcut list can be updated at the time those changes are made, and saved to a variable. Then, when invoked, the list is just recalled from that variable, and that's really fast.
Customizations
The feature responsible for the speed boost is the in-macro management of changes to the shortcut list. This is done through the Manage button in the input dialog, which opens the Shortcut Manager: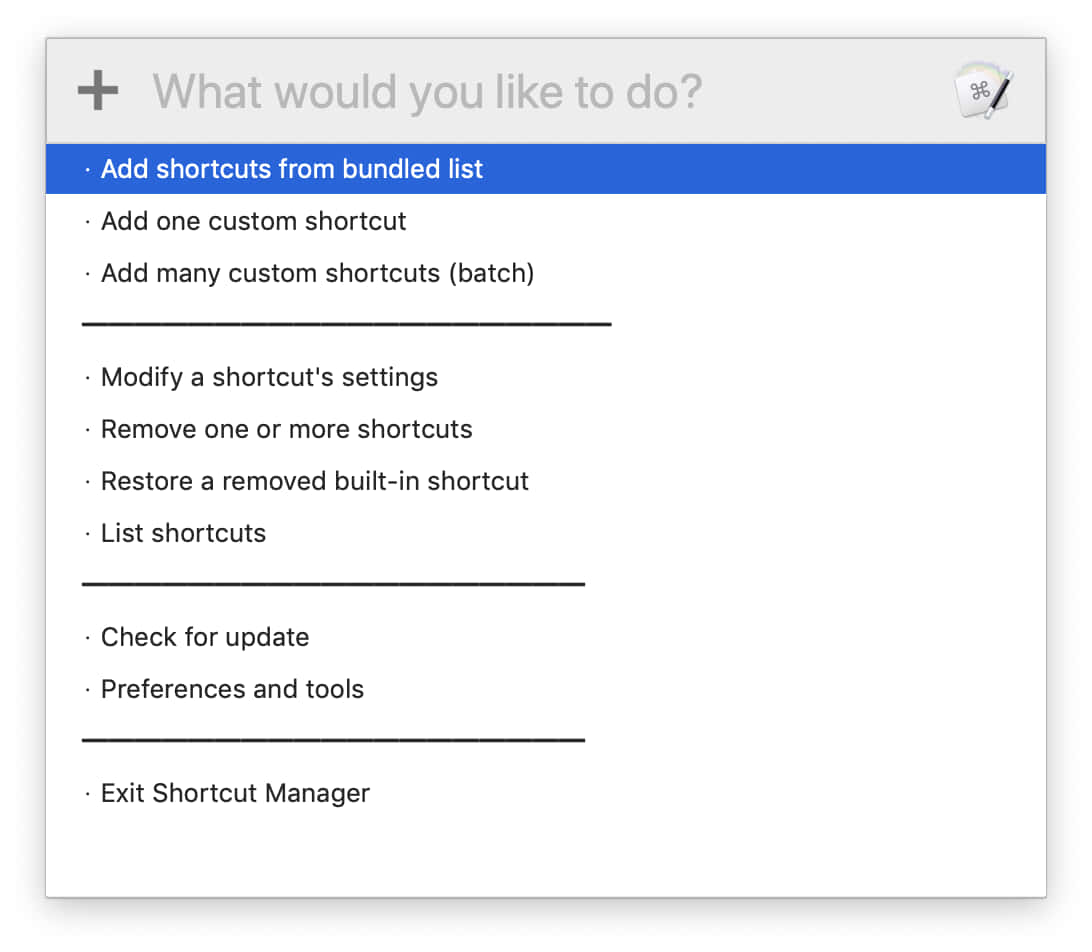 When you want to add, remove, or (new in this version) modify your shortcut list, you do it through the manager. You can also open a window listing all active and available shortcuts, check for updates, and (in Preferences and tools) change your default settings.
I won't go into great detail here on how it works, as there's also now an instructional page to help get you started, including directions for those migrating custom shortcuts from version 2.x.
All of your changes are tracked in two text files (ws_adds.txt and ws_deletes.txt) in a Websearch folder, stored at a location of your choosing. If you have more than one Mac, choose a cloud folder and your modifications will be on each Mac you use. Best of all, future updates to the macro will require zero work on your part—the macro will read the files and you'll see your customized list from first use.
If you're a Web Search via Shortcuts user, give 3.0 a try—I think you'll love the speed boost, and not having to work in the Keyboard Maestro editor to make your changes. If you're not a user, and you use Keyboard Maestro, give it a try—for me, it's the easiest and fastest way to search web sites where I regularly run searches.