I have a 2019 27" iMac, which replaced a Late 2014 27" iMac. Both of these are/were placed directly on their stands on my desk. I've always felt that the screen was just a bit too low to be ideal, but I was too lazy to deal with solving it—especially as I knew it meant I'd also have to deal with the mess of cables on the desk behind the iMac.
Then last week, I saw MacRumor's review of the Twelve South Curve Riser iMac Stand, and thought it might solve my problem. But at over four inches (10cm) in height, I thought it would be too high for me—with the height of my desk and chair, I'd wind up looking up at the screen. And, at $80 for just a bent piece of metal, it seemed expensive for what it delivers.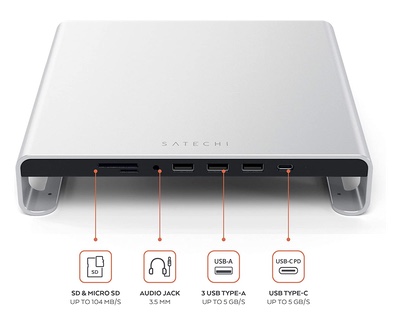 However, MacRumors also linked to their review of the Satechi Type-C Stand for iMac (view on Amazon), which rises a more-reasonable 1.63" (4.1cm) from the desk. But what really intrigued me was that for $90—just $10 more than the Twelve South riser—the Type-C Stand includes two card reader ports (at up to 104MB/s), three USB-A ports (5GB/s), a USB-C port (5GB/s), and a headphone jack.
The ports on the front were the deal sealer for me: My Logitech keyboard and mouse both charge over USB-C, and I'd been using my MacBook Pro to do that as I only have a USB-C to USB-C cable. I also do a fair bit with memory cards—my drone uses microSD and my camera uses a regular SD card. I'd been using a regular card reader that requires the fiddly task of putting the microSD card into a SD-sized card holder; the Satechi stand has two separate slots, so that fiddly work is gone.
As for the brand, I have a Satechi Wireless Smart Keypad that's been working flawlessly for five years, so I felt pretty safe making the purchase decision. It arrived on Sunday, and after getting everything set up, I wish I would have done this years ago.