Many years ago, I had a big, spendy drone—the DJI Phantom 2 Vision +. This was a monster of a drone, measuring over a foot along the diagonal between the motors, and probably just under a foot in height—this image gives a good sense of the size of the thing: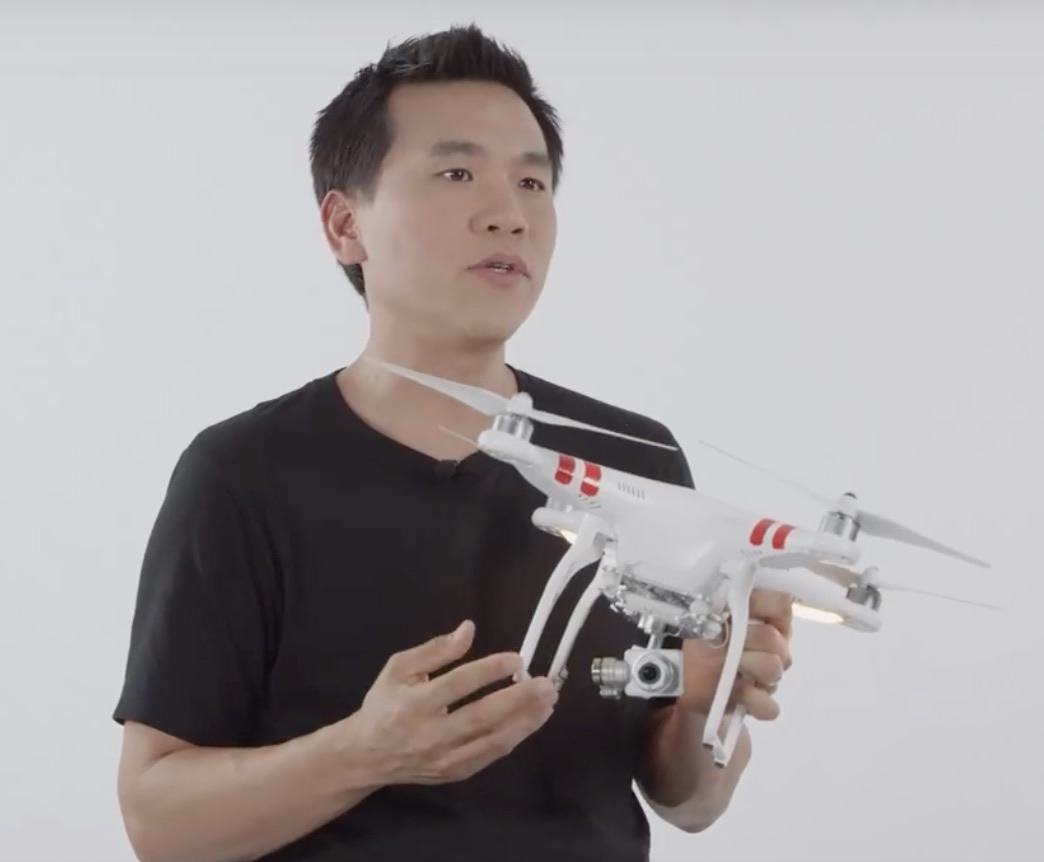 It was also heavy, weighing in at 2.7 pounds (1.2 kilograms), and it used a 5200mAh battery to provide a claimed 20ish minutes of flight time, though 15 was more typically what I saw. The camera was mounted on a precision gimbal, providing incredibly smooth video—1080p at 30fps (stills were 14mp), which was very good for the time.
While I liked the big drone, for a part-time hobbyist drone user like me, it was also a pain: I needed a big case to transport the Phantom and its spare parts and batteries and charger, it took a while to set up (install propellers, configure controller, make wifi connections, etc.), and I never mastered flying it low-and-slow (perhaps due to the amount of wind its powerful rotors generated). It was also really loud.
Because of the hassle involved with using the drone, I didn't use it as often as I wanted to. So I eventually sold it, and left the world of drones behind for a few years. But lately, I'd been getting the itch again, and after doing some research, bought something much different…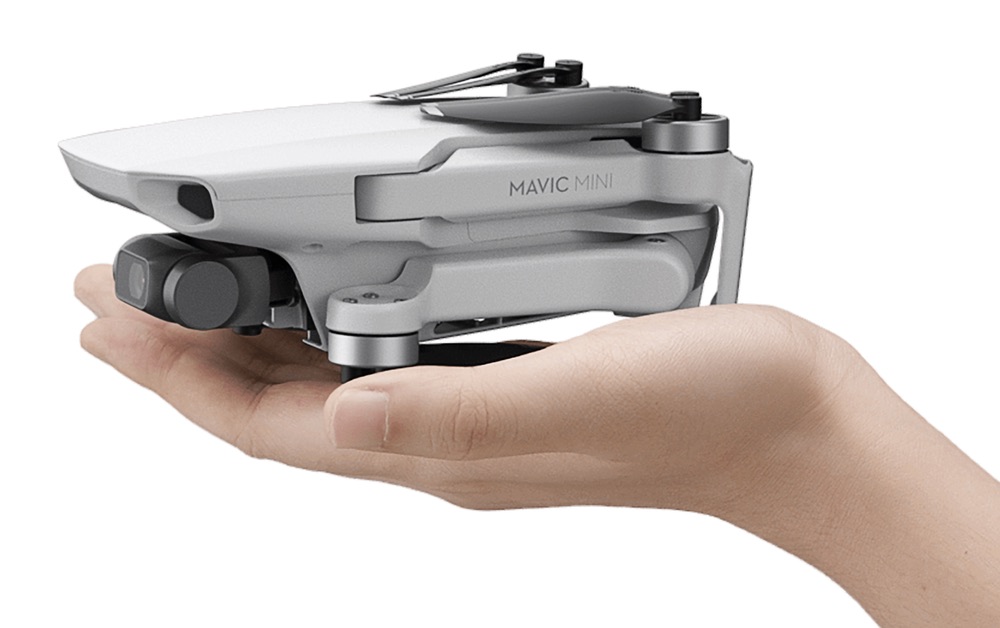 That's the DJI Mavic Mini, and it's tiny: All-in, ready to fly, it weighs just 8.8 ounces (249.8 grams—that very specific number will come up again in a bit). To put that in perspective, my iPhone 8+ in its lightweight case comes in just slightly lighter than the drone, at 8.1 ounces (230 grams). The Mini measures about 8.5" (21.5cm) on the diagonal between the rotors. Folded up, as seen in the photo, the Mini fits easily in my hand (and it's actually shorter in length than my iPhone 8 Plus).
Sometimes, good things really do come in small packages, and at least for my purposes, that's been true of the Mavic Mini.
About the Mini
First things first: The Mavic Mini is not a like-for-like replacement for the Phantom 2; that drone would be the Phantom 4 Pro 2.0, which reflects six years' worth of advances in drone technology. But that drone is still huge (it's actually slightly bigger and heavier than my old one), and it's quite expensive, starting at $1599. If you're making money with your drone, it's probably worth it…but that doesn't describe my drone usage at all.
What I was looking for was something small, easy to transport, easy to get flying quickly with a decent amount of flying time, and able to create good-looking (but not professional quality) videos and still photos. And with the Mavic Mini, that's exactly what I've found. DJI makes a number of Mavic drones, but most are targeted at more professional users—they're more expensive, larger, and heavier.
But the Mini seemed to be exactly what I wanted—and it was moderately priced as well. The basic drone and controller (plus one set of spare props) sells for $399; the Fly More combo is $499, but includes two extra batteries , a three-battery charger, spare propellers, propeller guards, USB cables and extra screws, and a small carrying case to hold everything. Given the bundle is only $100 more than the standalone drone, and the two extra batteries plus charger case alone retail for $129, getting the bundle seemed like the best way to go…so I did, and here's the full kit: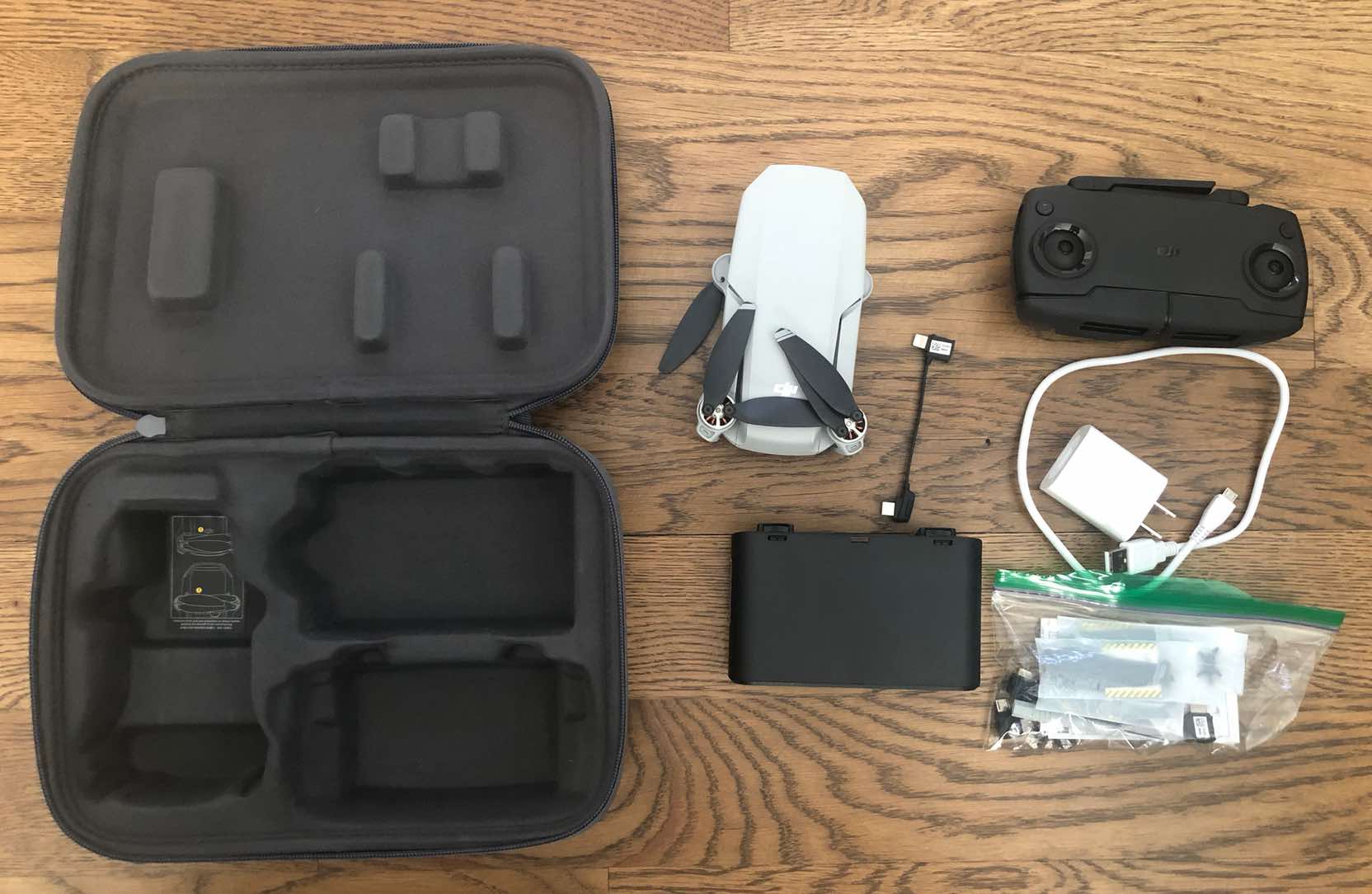 The case, which measures just 11" x 8" x 3.5" (or 28cm x 20cm x 9cm for those of you using a real measurement system) easily holds everything on the right hand side of the above photo. This makes it really easy to bring the drone with me by tossing it in the car, or into a backpack, whenever I think it might be of use. I love the portability!
I also purchased DJI Care Refresh for the Mini, a $39 insurance policy that covers two "incidents" with the drone in one calendar year. The replacements aren't free—it's $40 for the first one, and $49 for the second. Still, compared to the cost of a new drone, it's a heck of a lot cheaper. (This is much like AppleCare for an iPhone, which doesn't make a new glass screen free, but does make it more easily affordable.) I hope I never have to find out how well this works.
Specs
Obviously, the Mini is not a full-blown Mavic or Phantom—the lower price means you won't get the same features in the Mini. But in a head-to-head comparison, especially for non-professional use, the Mini stands up pretty well:
| Line Item | Mavic Mini | Mavic Air | Phantom 4 Pro 2 |
| --- | --- | --- | --- |
| Weight | 249g | 430g | 1,375g |
| Max Flight Time | 30 mins | 21 mins | 30 mins |
| Battery Capacity | 2400 mAh | 2970 mAh | 6000 mAh |
| Max Ascent Speed | 4 m/s | 4 m/s | 6 m/s |
| Max Descent Speed | 3 m/s | 3 m/s | 4 m/s |
| Max Horizontal Speed | 13 m/s | 19 m/s | 20 m/s |
| Max Wind Speed Resistance | 8 m/s | 8 - 10.5 m/s | 10 m/s |
| Camera Sensor | 0.43" CMOS | 0.43" CMOS | 1" CMOS |
| Still Resolution | 4000 x 3000 | 4056 x 3040 | 5472 x 3648 |
| Max Video Resolution | 2720 x 1530 | 3840 x 2160 | 4096 x 2160 |
| Max Transmission Distance | 4000m | 4000m | 8000m |
| Cost, Drone + Controller Only | $399 | $919 | $1,599 |
I've highlighted a few things about the Mini compared to the others, both good (green) and bad (red). First, the good…because the drone is so light, it needs a smaller battery, yet still returns 30 minutes of flying time. And despite weighing just over half as much as the Mavic Air, the Mini's max wind speed resistance is nearly identical. And finally, the cost—the Mini is less than half the cost of the Air, and 25% the cost of the Phantom.
Switching to the bad, it's clear that the camera in the Air and especially the Phantom is better than the one in the Mini. And both those drones are notably faster than the Mini. There are lots of other differences, too, that aren't reflected in the table. The Phantom has obstacle avoidance features, automatic object tracking, a much better transmission system, and support for point-of-view flight goggles. The Air can take 360 degree panorama photos, also includes obstacle avoidance technology and active tracking, and it can shoot video at 120fps at 1080p, and capture HDR still photos.
When I considered how I wanted to use my drone, though, none of those features were worth the extra cost, complexity, and weight over what I was getting in the Mini.
Getting in the air
It takes me about two or three minutes to go from carrying case to ready-to-fly, and most of that time lies in assembling the remote…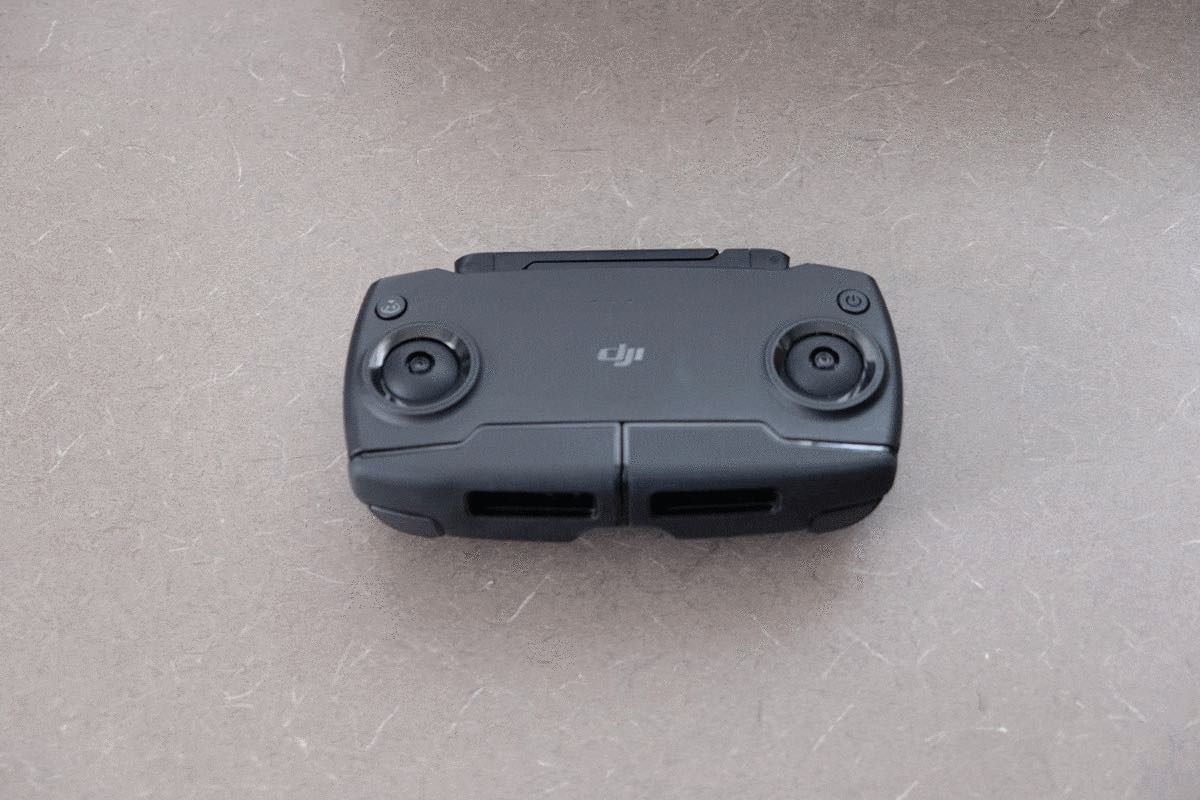 My iPhone 8 Plus barely fits, but it does fit (albeit without its case), and I've not had any issues with it coming out of the clamps. After the controller is assembled, you power on the remote and the drone, let them find each other (which doesn't take long), and then let the drone find the GPS satellites (which can take a while longer). After that, it's time to fly.
The controller itself is well sized, and the controls fall nicely to hand. You can control the drone using the iPhone app (see below), but the remote has some key functions in hardware that I find much easier to use. The front of the controller has the flight joysticks, obviously, and what I call the "Oh sh*t!" button—otherwise known as "Return to Home." Along the top, though, are three very useful controls: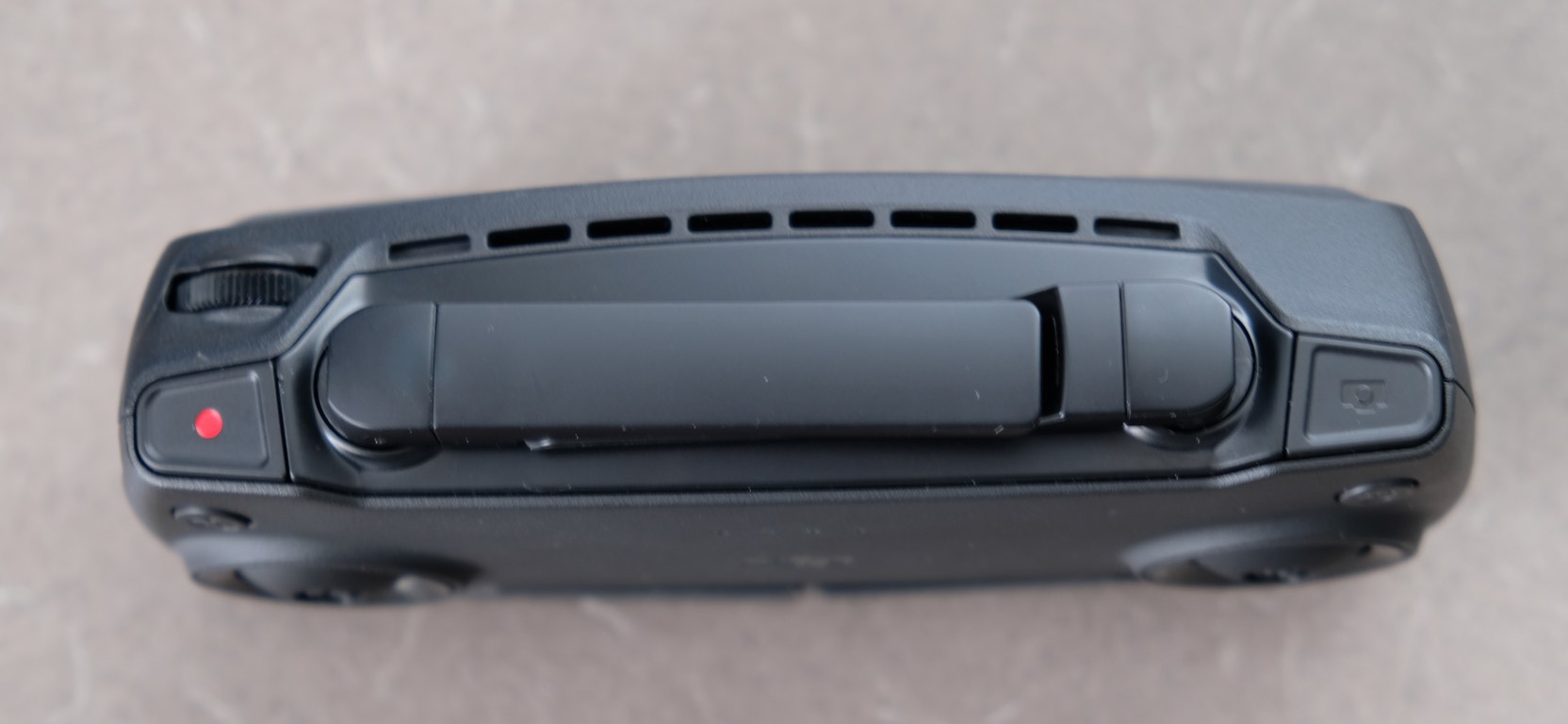 The red dot button on the left side switches to video record mode, or if already in video record mode, starts or stops a video recording. The plain button on the right does the same thing, but for photo mode. The small dial behind the left-side button controls the tilt of the camera gimbal—it's horizontal by default, but can be tilted up to 90 degrees down.
The DJI Fly app
DJI makes at least two different mobile device apps—the professional models get one app, and the Mini (and possibly other models) get an app called DJI Fly. Because there aren't a ton of features on the Mini, the app is straightforward and easy to use. Once the drone is in the air, the screen displays a lot of useful information, and lets you change a number of things: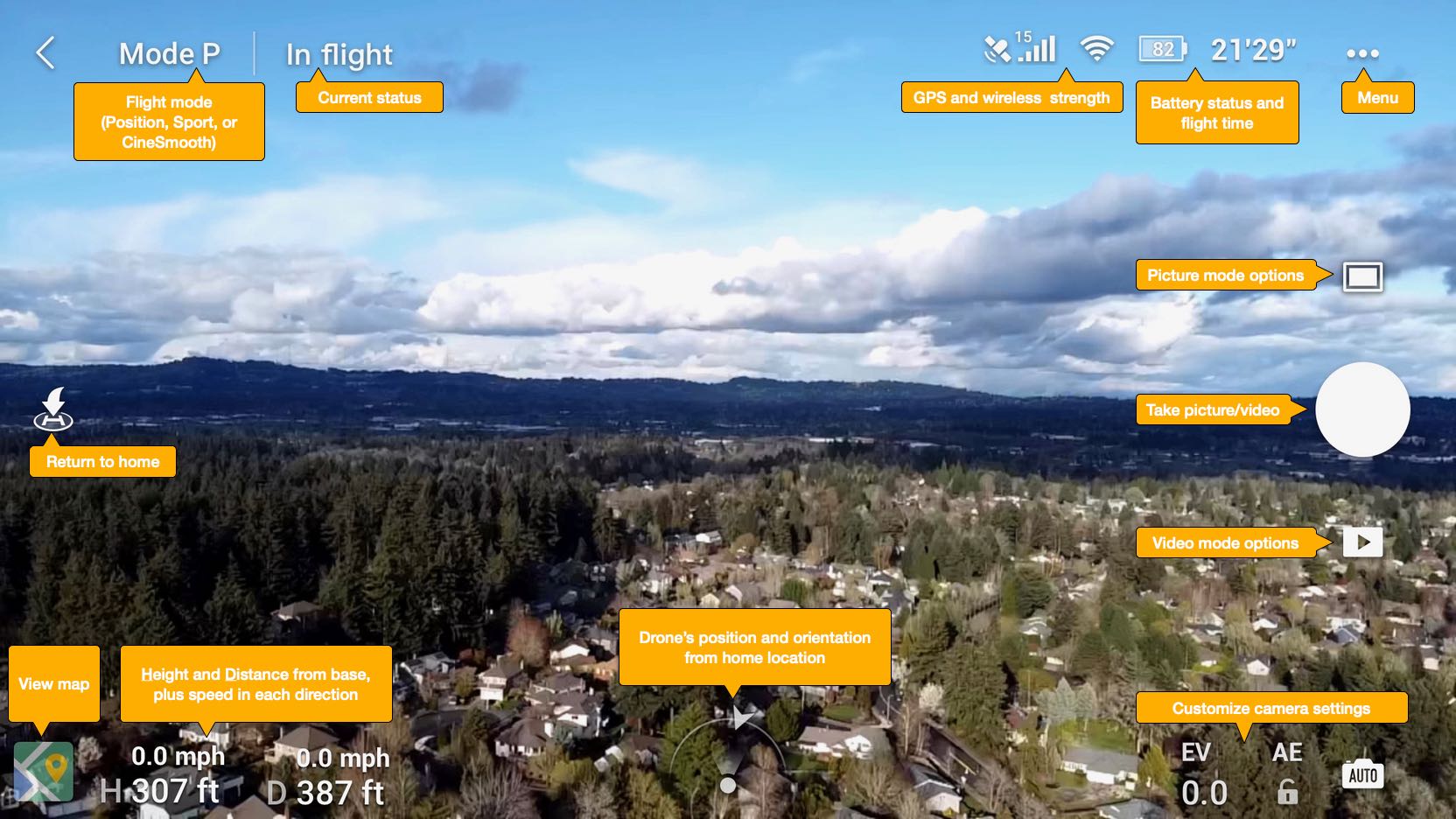 Everything you need for most scenarios is one tap away, if not directly on the main screen. The menu button in the upper-right corner takes you to more detailed screens, where you can fiddle with all sorts of settings, including how smoothly the gimbal moves and myriad other details.
Once you're done flying, the app even features a built-in editor that can assemble one or more recordings into a final clip based on a number of templates—and you can add music right from the app, as well as upload to various online services when you're done. I haven't played with this much, as I prefer editing on my Mac, not the phone.
Flying and media quality
The Mini is a very easy drone to fly, especially in either Position or CineSmooth mode, where the drone's reactions are slowed and top speed reduced. In Sport mode, it's still fairly easy to fly, but it is more reactive and faster. Take off requires simply starting the motors (both sticks down-and-in for a second), then increasing the throttle. Landing is even easier—bring the drone down to a foot or so off the ground and keep the throttle down, and the Mini auto-lands.
Being easy to fly, though, isn't enough to make a drone idiot proof…as I set out to prove one day when, through nobody's fault but my own, I flew into a tree. Yes, a tree. A really tall tree, too…
Amazingly, the Mini flew out of it—I hit full forward and full up as soon as it hit the tree, and somehow, it flew away. With my previous drone, I'm pretty sure this would've been game over, as the open-leg design would've snagged on a branch and tipped the drone over, sending it tumbling down (or worse, getting stuck 80 feet off the ground). Still, I do not recommend flying into trees.
Here's a little bit of in-flight footage that also compares the normal Position mode with the CineSmooth mode—CineSmooth really makes a notable difference when the camera moves during a turn—open the video in a new window/tab to see the large version.
As for image quality, here's a full-size version of a bit of the CineSmooth mode video from above—again, open in a new window/tab to see the full-size version:
Note that the above is still processed, compressed video—in this case, using H264 with a 5,000 kbits per second data rate. If you'd like to see the video as it comes from the camera, download the original video (warning, it's 200MB+ in size).
While the videos aren't 4K, for my needs their quality is more than good enough.
What about still photographs? I've found that stills can vary from not all that great to really good, and it's almost all dependent on lighting. If the camera is angled at all towards the sun, stills may be washed out. The camera also has trouble with a bright sky and darker ground, often blowing out the clouds in automatic mode. Night shots of lit areas are also tricky—I've had best luck with manual mode, trying to find a shutter speed that's slow enough to capture the lights yet fast enough to prevent blur.
Here's a quick gallery (hover to see navigation arrows) with a handful of stills—click any still to open the full-size original in a new window/tab:
Overall, while the camera probably won't produce any award-winning photos, I'm satisfied with what it can create, and for my uses—mainly landscapes and photos of our home from above—it's certainly good enough.
About that 249.8 gram weight
I'll close by circling back to the DJI Mini's weight, very specifically listed at 249.8 grams. Why such an odd number? It has everything to do with the FAA's drone registration rules. Those rules require registering your drone (assuming non-commercial hobbyist use) relative to one basic rule, as stated on the registration page:
Register your aircraft using this website if it weighs more than 0.55 lbs. (250 grams) and less than 55 lbs. (25 kg).
With the Mini coming in at 249.8 grams, it's just under the FAA's cutoff, and hence, doesn't need to be registered. I'n not necessarily against registration—I registered my prior drone, as it was well within the weight range, but there are some potential changes coming that, if approved, make it even nicer to have a drone that's under that weight limit.
What changes might those be? The FAA wants to be able to remotely identify, in real time, drones in the air along with the position of their operators on the ground. Their proposal for doing this will require drones to connect to the internet, independent of the connection an operator may have to the internet on the ground. That will, in essence, require cellular services on the drone itself, because the availability of a wireless connection in flight couldn't be guaranteed.
DJI has a detailed written response to the proposal, and the intro does a good job of summaring the multi-hundred-page FAA proposal:
Everyone understands why cars need license plates: drivers have to be accountable. But what if instead of just a license plate, your car was also legally required to be connected via the internet to a privately run car-tracking service that charged you an annual fee of about 20% of your car's value, and stored six months of your driving data for government scrutiny? Would you think the government had gone too far?
DJI supports drone remote ID (and, in fact, they offer drone and operator ID features on their current drones, including the Mini), but not in the onerous manner the FAA has suggested.
As of now, the FAA proposal comment period has closed, but as far as I know, they haven't yet issued a final ruling. In any event, because my Mini weighs 249.8 grams, it will not be subject to these new rules, because it still falls under the lower weight limit. And given the apparent cost and complexity of these new rules, that means I'll be able to keep my flying hobby going, even if the rules are approved without any changes.
Summary
If you've been thinking about a drone, something above the cheapies you can find in the local electronics shop, I think the DJI Mini is worth a look. It's small and light and easily transportable; it's ready to fly in a couple minutes; and it's got great flight times with good video and still images. It's not a professional-level drone by any stretch…but then again, I'm not a professional-level drone user by any stretch, so we're a good match.