Our family (four of us) flew on Alaska Airlines to Colorado for the holidays; we left on the 20th, and were set to come back on the 27th. We watched the news of the mass cancellations on Southwest and others, but as we were set to fly back after the worst of the weather, we thought "everything should be fine."
Oh how wrong we were.
I awoke Tuesday morning to an email from Alaska Airlines, sent late Monday night, telling us that our Tuesday evening flight had been canceled.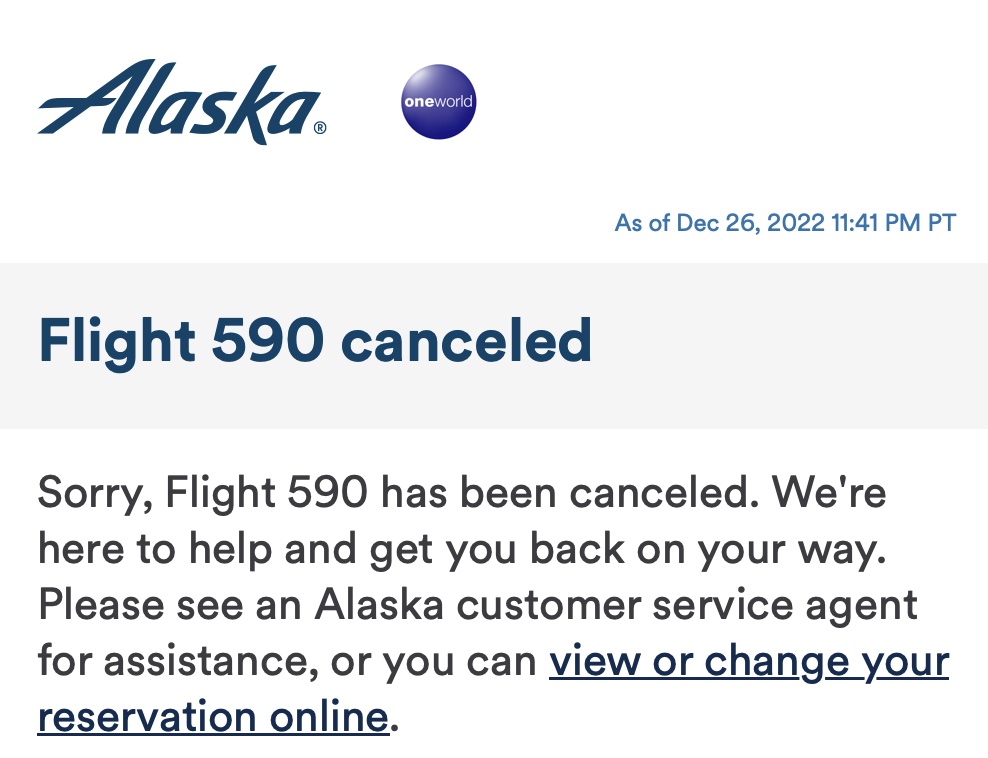 No planes
I immediately started searching for other flights to Portland on Alaska—this was further complicated by the fact that we were traveling on two separate two-person tickets, as we used miles in each of our accounts to lower the costs.
But it didn't take long to find that there was no way the four of us were getting on an Alaska plane any time before December 31st—and even then, there were only a handful of flights left that day. I checked some other airlines, and the story was either that they had nothing available, or that seats would cost us $3200 or more for the four of us. Yikes. My wife had to get back for work, so we couldn't wait, but those costs were really out of the question. (Just for fun, I priced a charter jet online—the cheapest was $31,000 for the two-hour flight!)
No trains
My next thought was "I wonder if we can go by train," so off to Amtrak's site I went. For those in Europe, this will seem unbelievable, but this relatively simple looking 1200 mile journey is a complete nightmare on a train in the USA.
The route would take 56 hours, including a nine-hour (OMG!) layover in Sacramento. It would also be incredibly expensive if we wanted a cabin in which we might actually sleep1Ignore the dates in the image; I just created it today as an example:

But in the end, the train was eliminated not for cost or time, but because I couldn't find one with seats before early January. So no planes, no trains…that left automobile(s).
Automobile
Typically, driving across the west in the middle of winter isn't something I would willingly do, but we had to get back. The preferred route generally skirts most of the major mountains, but you do have several passes to drive over, and it includes a notoriously-nasty stretch of Interstate 80 in Wyoming: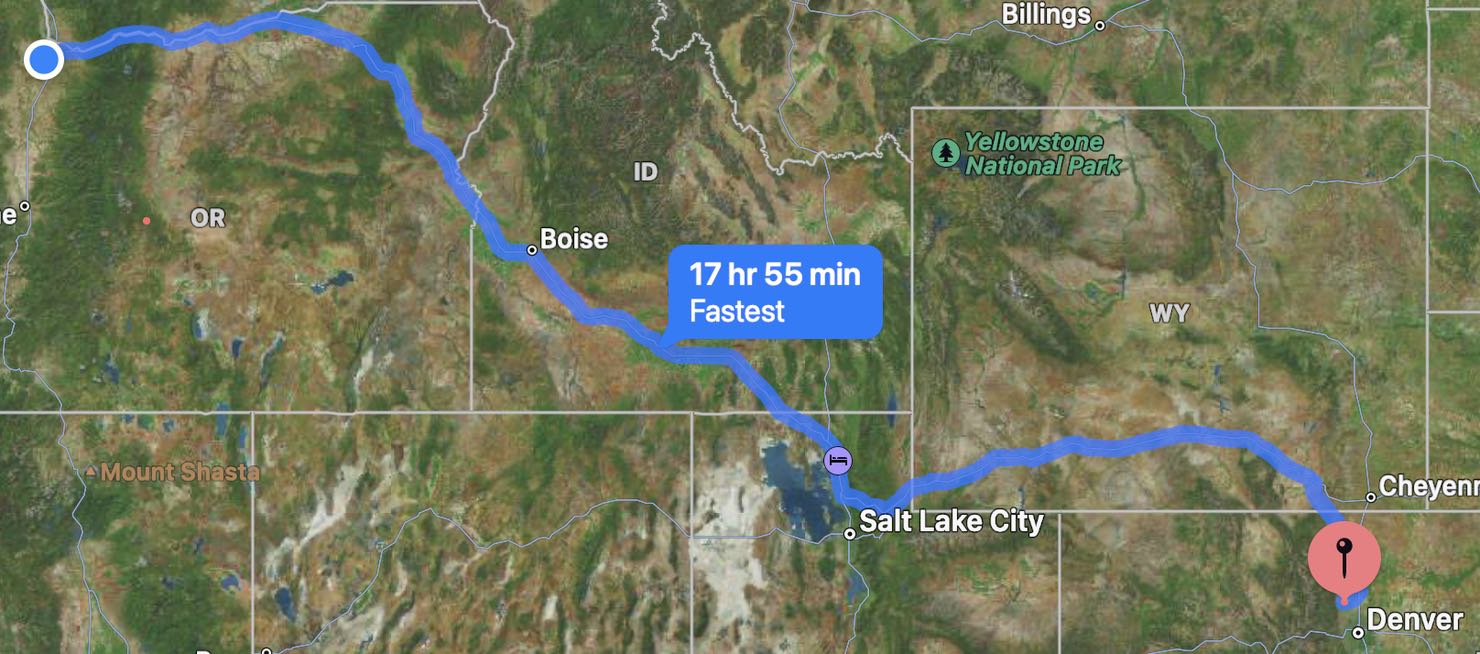 The first problem was finding a car; preferably an all-wheel-drive car. At Denver International Airport, only Thrifty offered one-way rentals to Portland. And online at least, there were only seven cars available, none with all wheel drive. I reserved one anyway, thinking maybe I could talk to the agent about all wheel drive options.
The airport is a solid hour from where we were staying (just outside Boulder), and I'd reserved the car for a 10:30am pickup. But I thought I'd leave early, in case I could get it early, which would let us get a jump on the day's drive. Thankfully, our local rental and new rental were out of the same counter (Dollar and Thrifty are both owned by Hertz), so no walking was required. I arrived at 9am, a full 90 minutes before our reservation, only to see this…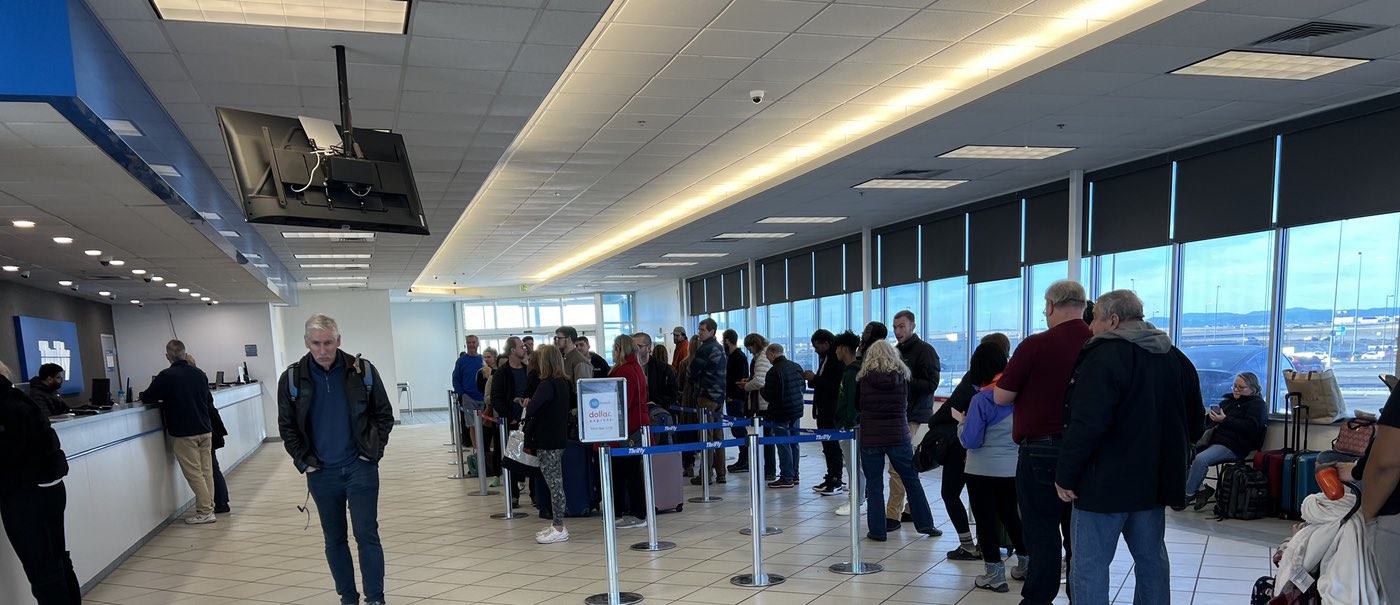 There were three agents working, and things were moving slowly. While I was there, the line continued to grow in size, eventually completely filling the lobby. I was very glad I arrived early!
It took me almost exactly 90 minutes to get to the counter. The agent said that the vast majority of the rentals were one ways, with people trying to get home. Thankfully, they did have AWD cars available, and we wound up with a Ford Edge, which both my wife and I were quite impressed with—it was quiet on the highway, quite smooth, had tons of people and cargo room, and included wireless CarPlay. Gas mileage wasn't great, around 24mpg, but that was not our major concern.
As the only game in town, Thrifty was doing quite well, I think—their rates were anywhere from $250 to $500 per day for a one-way rental. The guy in front of me paid $299 per day for a FWD compact car to Nashville; we were charged $408 per day for our AWD to Portland.
By the time I made it back to Boulder and we got everything packed up, we didn't hit the road until after 1pm. The Denver to Portland drive can be done in two relatively easy days, but only if you start early—and we did not. The weather for our trip was forecast to be relatively clear but windy…but that nasty stretch of Interstate 80 in Wyoming decided the forecast was wrong…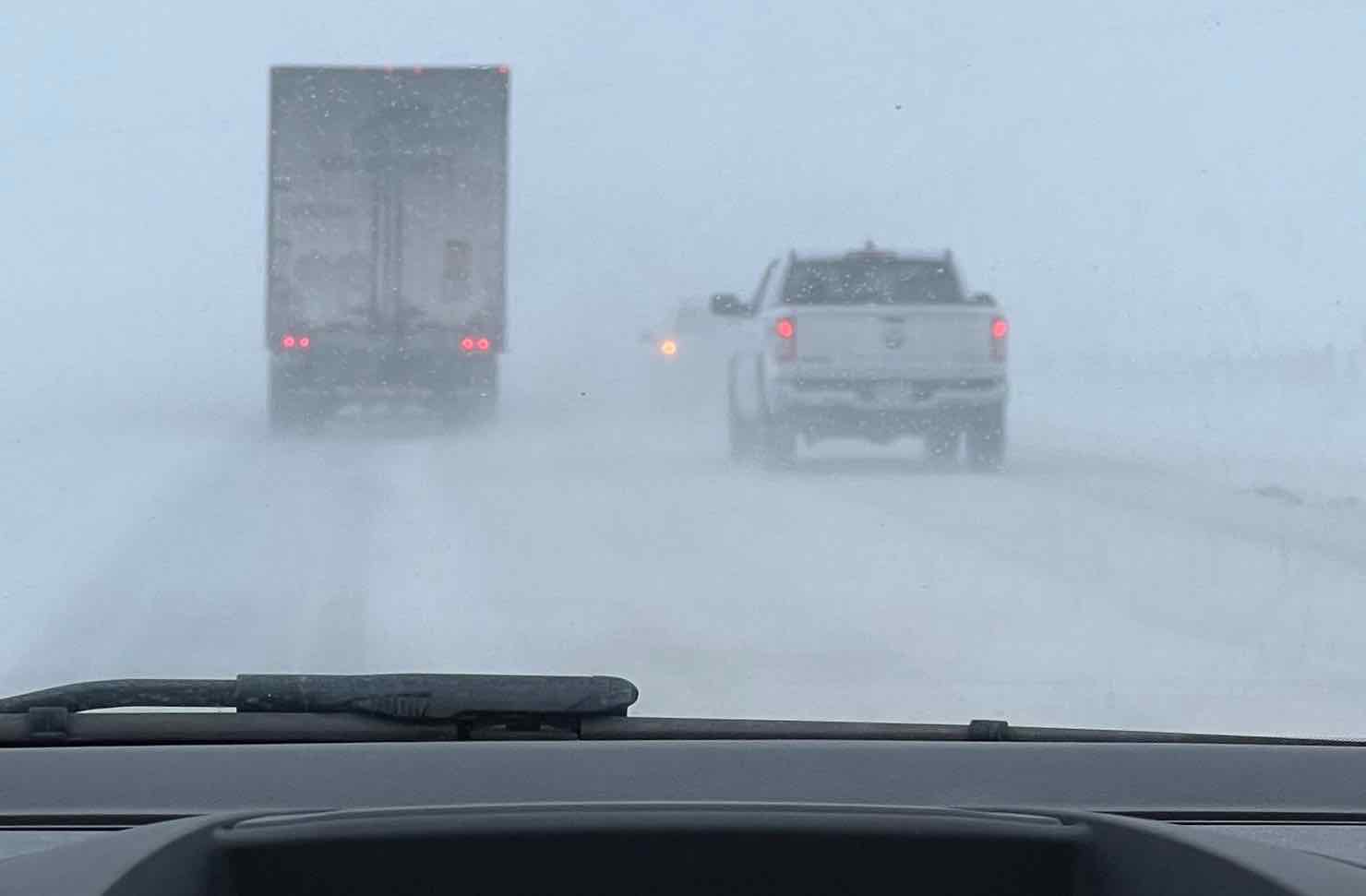 What you can't see in the photo are the winds—they had signs up indicating 40mph to 60mph (64kph to 97kph) crosswinds, and the road was closed to "large light loads." We drove through about 100ish miles (160km) of this weather, and saw six vehicles that had skidded off the road (all still with people in them).
We also saw a semi truck pulled over to the side of the road, as the truck's (empty) trailer had buckled in two, right in the middle, apparently from the crosswind pressure. The driver's decision to ignore the road closed signs wound up costing them plenty.
Thankfully, we got through without any issues; our rental never slipped at all. After that horrid stretch, we had the occasional snow shower, but nothing too bad. We drove relatively late into the night and managed to cover 520 miles (837km) on the first day, winding up in Brigham City, Utah (where the purple icon is on the map above).
While a good first half-day, that still left 720 miles for day two. We awoke to a snowstorm, but it was localized and we were soon in clearer weather. The roads were generally clear and dry, and the weather was just cloudy until it started raining in the gorge outside Portland. With the clear roads and 80mph (129kph) speed limits in Utah and Idaho, we made good time.
Eleven and a half hours after leaving Utah, we arrived at the Portland Airport. We returned the rental car, took the shuttle to our parked car, and drove the final 30 minutes back to the house. Total driving time was just under 20 hours, and we covered 1250 miles. We arrived home roughly 22 hours later than we would have had our flight not been canceled.
Overall, the trip cost us about $1500 for the rental car, gas, hotel rooms, and food. The refund coming from Alaska for the canceled flight is $1600, so we saved $100…and had an adventure that our kids (well, young adults) will remember for quite some time.
While not something I would willingly do again in the middle of winter, it wasn't a bad drive, and we were able to get back many days earlier than we would have had we waited for a plane…or a train.