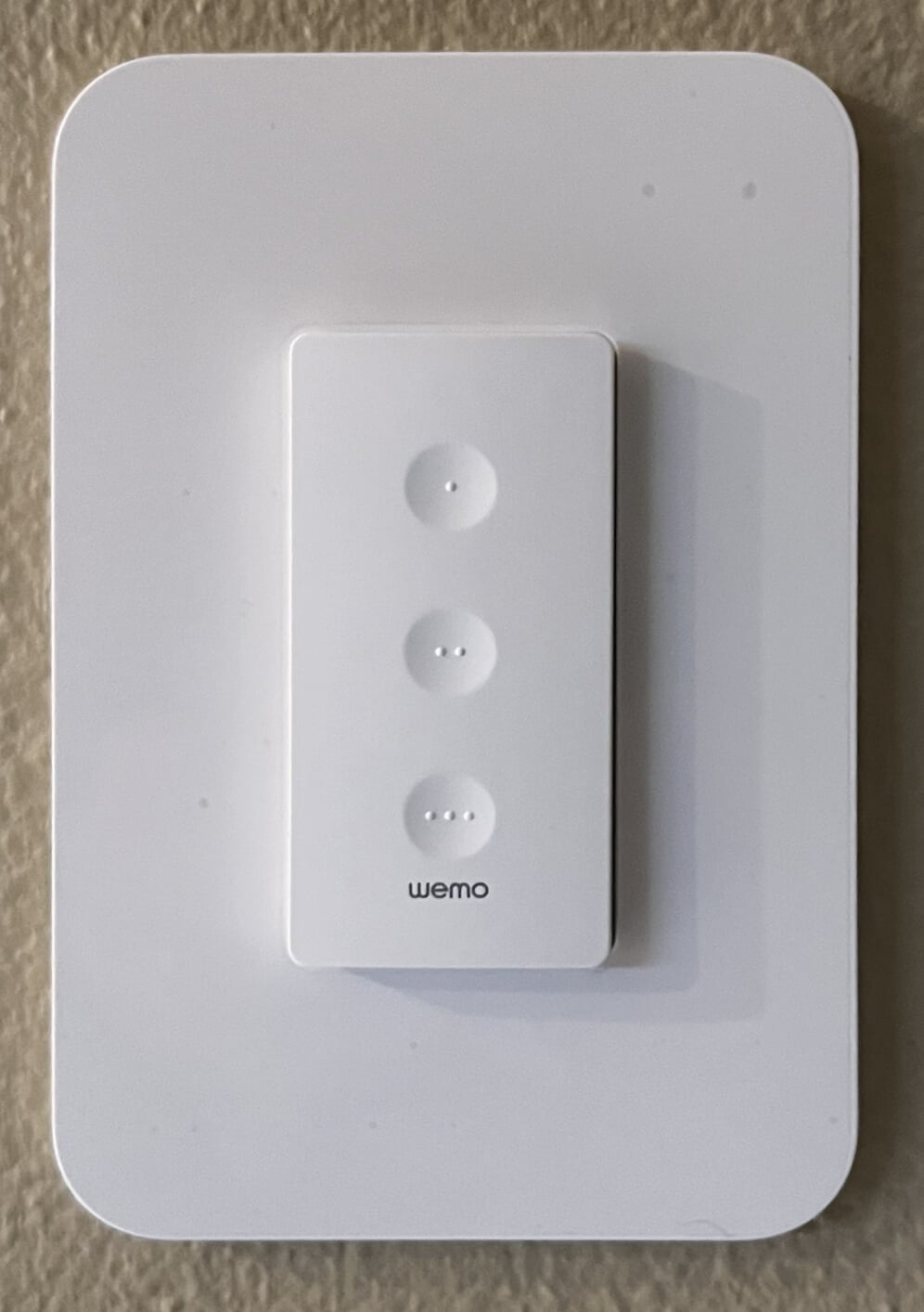 I recently assembled an IKEA cabinet and shelving in the corner of a room. It's a darker corner, so I added lighting to the cabinet and the shelves, all of which is then plugged into a HomeKit-compatible power plug. I can now easily turn the lights on and off with Siri, but I wanted to have a more-traditional wall switch, too.
As the wall outlet isn't switched, the "real" solution would have involved hiring an electrician to cut holes in the wall and run a new line to a new switch, followed up by a fair bit of drywall repair, texture, and painting. I didn't want to go that route.
Instead, I found Belkin's Wemo Stage Scene Controller1Apple sells this on their site, too, but at a much higher price., which promised an install-anywhere switch for any HomeKit connected devices.
(Note: I don't know if this thing works outside the USA or not; I found a note on their site indicating it may not work in the UK, but that's all I was able to find.)
I bought one to test, and after the first day, I was preparing to return it and write a very scathing review…

The first day was not good. Installation was relatively simple—put the battery in the Wemo, put the thing next to the phone while the Home app was open, and follow the instructions.
After that, programming is quite easy–you can assign any device or scene to any of the three buttons. As received, my Wemo supported a single click or a long press on each button, giving a total of six possible activities I could assign.
The switch itself isn't actually a switch in the traditional sense. Instead, it's a three-button remote control that's magnetically mounted to a base, to which a switch-like surround can be attached. You can easily pull the remote out and use it from elsewhere, if you wish. I would prefer a more-traditional switch, but this was all I could find.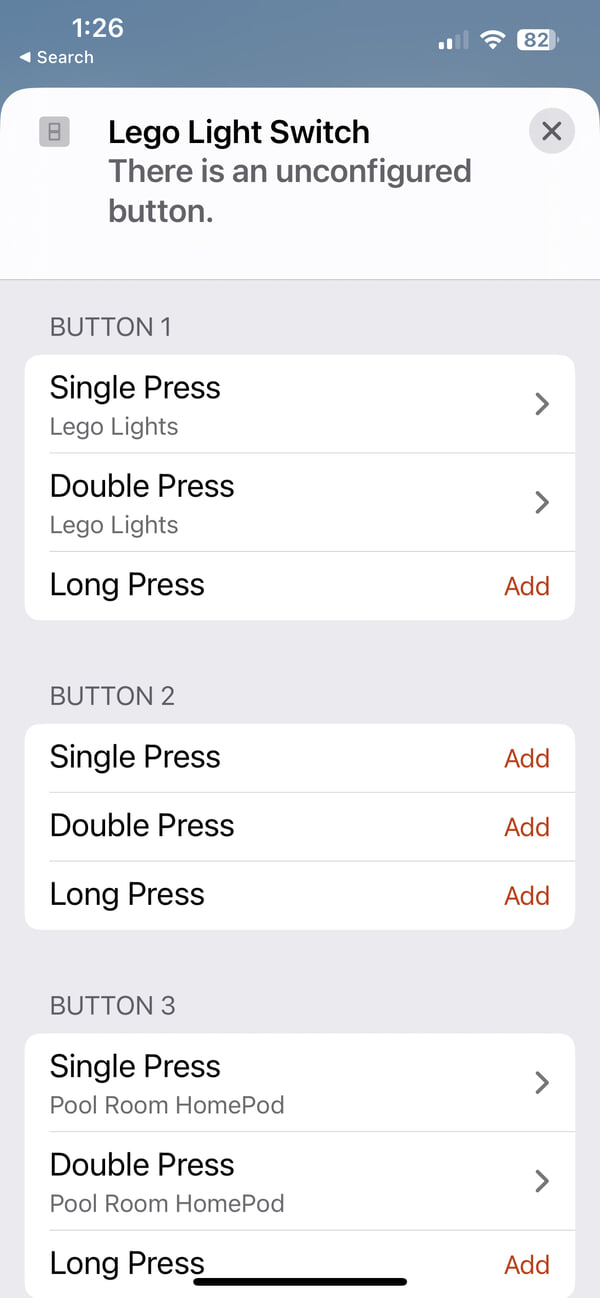 When I programmed the switch, I set one button to turn the lights on, the second to turn them off, and added a HomePod toggle on the third button. (My thinking was that two separate switches would be easier for people to understand than "long press," but I'm the only user of the HomePod, so it didn't matter for that one.)
So far so good. Then I went to use it…and it was a horrid experience. Press a button, wait three to five seconds, and then—maybe—the lights turned on or off. Sometimes the HomePod came on, sometimes it didn't. Most of the time, in fact, the switch didn't do anything. I decided I'd just take it down and return it the next day.
This morning, when I went to remove it from Home, it showed a firmware update was available for the Wemo. Fifteen or so minutes later, and it was like I had a brand new device!
Not only did the buttons work 100% of the time, they worked instantly, as you'd expect with a real light switch. And the buttons now had three behaviors each—they added a new double-click behavior.
So what was new in the firmware update? The big news is that they added Thread support. I must say, I wasn't expecting such a drastic change in behavior, but it's literally night-and-day from pre-update. The switch does what it's supposed to do, every time, and with zero delay. Wow.
I reprogrammed the switch to use single click (on) and double-click (off), and it's working like a charm. And now I even have a spare button left over for some other HomeKit device or scene.
In short, though it's been less than a day with the "new" Scene Controller, I'm thrilled with this solution to my lighting issue. At $33 (current selling price), it's probably at least ten times cheaper than wiring a new real wall switch, and works just as well.
If you decide to buy one of these, and its performance is terrible after setup, confirm the firmware version—if it's not at least 2.9.6, wait for an update to trigger and update your device.