I have a 2019 27" iMac, which replaced a Late 2014 27" iMac. Both of these are/were placed directly on their stands on my desk. I've always felt that the screen was just a bit too low to be ideal, but I was too lazy to deal with solving it—especially as I knew it meant I'd also have to deal with the mess of cables on the desk behind the iMac.
Then last week, I saw MacRumor's review of the Twelve South Curve Riser iMac Stand, and thought it might solve my problem. But at over four inches (10cm) in height, I thought it would be too high for me—with the height of my desk and chair, I'd wind up looking up at the screen. And, at $80 for just a bent piece of metal, it seemed expensive for what it delivers.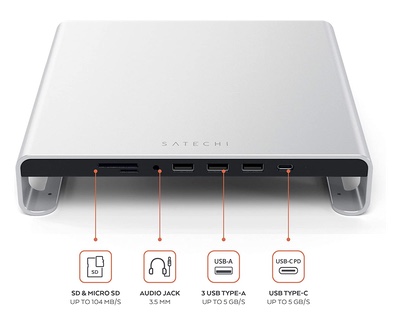 However, MacRumors also linked to their review of the Satechi Type-C Stand for iMac (view on Amazon), which rises a more-reasonable 1.63" (4.1cm) from the desk. But what really intrigued me was that for $90—just $10 more than the Twelve South riser—the Type-C Stand includes two card reader ports (at up to 104MB/s), three USB-A ports (5GB/s), a USB-C port (5GB/s), and a headphone jack.
The ports on the front were the deal sealer for me: My Logitech keyboard and mouse both charge over USB-C, and I'd been using my MacBook Pro to do that as I only have a USB-C to USB-C cable. I also do a fair bit with memory cards—my drone uses microSD and my camera uses a regular SD card. I'd been using a regular card reader that requires the fiddly task of putting the microSD card into a SD-sized card holder; the Satechi stand has two separate slots, so that fiddly work is gone.
As for the brand, I have a Satechi Wireless Smart Keypad that's been working flawlessly for five years, so I felt pretty safe making the purchase decision. It arrived on Sunday, and after getting everything set up, I wish I would have done this years ago.
Although it doesn't sound like a lot, that 1.63" of lift is perfect—the center of my iMac's screen is now straight ahead at eye level. I was a bit worried because there's a small power light, just to the right of the USB-C port—I was fearing an evil brightness staring at me from below all day*The Blu-Ray drive isn't usually connected, so its bright blue light isn't a problem..
But the light is actually quite dim, especially when you're seated above its height. Here's how it looks on my desk—with the Satechi Smart Wireless Keypad to the right—and the exposure makes it brighter than it actually appears:
That picture also shows what some may consider this stand's biggest issue: The ports are on the front. For me, that's fine (and what I wanted). But if you'd rather have them in the back, you could just turn the thing around. It's also basically square, so you could turn it sideways—if you face the ports to the right, then the memory card reader is nearest the front; to the left, and the USB ports are frontmost.
I prefer the ports in front, because I use the card reader and charge/connect cables quite a bit. And with the riser, it's actually much tidier under my iMac than it was before—I had a couple of USB cables connected to the back, just sort of laying in a mess under the iMac.
One cable was for my card reader, so away that went; the other is now coiled under the stand—along with the USB-C charging cable for my keyboard and mouse. When I need them, I pull them out, but they're otherwise mostly out of sight. (I do recommend using black or dark gray cables, though—the white ones really pop.)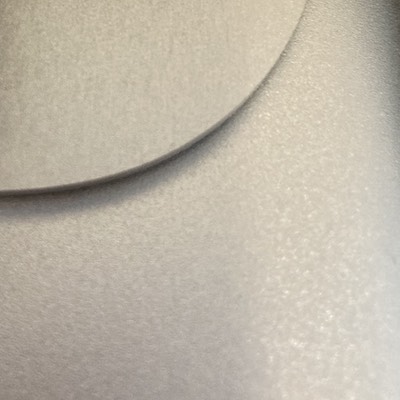 The build quality of the riser feels first rate—it's aluminum with rubber feet, and I haven't noticed any shaking in my display as I type.
They've also done an amazingly good job at color matching the iMac's silver finish. In the image at right, the iMac's foot is at the top of the photo, sitting on the Satechi stand. As you can see, the colors are incredibly close; what you can't see is that the two surfaces feel nearly identical, too—you can see some of the graining in both objects, and you can see the similarities in both the darker and lighter sections.
Satechi also offer the stand in Space Gray, to match the iMac Pro (or if you just prefer Space Gray); I don't know how well those colors match.
The ports all work as expected—I'm able to charge the keyboard and mouse, all three USB ports work, including syncing my iOS devices, and both memory card readers work. My previous card reader was just a little thing connected to a USB cable, and putting a card in it was a two-handed job, because it would move when you tried to push a card in. With the weight of the iMac on the stand, of course, there's zero movement, so inserting cards is a simple one-handed operation.
I was curious how the speaker jack would work, given the dock just connects with a USB cable. The answer is that the stand registers itself as an output device—but only after you connect your headphones:

To do this, the stand has to have (I believe) both a DAC and a sound chip onboard. I was curious about its quality, so I did some head-to-head comparisons with my headphones plugged into my speakers (i.e. using the iMac's built-in output).
But there actually is no comparison: Music, at least, sounds much better coming through the iMac's headphone jack than it does when routed through the Satechi's deck's jack. I actually would have been surprised at any other result, given the dock's relatively low price point. Thankfully, I don't really need the headphone jack—I usually listen wirelessly if I'm using headphones. But if I am going to go wired, I'll keep plugging into my speakers and not the dock.
At $90, this stand isn't cheap—but it's only $10 more than a bare-bones piece of shaped aluminum. And for that, you get two memory card readers, four USB ports, and a headphone jack. Add in the excellent build quality and color matching, $90 seems like a very reasonable price. Highly recommended if you'd like to slightly elevate your iMac.
Footnote: After elevating my iMac, I did have one small problem…my second display, a Dell 4K, is height adjustable, but it wouldn't rise enough to equal the height of the iMac's screen. But that's nothing a good book couldn't solve…

The Jaguar Edition of Mac OS X Hints, solving problems since 2002!