Recently DirecTV had a free HBO preview weekend; as we're not subscribers, I set our DVR up to record a number of movies. One of those films was X-Men: Days of Future Past. I'd never seen any of the X-Men movies, and I really liked this one. So I decided to watch the other six films in the series, renting them on iTunes and Amazon Instant Video.

I was able to rent all movies except The Wolverine, which is only available as a purchase on either Amazon Video ($12.99) or Apple TV ($14.99). So I had to buy one movie, and rented the other five. In total, I paid $34.94—about $5.82 each—to watch six movies, including buying The Wolverine. That's not outrageously expensive. (I paid an extra $2 to buy the iTunes version, as it's a better viewing experience than Amazon Instant Video.)
But (excluding The Wolverine), that's my cost to watch them just once. If I or anyone in my family wants to watch them in the future, we'll have to pay again. If I want to own the movies, to make them free to watch any time, I could either buy them digitally or on Blu-Ray.
To buy all six movies on iTunes, I'd pay a whopping $89.94, as each is priced at $14.99. (You'd think the first three films, all being at least nine years old, would be cheaper…but you'd think wrong.) Over on Amazon Instant Video, it'd still cost $77.94 to buy the six movies on digital, as they're $12.99 each.
Clearly, if digital is that expensive, then the Blu-Rays will be even more, right? After all, they have to be mastered, duplicated, boxed, sealed, and shipped to retailers. There are physical returns to worry about, and management of all the stuff in all of those steps…so these Blu-Rays are going to be incredibly costly, right? No, not right at all.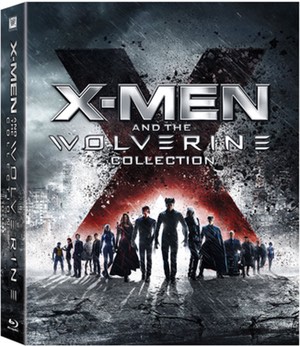 A quick trip to amazon.com leads to X-Men and The Wolverine Collection, which contains all six of the movies on Blu-Ray. And the cost for all six movies? Only $34.96, or exactly two cents more than I paid to to rent five and buy one in digital form!
(I found the exact same collection on walmart.com for the same price, too, so this isn't some Amazon-only special pricing. And even at the full list price of $69.99, this collection is still cheaper than the digital versions.)
Even if I wanted to buy all six movies separately, the total cost for all six would be $73.78—still cheaper than either iTunes or Amazon Instant Video! (Most of this cost savings is because the older movies are indeed cheaper than the newer movies. And the newer movies are, in some cases, more than their digital counterparts.)
In a nutshell, I should have simply bought the six-disc collection and been done with it. (It's also not too much work to rip them myself if there's not a bundled digital copy, so I can watch on Apple TV, iPad, etc.)
I'd have spent all of two pennies more than what I did, and I'd own the actual movies, free to use when I like and how I like. Sometimes I really hate Hollywood.