For those not aware, I have something of an addiction to portable power packs—with two kids and who knows how many devices, it seems someone somewhere is always out of power.
For the last few weeks, I've been testing an addition to our stable of such products: Olala's $32 10,000mAh Power Bank.1I received the Power Bank at a greatly reduced cost, but my review is based solely on its performance and my impressions of its build quality.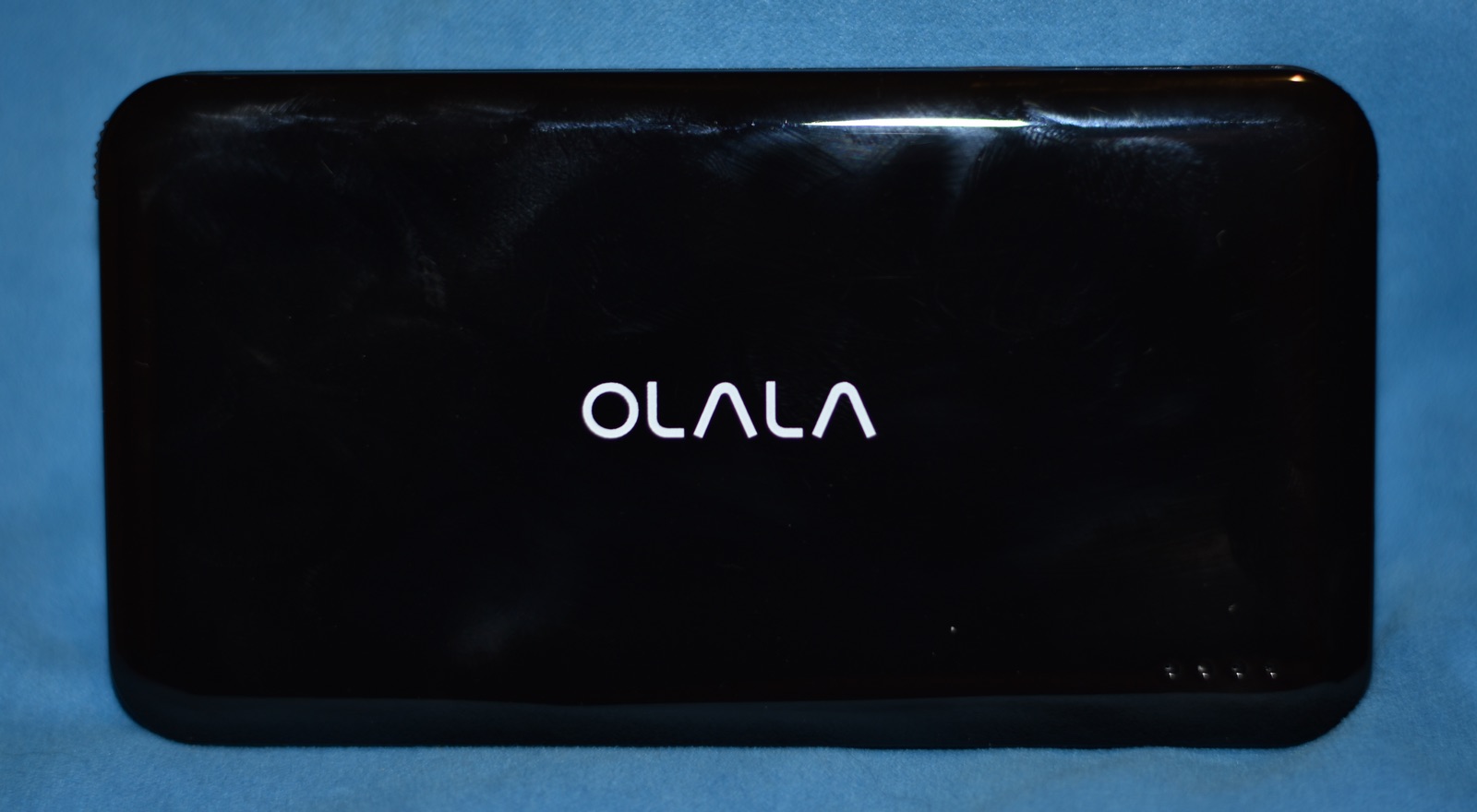 This shiny piano black unit looks great (though that shiny finish is a fingerprint magnet), and its smooth surface means it easily slides into a pocket in a backpack. Four blue LEDs let you know how much juice you have left. Unlike some battery packs, this one is Apple MFi Certified, meaning Olala has gone through the necessary steps to certify that their device meets Apple's standards. (You can search for MFi certified devices in case you're ever curious about a given accessory developer.)
At $32, the Olala is towards the high end of the pricing scale for 10,000mAh MFI Certified power banks that include a Lightning cable—most are in the $25 to $29 range, though, so it's not a huge difference. I don't have any experience with the other products, so I can't make any statement on their performance or quality against that of the Olala.
The Olala Power Bank weighs 8.1 ounces on my scale, and measures 5.4" long, 2.9" wide, and 0.6" thick, for a total volume of 9.44 cubic inches. This compares well with the other 10,000mAh charger I own, a Sony unit. That one is heavier, at nearly nine ounces, though of similar total volume. But there's one key difference: Included in the Olala's already-lower weight is a built-in Lightning cable…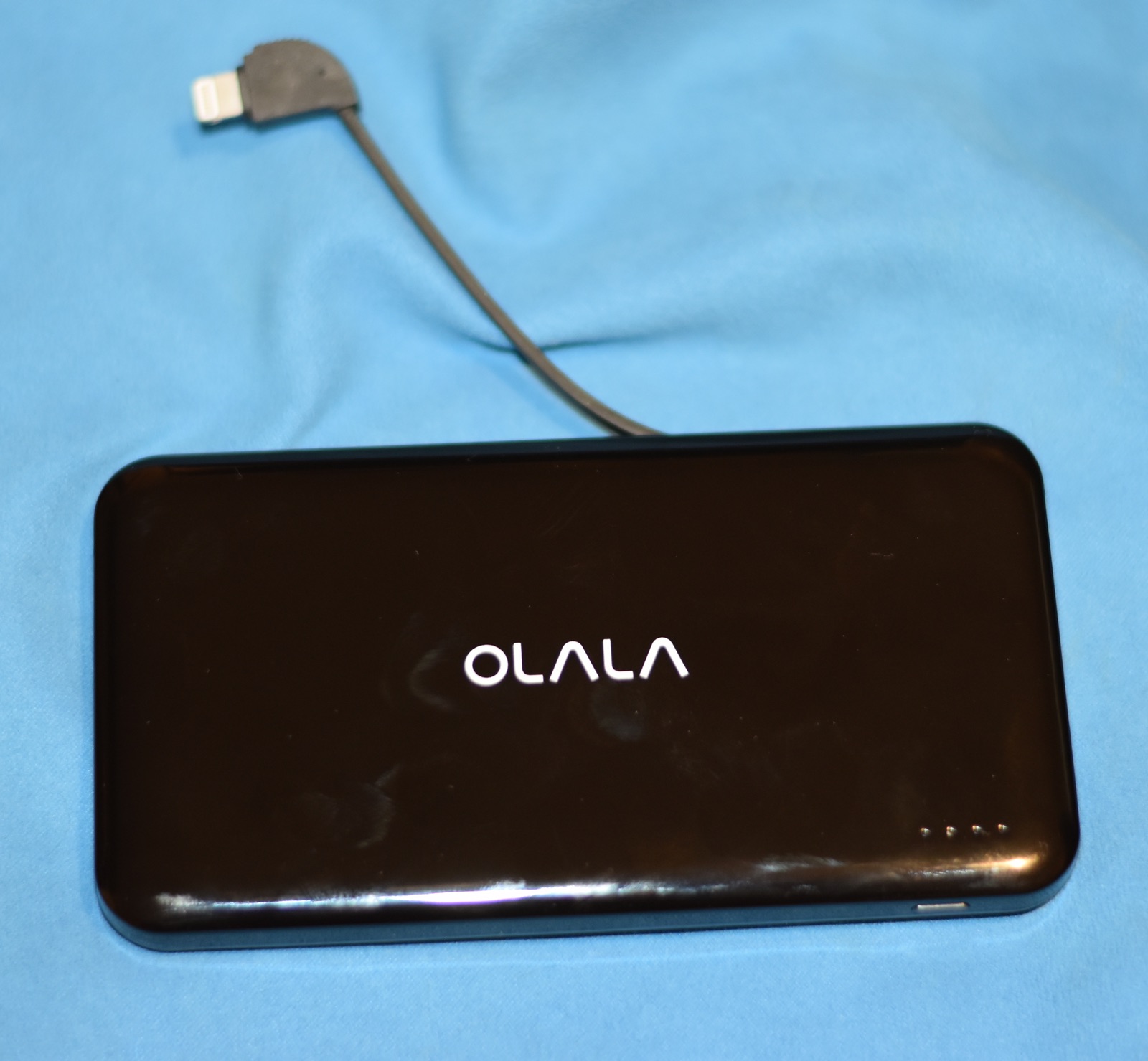 The cable fits snugly into a groove in the side of the unit, and it's easy to both take out and put back—it almost snaps into the groove, so it's secure and flush with the battery's surface.
The built-in cable means I can toss the Olala in my bag and go, without having to remember to pack a cable. Of course, sometimes it's more convenient to use an external cable, and Olala has that covered, too—in two different ways. One way is by removing the built-in cable completely and plugging it into the USB port on the end of the unit. The second way is to just plug your own cable into that same USB port—this provides more flexibility over positioning the attached device, as the built-in cable is quite short.
The Olala has another trick up its sleeve: You can use the built-in cable and an external cable to charge two devices at once—and you're not restricted to iPhones, of course. With 10,000mAh, you can charge an iPhone 8 about 3.6 times, an iPhone 8 Plus about 2.4 times, or fully charge an iPad mini. (The big iPads have batteries in excess of 10,000mAh, so you won't fully charge one of those. But the Olala could certainly extend your run time.)
A slender side-mounted power button is used to turn the battery on and off; it's so well integrated into the frame that you may miss it on first inspection. Unlike some other batteries, this one doesn't offer a flashlight. That's OK by me—I don't think I've ever used the flashlight on any of our other battery packs.
In my testing, the battery performed well, recharged quickly, and never got overly hot, even when charging two devices at once. Based on its performance, the Olala PowerBank has earned a spot in our collection of portable power packs.