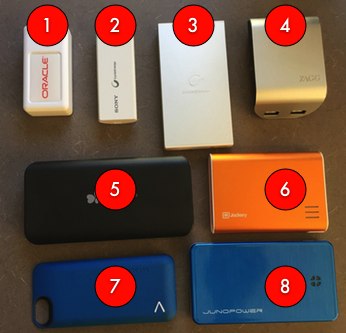 "Hello, my name is Rob, and I have a portable power problem. It's been six days, 13 hours, and 23 minutes since I last bought a portable power solution."
OK, so that's a bit over the top. But still, I find portable chargers appealing, as I don't like being without power when away from a wall outlet. Whether it's a long flight, a camping trip, or a Mother Nature-induced power outage, I like having alternatives. That's why there are currently eight chargers in my collection, as seen in the image at right (click for larger).
And while I can't pretend to be anywhere near as thorough as The Wirecutter, I thought it'd be interesting to compare all eight of these portable chargers.
The following table provides baseline specs on all eight chargers, and shows how much power you're getting for each ounce of weight you carry (mAh per Ounce) and how much you'll pay per milliampere-hour (mAh per Dollar)—so you can choose by power effectiveness or cost effectiveness. (The order of the table corresponds to the numbering in the above-right photo.)
My two favorites are highlighted; the Jackery is an ideal size to carry around nearly everywhere, and the EC Technology is excellent for camping trips or other extended periods away from power. Beyond the table, I share a few thoughts on each of these power bricks, in case you're really interested in these things.
#
Product
Size (LxWxH, inches)
Volue (cubic inches)
Weight (oz)
Capacity (mAh)
mAh per Ounce
Cost ($)
mAh per Dollar
1
OrigAudio w/ Oracle logo
3.75
1.75
0.80
5.3
4.1
1,000
243.9
--
--
2
Sony CPV3 Portable Power Pack
4.00
1.50
0.75
4.5
3.0
2,800
933.3
3
Sony USB Portable Charger
5.13
2.75
0.63
8.8
9.6
10,000
1,041.7
--
Sony Cycle Energy - 2+3 sold as a set
13.3
12.6
12,800
1,015.9
$83.85
152.7
4
Zagg 6000 battery pack
4.25
2.75
1.70
19.9
7.5
6,000
800.0
$55.89
107.4
5
EC Technology Power Bank
6.30
2.90
0.80
14.6
15.4
22,400
1,454.5
$45.95
487.5
6
Jackery Giant+ Portable Charger
4.30
3.10
0.80
10.7
10.4
12,000
1,153.8
$39.95
300.4
7
Boostcase Hybrid Battery Case
5.50
2.38
0.40
5.2
2.8
2,200
800.0
$99.95
22.0
8
JunoPower JunoJumper
5.47
2.95
0.59
9.5
7.2
6,000
833.3
$99.99
60.0
Read on for a little blurb on each charger…
[1] OrigAudio : This is some freebie I picked up at a trade show or something. Nothing really worth talking about here, other than it makes a great nightlight, because the Oracle logo glows white when plugged in. I like the tiny size; I sometimes send it with my daughter if she forgot to charge her iPhone.
[2+3] Sony Cycle Energy: For the list $83ish, this isn't much of a bargain. But I found it at Costco once for something like $60, which was a better price. The 10,000 mAh unit is relatively light and thin, and the 2,800 mAh unit isn't much larger than the OrigAudio charger, but carries 2.8x the power. Also comes with a small wall unit that you can use to recharge the battery. (Or any other USB device; I use it to recharge my other chargers.)
[4] Zagg 6000 battery pack: This was one of the first "big" chargers I bought. It's quite large for its power level, but one nice feature is that it plugs directly into the wall to recharge; there's a (US) standard power plug that folds out from the back. Only this and the Sony offer in-wall recharging, and the Sony does it via a small brick that plugs into the wall, and you then connect to the brick via a USB cable.
[5] EC Technology Power Bank: If weight isn't a consideration, this is the portable charger to take with you. It's almost twice as powerful as the Jackery, but only about 40% larger (by volume). Also, at $40, it's incredibly cheap on a dollars per milliampere-hour measure. I haven't fully discharged it yet, and probably won't until next summer (camping), but so far, it's a winner.
[6] Jackery Giant+: This is my favorite charger for its combination of relatively small size and powerful battery. It's small enough that I tend to toss it in my backpack whenever I leave the house, just in case. It's also very nicely designed—I'm not sure how much that matters for a portable charger, but it's colorful aluminum and rounded edges are pleasing to my eye.
[7] Boostcase Hybrid Battery Case: This is a battery case for my iPhone 5 (they don't yet offer one for the iPhone 6). I like it because it's a combination of a minimalistic iPhone case, which you can leave on all the time, and a detachable battery, which simply slides into place when you need it. It's pricey as heck as a backup power solution, but it's similar to other battery cases. By comparison, Mophie charges the same $100 for its much smaller 1,700 mAh case, and $120 for their (still smaller) 2,100 mAh case.
[8] JunoPower JunoJumper: This charger's unique trait is its ability to jump start your car. No, really; it includes a tiny set of jumper cables. I haven't tried it yet in the real world, and hope I never have to.
So there you have it…more than you probably ever wanted to know about portable power supplies!