Until very recently, I wasn't a user of Bluetooth stereo heaphones. I don't necessarily have a good answer as to "why not?," other than I recall trying a pair early on, and not being impressed by sound quality and battery life. That was, of course, years ago, but I hold grudges for a long time, it seems.
Recently I thought I'd try cutting the cord again; there are any number of Bluetooth headphones available—including some very expensive models. Needless to say, these are not in my budget as a casual music listener. I was more interested in something in the $100 or less price range, and in an over-the-ear (versus on-the-ear or in-the-ear) model.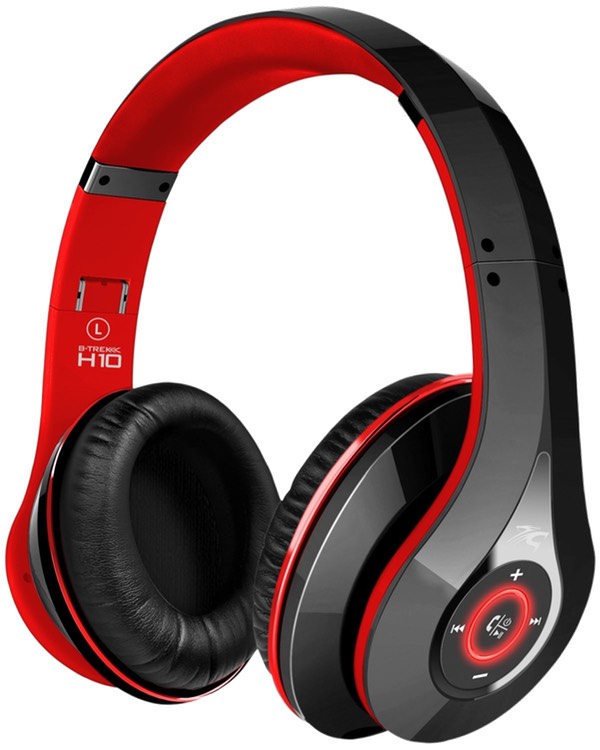 While browsing Amazon one day, I stumbled onto these headphones, with possibly the longest product name I've ever seen in Amazon: Sentey Bluetooth Headphones v4.0 with Microphone B-trek H10 Wireless Headphones Headset Foldable with Mic for Running Sport or Travel, 40mm Audiophile Drivers - Also Comes with 3.5mm Cable -Up to 15 Hours Battery - Comes with Free Transport / Protection Carrying Case Ls-4570.
Rolls right off the tongue, doesn't it? I'll just call them Sentey Bluetooth Headphones. Although they list for $100, every time I've looked, they've been listed for sale at $50. And with over 100 very positive reviews—and Amazon's easy return policy—this felt like a safe bet. So I ordered a pair, and have had them for a few days now.
So were they worth $50? Absolutely; keep reading for my review.
Value The amount of stuff that comes for $50 is really quite amazing. You get the headphones, a padded travel case, a USB charging cable, and a cord with stereo mini jacks on each end (thanks for the correction, Dan!) on each end, in case you want to use them plugged-in. Score: 10/10
Quality The headphones are made of metal and plastic, and feel well put together. The earpieces are comfortable, and the band doesn't hurt my head. My longest listening session has been about three hours, and I had no discomfort during that time. The band expands with a solid "click" on each side, and it easily fits my large head. In short, they feel well made, and worth more than their $50 cost. Score: 8/10
Sound quality I wanted these headphones for music on my Mac, not phone calls, so sound quality was important to me. With that said, I was comparing these headphones to my usual Mac listening choices: A set of Bose Quiet Comfort 2 headphones, and my Mac-connected speakers (an older set of Yamahas with a subwoofer).
So how do they sound? To my ear, just fine. Trebles are clear without being shrill; bass is sharp and notable, not muddy and muted. Voices come across clearly, and the overall sound balance suits my ear very nicely. I have no doubt that a more expensive set of headphones will sound much better. But compared to my two normal listening devices, the Sentey headphones have no trouble holding their own. Score: 8/10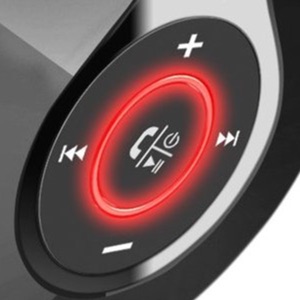 Features The right-side earpiece contains the heaphone's controller, as seen in the image at right. The controller features a center button surrounded on the left and right by previous/next song buttons, and above and below with volume up/down buttons.
The previous/next song buttons work great, both on my Mac with iTunes and while listening to music on my iPhone…and I have no idea how that works, but it's near magical.
The buttons are actual buttons, not touch-sensitive as I've seen on other headphones. I like this, because they're impossible accidentally press. The pressure required isn't a lot, but it's enough to rule out accidental presses.
Also, the fact that these are physical buttons means they have discernable edges, so they're easy to locate and press without having to look at the headphones, which is clearly a good thing.
The center button is used for power on/off and pairing. Which function is activated depends on how long you press the button. This might be confusing, but there are both lights and voice prompts to let you know exactly which mode you're in. Score: 10/10
Bluetooth First off, pairing on both my Mac and iPhone was fast and easy. The headphones can pair with two devices at once, which is both good and bad. It's bad in that when I listen at home, I need to go into my phone and tell it to disconnect the headphones (because I don't want the phone's activity going into my ears). But that's a minor inconvenience.
As for the actual performance, it's been great. I had one issue with lag on my Mac, but when I power cycled the headphones and reconnected them, it went away. Since then, they've been great on both the Mac and the iPhone. No clicks are stutters, and the range is decent—up to 15 or 20 feet without any dropouts. If I go further than that, they may start losing signal, depending on what's between me and the source device.
As an iPhone headset This is the one area where this headphone disappoints. Thankfully, that wasn't my intent when buying. There is a microphone, so in theory, you could use these headphones for phone calls. But in practice, my wife asked why I was calling her from the bottom of a mud-filled well—she could barely hear me. If you want a set of headphones for voice calls on your phone, these are not them. Score: 1/10
Overall For $50, these Sentey Bluetooth Headphones seem like an amazing bargain to me. You get everything you need to use them, they're Bluetooth 4.0, they feature both visual and audible feedback, the sound quality is more than fine (for my non audiophile ears), battery life is excellent (estimated at 15 hours), and they're comfortable to wear for at least several hours at a time.
If you've been on the edge, these are well worth consideration—just make sure you buy them somewhere with a good return policy, in case you disagree with my assessment!