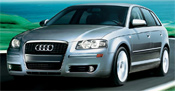 The car in the picture is Audi's new A3, which just launched here in the USA. I was browsing Audi's site last night, looking for some info, when I stumbled onto a pretty cool promo ... Audi USA is offering this deal, but not for much longer:
Test drive an A3, and get 33 free iTunes songs!
This promo ends today, so if you've got any free time and a local Audi dealer (I have both today, luckily), it might be worth a lunchtime test drive. Just fill out the form, print the email you'll receive, then visit the dealer. I'm don't think I'm all that interested in the car, but heck, test driving new cars is always fun. Throw in $32.67 worth of free music, and I think it'll be worth the 45 minutes of sales pitch from the rep. Who knows, maybe I'll like the car, too! :)
Sorry for the short notice, but I just found out about this promo last night.