At the end of March 2016, I purchased one of the newly-introduced 9.7" iPad Pros—a Gray 128GB Wi-Fi only version, to be exact. And until Friday, that was the last full-size iPad I bought for my personal use. (I did buy an iPad mini at the end of 2017, mainly as a test device for new iOS releases.)
However, early last week I decided it was time to upgrade, and after comparing a few models, I chose the iPad Air—Space Gray, 256GB, WiFi only for $649. I didn't really need 256GB of storage, but Apple, of course, only offers the Air in 64GB or 256GB capacities—and as I had about 110GB of stuff on my old iPad, I had to get the 256GB model.
Physically, they two iPads are nearly identical—despite the iPad Air's much larger display area, it's only 0.4" taller and 0.2" wider than the old Pro (they're both .24" thick), and it weighs but 0.6 ounces more.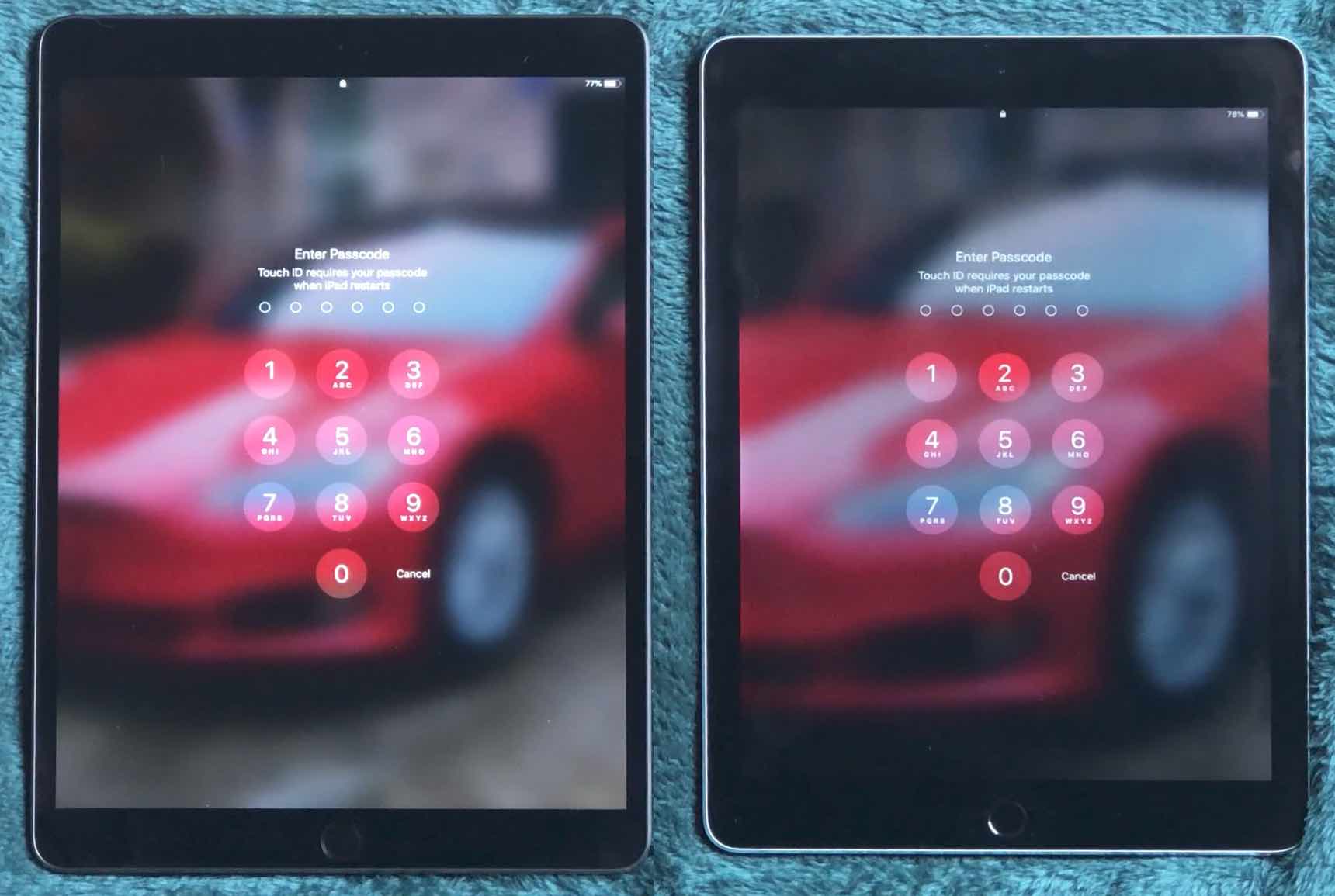 As I had a Pro before, why didn't I buy a Pro this time, too?
I mainly use my iPad for games, watching movies or listening to music, using the internet, reading books, and sending the occasional email. As an iPad will never be my primary work machine, I didn't feel it necessary to pay the extra $2502An iPad Pro 11" with 256GB and WiFi is $899 for an iPad Pro. (And by choosing the Air, I still don't own an Apple device with Face ID.)
What follows are my impressions after a weekend's use of both iPads. No real surprise that the new one is much faster than the old one, but I was impressed by just how well the old Pro still performs, four years in.
Technical specifications
In terms of performance per dollar, the Air reflects the lowering of component costs over the last four years, as this table shows huge improvements in all but one area…
| | 2016 iPad Pro | 2020 iPad Air | Delta |
| --- | --- | --- | --- |
| Cost | $749 | $649 | -13% |
| Screen Size | 9.7" | 10.5" | +8% |
| Resolution | 2048x1536 | 2224x1668 | +18% |
| RAM | 2GB | 3GB | +50% |
| Storage | 128GB | 256GB | +100% |
| CPU | A9X | A12 Bionic | -- |
| Cache | 64GB + 64GB | 128GB + 128GB | +100% |
| Cores | 2 | 2 high perf. + 4 high eff. | -- |
| Graphics | PowerVR 7XT (12 cores) | Apple GPU (4 cores) | -- |
The one area where there doesn't seem to be any improvement is in graphics, as the GPU has dropped from 12 cores to four cores. So how does that—along with the other changes—translate into benchmark test results and real world performance?
Benchmarks
I chose to run two benchmarks: Geekbench 5 and 3DMark Sling Shot. Here's how the two iPads compared…
| | 2016 iPad Pro | 2020 iPad Air | Delta |
| --- | --- | --- | --- |
| Geekbench 5 CPU Single | 656 | 1114 | +69% |
| Geekbench 5 CPU Multi | 1198 | 2892 | +141% |
| Geekbench 5 Compute (Metal) | 3820 | 4701 | +23% |
| 3DMark Sling Shot Extreme | 2983 | 5170 | +73% |
On both iPads, I ran the benchmarks immediately after a cold boot, but I didn't run multiple tests—I didn't really care about ultimate accuracy, I just wanted to get some rough comparison figures. And as you can see, the new iPad handily outpaced the old.
Even in the graphics tests—Compute (Metal) and Sling Shot Extreme—the new GPU chip easily outpaced the old, even with many fewer cores. What doesn't show in the results is just how different the two behaved while testing. In Sling Shot Extreme, many of the graphics tests on the new Air ran at about twice the frames per second they did on the old Pro; here's a bit of the results table, with the new Air on the left:

While the new Air is somewhat better in the general graphics tests, it absolutely destroys the old Pro in the physics tests, which leads to the overall lopsided win for the Air.
At the conclusion of these tests, the case on the older Pro model was fairly warm to the touch; the new Air felt only slightly warmer than it was before I started testing.
Real world usage
One of the first things I noticed wasn't something I was really expecting: Web browsing is greatly improved, especially on web pages loaded with lots of text and images, like Reddit. The new Air is much faster when loading such sites. I grabbed this still image from a video in which I loaded Reddit at the same time on both iPads…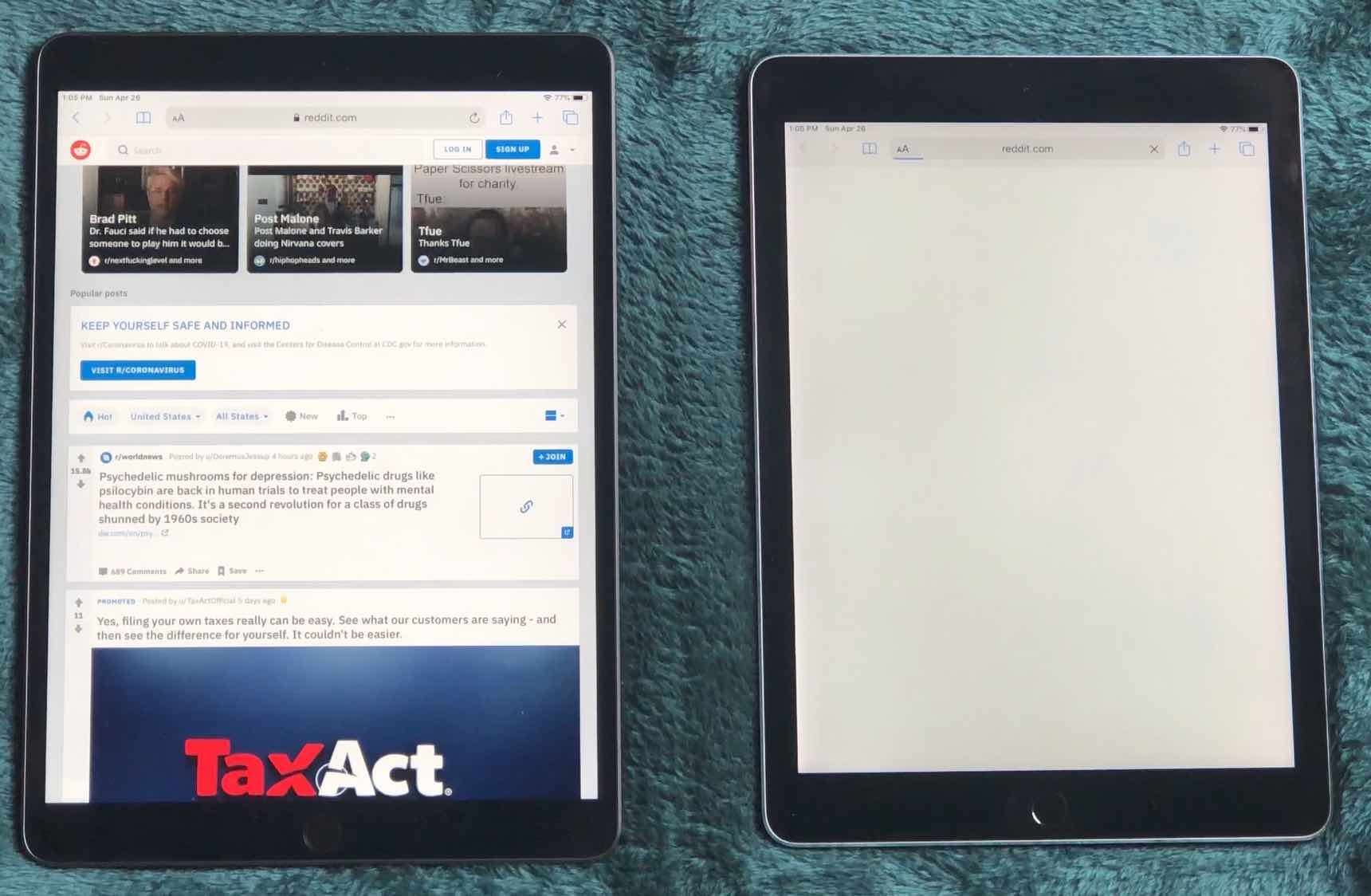 The Air (on the left, hopefully obviously) has nearly completely loaded the page before the Pro has even put anything onscreen. Not all sites are this dramatically different; I found apple.com loaded only a bit quicker on the new Air. But many sites are notably quicker, and that makes the machine a better tool for web browsing.
Of course, apps also load quicker—but it's not like they were overly slow on the Pro. On the new Air, they're maybe a half-second to a second quicker—depending on the size of the app—from tap to open.
I never really had any complaints about how my Pro handled gaming, other than some newer titles with lots of fancy graphics would seem to occasionally bog down a bit. And playing such games for any length of time was a definite battery drainer. It's early yet, but so far, I haven't seen anything bog down on the Air, and battery life seems much better when playing such games.
The larger screen size—in a nearly identically-sized container—is most welcome. The screen is slightly brighter (at the same brightness settings on both iPads), and the colors seem a bit richer on the Air. From what I've read, both screens include wide color gamut support, so I'm not sure why the colors look nicer on the Air—perhaps it's just a mental trick due to the slightly brighter screen?
An old iPad is still a good iPad
While the new Air is definitely faster than the old Pro, what's surprising is just how well a four-year-old iPad holds up to one that was released just a year ago. Yes, it gets crushed in benchmarks, but in actual use, it never feels slow (other than the noted issues with some web pages and complex games). It can run the latest version of iOS, and it can still handle all the routine stuff—watching movies, sending emails, etc.—just as well as the new Air. Pretty impressive for four-year-old technology.
I really like my new Air, and I imagine it will have at least as long a useful life here as did my iPad Pro—which is now on its way to a new owner, who'll hopefully get as much use out of it as I did.