For the last couple macOS releases, I've had nothing but trouble searching in Mail. Note that I didn't write "trouble searching mail," but rather, "trouble searching in Mail." For example, today I needed to find an email from my business partner Peter about a hidden pref in Butler. (I was hoping this pref could help a user who was having problems with the pasteboard in a certain app.)
Update:
See
this post
for a possible solution.
Based on a document on my hard drive, I knew the name of the default was Pasteboard Normalization Interval, but I couldn't remember the syntax of the defaults write command to set its value. So I searched in Mail…

So clearly, no emails in my database contain the words I'm looking for, right? Here's the exact same search, run in Spotlight: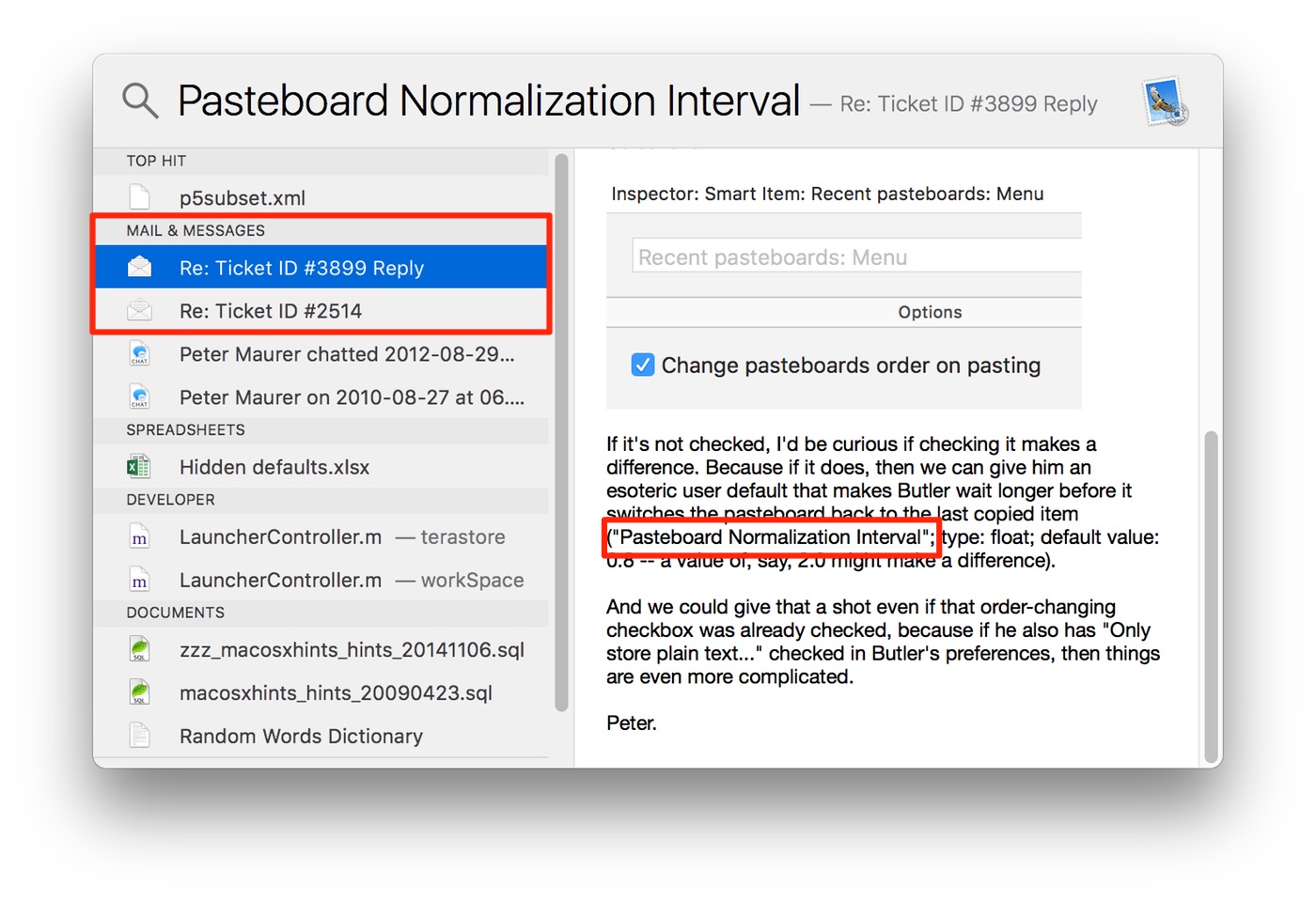 Not one but two email messages match my search, and provided the needed syntax for the command.
Wait, I know what you're thinking: "Ahh, look, it's in quotes!" Doesn't matter; searching Mail for "Pasteboard Normalization Interval" still results in zero matches. Searching on even one word of the phrase, like Normalization, also finds no matches.
Again, I know what you're thinking: "Oh, I bet the Mail index is screwed up." Nope; even after rebuilding the index on all 250,000+ messages in my database, no matches are found. (And yes, I let the index complete its rebuild, which took hours.)
I've heard from others that search in Mail works for them. But it's a no go for me, and I know, for others. So something's wrong, but I don't know exactly what it is, nor how to fix it.
So for now, I have to rely on Spotlight to search Mail…or a third-party app, but more on that in a bit.