I know, clickbait headline, but really, it's how I've felt since the release of the iPhone X, and still feel today. And no, this isn't about switching to Android. It's about not buying a newly-designed iPhone. Why not? Two reasons…
The Notch
The notch adds nothing to the iOS experience, but takes away much. Those stupid ears grab my eyes every time I see them, and there's no way to avoid them, save never using anything but an all-black screen. When not in an app, they show status items on a black background, which is fine…as long as your iPhone's wallpaper is also black.
But once you're in an app, you're in Notchville…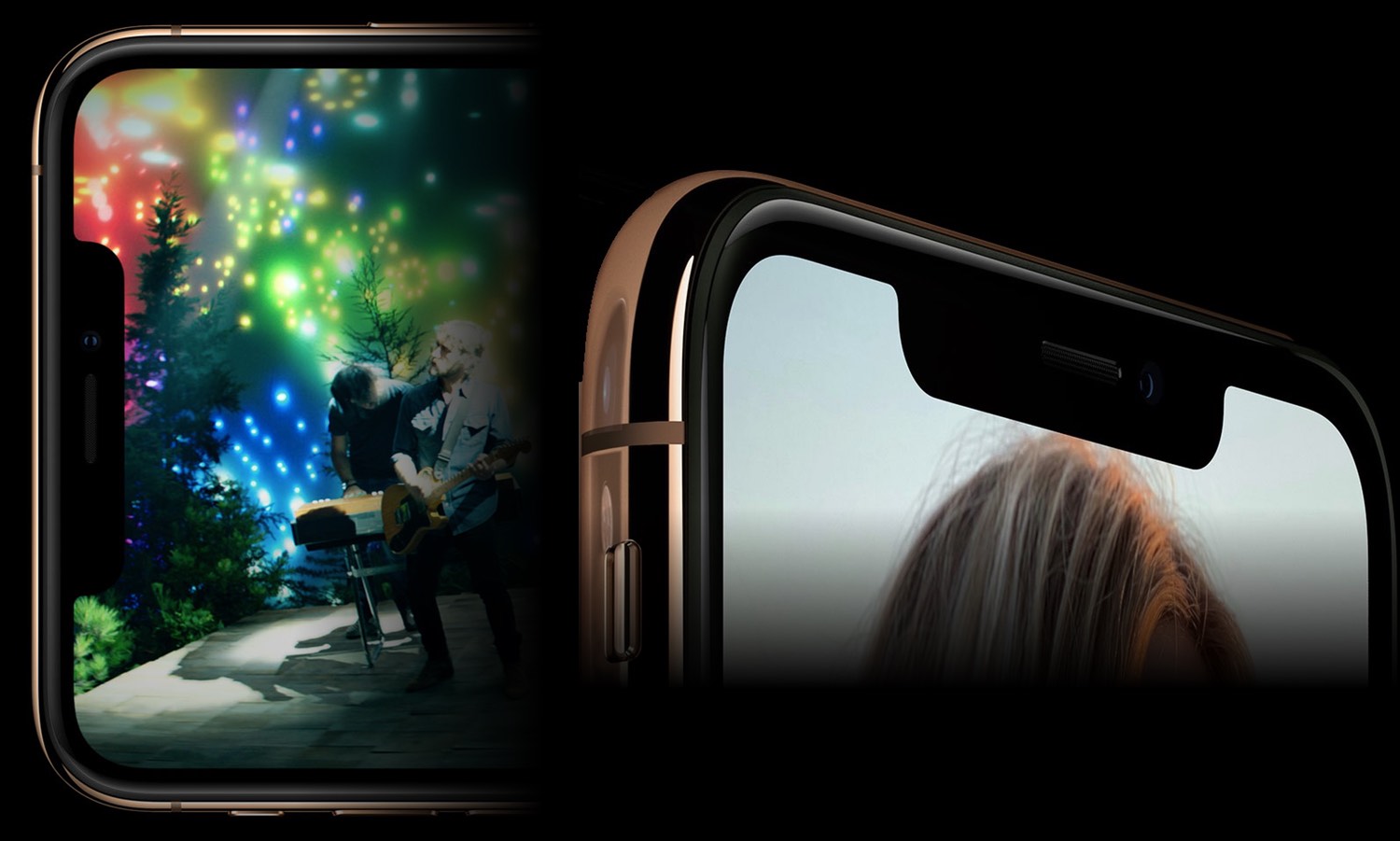 When not showing status items, there's nothing in the ears that I find useful as a user. In the above shots, my eyes focus on the section of missing video, and the section of missing sky. These interruptions in the flow of the image are incredibly distracting to my eye.
Of course, you can remove the notch from videos by playing them in a smaller area, which places a border on all sides…just like any prior iPhone already had. So much for the edge-to-edge screen. But you can't do anything about the notch in other apps.
Note: Apparently there's hope for the future. A 2016 Apple patent filing reveals Apple is working on technology that would eliminate the notch. Alternatively, perhaps Samsung (Apple's OLED screen supplier) will provide them with the see-through screens they're apparently working on. Either way, this would mean the end of the notch, so perhaps there will be a new iPhone in my future at some point.
Face ID
I know it's a marvel of engineering. I know it's incredibly easy to use, it seems magical, yada yada yada. And believe it or not, I agree: It's amazing, and in general, I think it's great tech. But Face ID is single-handedly responsible for the notch, and for that reason alone, it should be banished forever.
Set that aside, though, and there are threetwo other reasons why I don't really want Face ID on my phone…
1. It makes using Apple Pay harder
Compare these two methods, taken from the Using Apple Pay in stores, within apps, and on the web support document: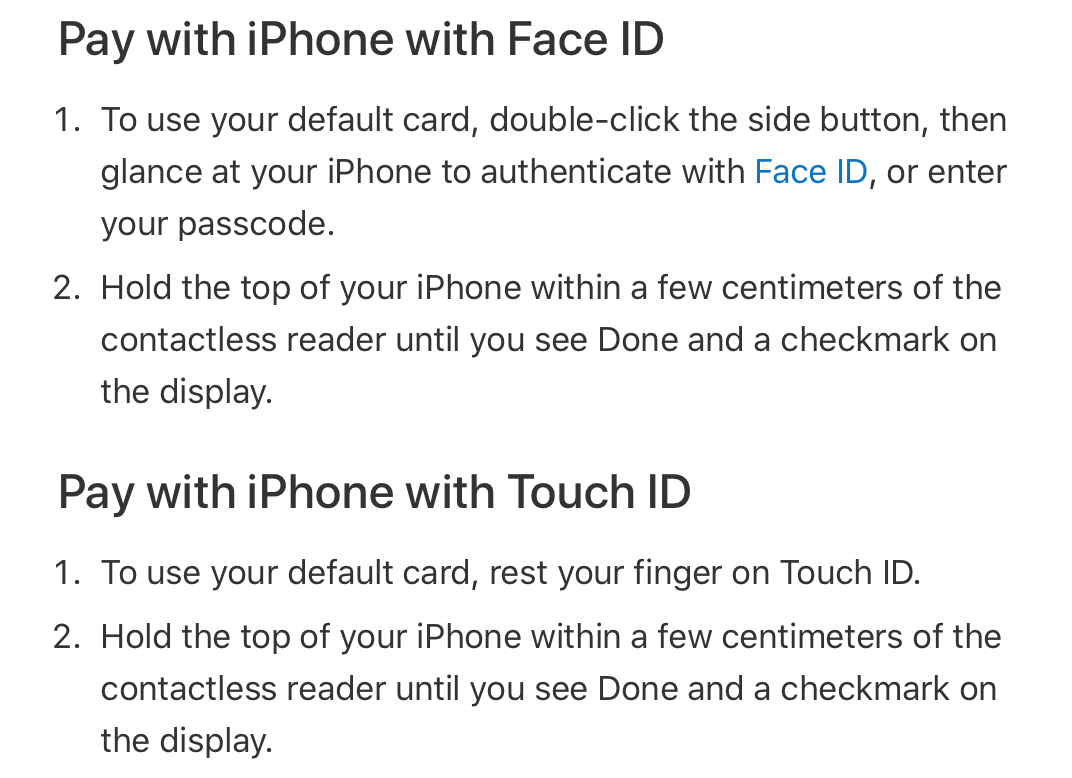 With Touch ID, I could complete an Apple Pay transaction with the phone in my coat pocket—put my hand in my pocket with my thumb on the Touch ID button, swing my pocket up near the reader, and wait for the "bing!" noise. With Face ID, I'd have to not only remove the phone every time, but also double-click a side button and look at the phone. Even when I have my phone out for Apple Pay, I'm usually not looking at the display. This takes away some of the magic of Apple Pay; it feels more like a process.
2. The Border Patrol may love Face ID
Unless you want the Border Patrol to require you to look at your phone and unlock it for them, you should probably require a passcode at all times while traveling. This is generally good advice, even for Touch ID—but Face ID is on the edge of a slippery slope as to whether or not you may be compelled to look at your device to unlock it:
"Arguably if law enforcement says use your finger to unlock, the knowledge of which finger [will unlock an iPhone] is still an item of knowledge being produced by the individual," attorney Fred Jennings explained to Forbes "Whereas with Face ID, by design it will only unlock with a very specific and obvious and body part." [source]
If you don't set a passcode while traveling, you should probably still take advantage of the emergency SOS feature to disable Face ID (or Touch ID) on the fly. Don't worry, it doesn't actually make an SOS call, it just makes it easy to do so while disabling those unlocking methods.
3. You can't have more than one Face ID
I wasn't aware that iOS12 added an "alternate ID" feature, thereby allowing two faces to be used—hooray, as this was my biggest Face ID gripe. (Thanks, Rob, for the comment pointing this out.)
Seriously, no new iPhones for me…ever?
Ever is a mighty long time, and you're probably doubting my word that I won't buy a new-design iPhone. But it's true; until the notch is banished to the dust bin of history, I will not be purchasing a new-design iPhone. (Because every rule has an exception, here's mine: If the notch survives for such a long time that I can no longer purchase and/or use a notchless phone, I'll buy a notched phone, as I'm not switching to Android.)
If Face ID were the only issue, I'd be all-in already: Face ID's changes annoy me a bit, but they're not visible issues every time I look at the screen. But I cannot stand the notch; it's a design abomination.
I would much prefer Apple simply reserve the entire upper portion of the display for status items, make that area all black, and lock the devs out of the area. Yes, it's no longer "nothing but screen," but here's a tidbit of truth: It's already not nothing but screen!
Apple could easily do this with a software update, but they won't, because they treat the notch as something to be proud of, rather than something to be ashamed of. Too bad, really, because I think the new phones are otherwise astonishingly good.
For the foreseeable future then, if/when my iPhone 8 Plus dies, I'll replace it with another iPhone 8 Plus…at least until the efforts from that 2016 patent (or another approach) see the light of day.