And obviously, it would be, because there is no month 13. But if you're unlucky enough to be a Mac user in the month of December, 2017, then you'll probably be seeing a lot of "Month 13 is out of bounds" messages in your Console. And by 'a lot,' I mean an exceedingly excessive never-ending stream of spewage…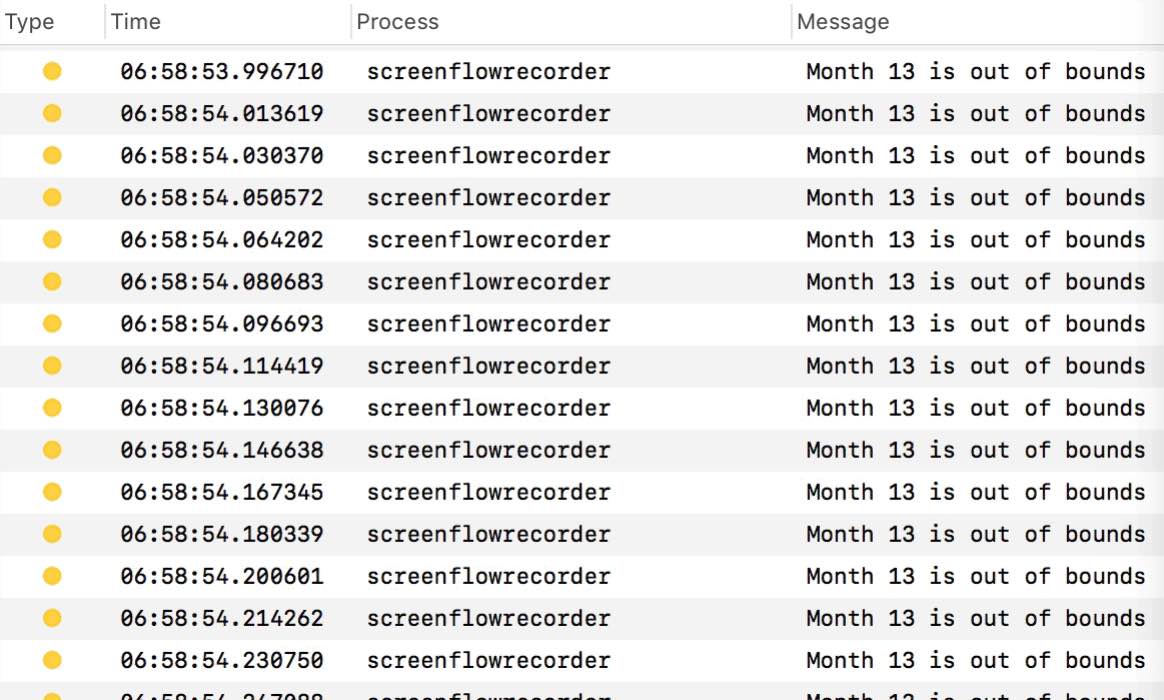 Thousands and thousands and thousands of them—I'm getting anywhere from two to 20 per second, continuously. Ugh.
This just started happening this morning, and it's happening on all my Macs. I found one Apple developer forum thread that talks about the problem, and user Helge seems to point to a bug in mdworker…
Helge
Nov 29, 2017 2:08 AM
(in response to Macho Man Randy Savage)
Nothing wrong with you code. the mdworker process is encountering an error.

01. fehler  
02. 11:04:18.125428 +0100  
03. mdworker  
04. Month 13 is out of bounds
This bug must be new with High Sierra (or we would have seen this last December, too). On top of the recent root-no-password security issue and the need to fix file sharing after that fix and a possible ssh exploit (since patched, it appears), as well as all the other glitches, High Sierra is starting to feel like someone really was high when they said "ship it!"
And sorry to be so negative about these issues, but I rely on my Macs and macOS for my work. I expect them to work, and to work well. For years, they did just that. But recently, the downward trend in the quality of the software cannot be ignored: It's a huge problem, especially when functional macOS app bugs and macOS system-level bugs that affect third party apps (both of those are roughly two years old!) aren't even responded to by Apple.
Please, Apple, for next year, give macOS zero new features and focus on quality and stability. Pretty please?