I have used OS X's built-in Mail program for nearly 15 years. I use it for both personal and work emails, and as such, I rely on rules to sort my mail—I have 75 separate rules. (Note to Apple's Mail team: If you would allow boolean logic in rules, I could slash this number to about 10. Please?)
Recently we changed the Many Tricks store, and as a result, I needed to modify about 30 of my rules. As I was working on these changes, which requires editing and testing each modified rule, I noticed a most-frustrating Mail bug: The "Perform the following actions" section for all rules would slowly vanish as I edited my rules.
Needless to say, editing a rule when you can't see the Actions section is impossible.
Here's a before (top) and after (bottom), showing how this glitch manifests itself: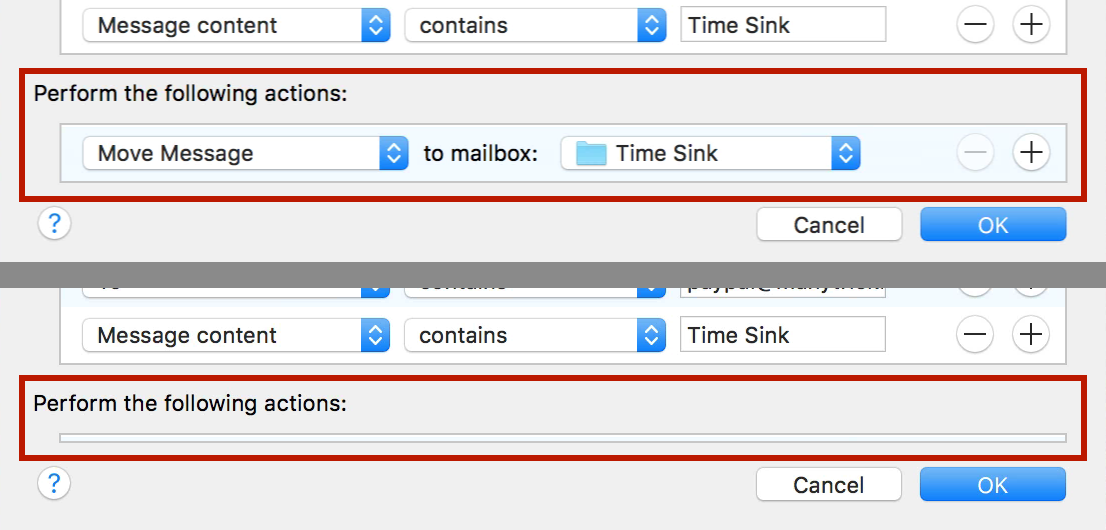 This happens slowly: Each click on the Edit button eats a bit more of the space reserved for the Actions section. After about 25 clicks on Edit, the Actions section will be completely gone. (I have verified this on three machines, including a fully-stock El Capitan installation, so I don't think it's something on my end.)
At this point, the only fix is to quit and relaunch Mail—this will restore the Actions section, at least for another 25 clicks.
To demonstrate the problem in my RADAR, I created this very brief (thanks to sped up video) movie:
In the video, I click the Edit button for the same rule, just for ease of demonstration. But it doesn't matter which rule you edit—even if you move from rule to rule, you'll lose the Actions section after about 25 clicks.
Hopefully this is fixed in 10.11.3—it's not fixed in the 10.11.2 beta.