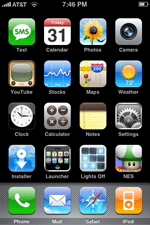 So the iPhone has been out for a couple months now, and I've pretty much left mine alone--no hacking of any sort, beyond trying out Ambrosia's new iToner. Then today, fellow Macworld staffer Chris Breen pointed me to Nullriver's Installer.app beta. Using this program, "hacking" your iPhone is amazingly simple. Run the Installer.app on your Mac, then switch to your iPhone and use the new Installer icon on the home screen. From there, choose which packages you'd like to install, and you're off and running.
So what's available? Quite a lot, actually. There's a screenshot app, which I used for the images you see here (click on each for a larger version). In the shot of the main screen, you'll notice there's a new row of icons on the phone; those were all added with the Installer.app program. There's a BSD subsystem, so you can ssh into your iPhone, and use scp (or SFTP in something like Transmit) to get files to/from the phone. There's a functional NEC emulator, complete with sound. The Apache web server. A terminal emulator. Perl, python, and ruby for the ultra-geeks. And lots more.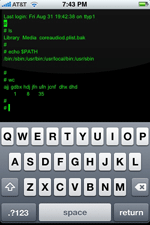 If something goes wrong (and it hasn't for me yet, but I tested the following to make sure it works), you just use iTunes to restore your iPhone, and you're back to a fully functional (and non-modified) iPhone. However, you are responsible for your own actions. I am not responsible for any damage that may result to your iPhone if you choose to try this out!
We'll have a lot more to say about this over on our iPhone Central blog next week, so tune in for much more detail. But if, like me, you've been waiting for iPhone hacking to get easier, a bunch of very very very bright people have made it so--if you've used a package manager on Linux (or something like Fink or MacPorts on OS X), you'll be right at home with Installer.app.
In a way, this work really could be considered embarrassing for Apple: a bunch of volunteer hackers have created a fairly amazing, professional-looking, and very easy to use third-party applications manager for the iPhone--all without any help from Apple, and it's done before Apple has even announced anything about official third-party application support.