On the same day that Apple announced the new iPhones and such, they also released iTunes 12.7, which has a number of minor changes, and one very major change (here's a nice summary). The major change is the removal of pretty much anything related to iOS apps: You can't sync apps, you can't browse the store, and you can't reorder your iOS device's app icons.
As someone who is Mac-bound for the majority of the day, this is a horrible change, and I absolutely hate it. Apple does provide one workaround, the ability to manually sync data from your computer to your iOS device. But this method isn't really user friendly, and offers almost nothing in the way of actual app management. Further, it doesn't let you rearrange your apps, which is one of the most awful tedious tasks one can undertake on an iOS device.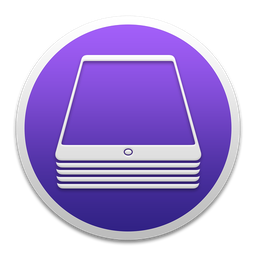 Enter Apple Configurator 2, a free Mac app that Apple says "makes it easy to deploy iPad, iphone, iPod touch, and Apple TV devices in your school or business." But here's a secret—shhhhhh!—you don't have to be a school or business to use Configurator, nor do you have to use it for multiple devices—it works just fine for a single user with a single iOS device. And as an added bonus, it does some things that iTunes 12.6 and earlier never did.
In summary form, using Configurator, I can…
Easily view (customizable) device info for multiple devices at once.
See a summary screen for any given device, containing lots of useful tidbits about the device.
Rearrange icons on any device's screens.
Change the wallpaper on any device.
View info on all installed apps, and sort by name or seller or genre, etc.
Update installed apps.
Install apps from either purchase history or from a folder on my Mac.
Install configuration and provisioning profiles (for beta software, etc.).
Install documents and assign them to applications.
Create backups (open or encrypted) and restore them.
A whole bunch more…
The one thing it can't do—and for which there's still no alternative I'm aware of—is browse and purchase apps from the iOS App Store. For that, you'll still need to use your iOS device…or a virtual machine running iTunes 12.6. (Configurator requires a physical connection via USB cable; it won't work over WiFi. Configurator also grabs any connected devices it sees, so don't launch it while iTunes is syncing other iOS content, for instance.)
Keep reading for a slightly deeper look at a few of Configurator's features…
View summary device info
As someone who owns multiple iOS devices, I really like this feature in Configurator. You can view in a graphical manner, or the much-more-useful list view:

The really nice thing about this list is that the columns are configurable1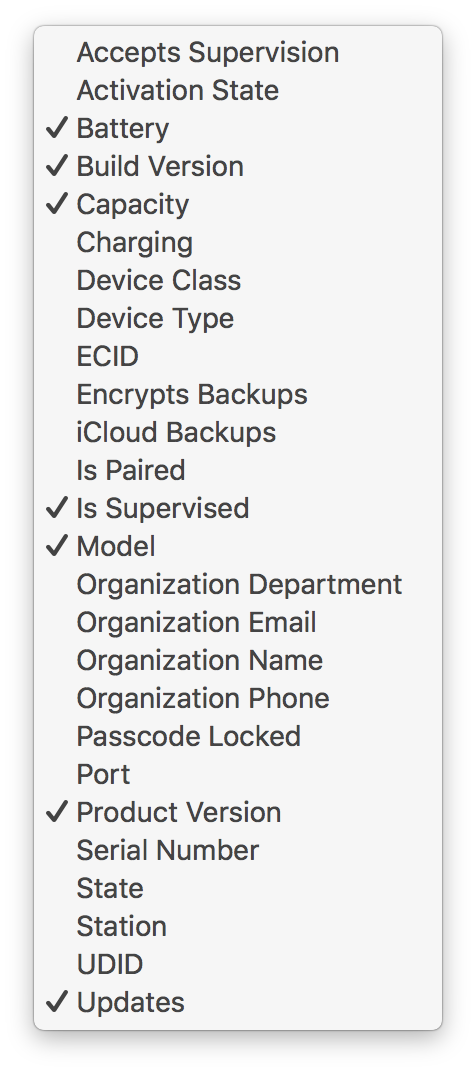 and you can sort by any column just by clicking the column header. Finally an easy way to see versions and builds and whatnot at a glance.
View detailed device info
Double-click on any device in the list, and you're taken to a summary info screen for that device, with even more data: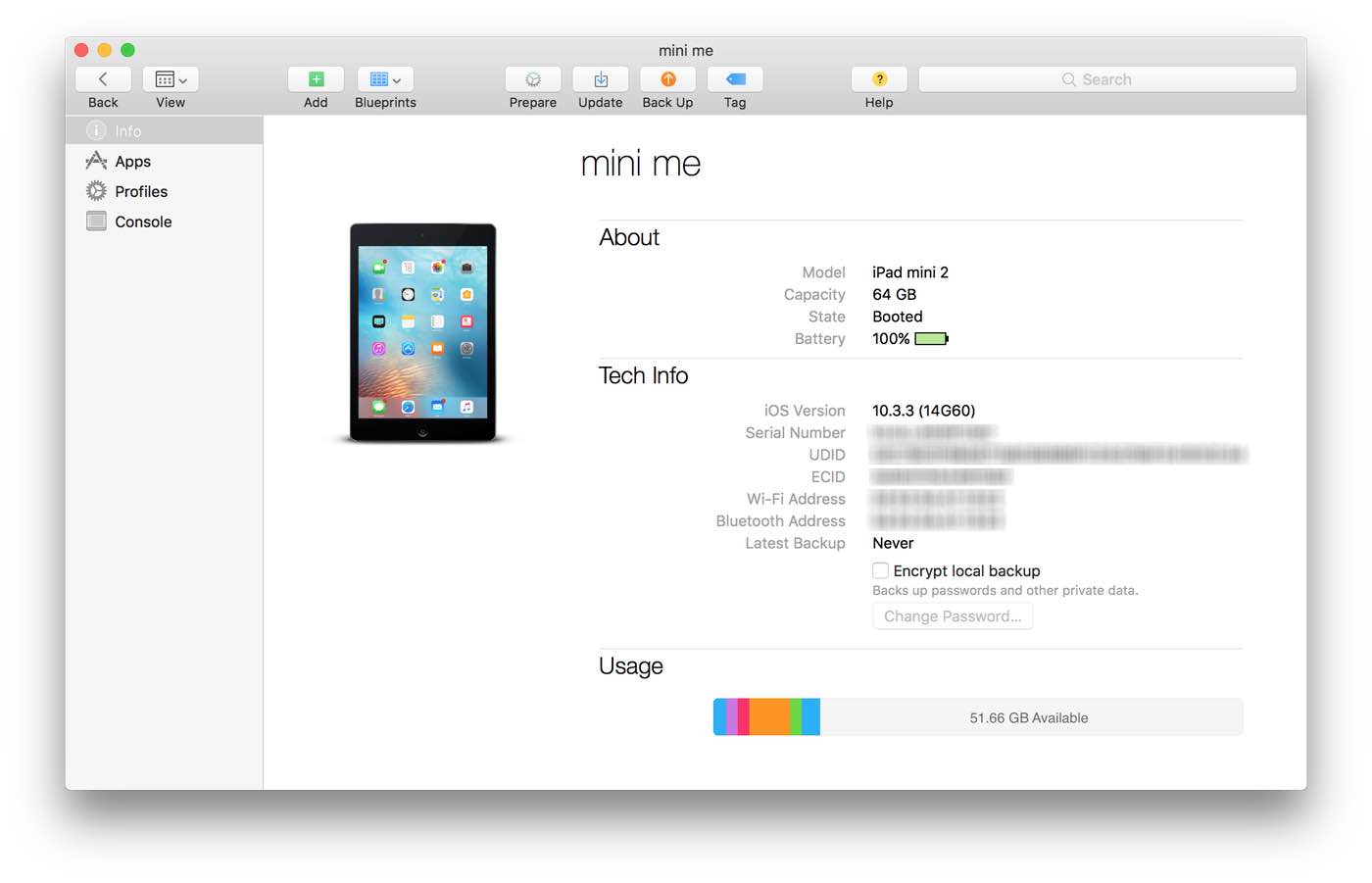 (The Usage bar at the bottom may not appear all that useful, but all it's missing is a key; hover over any segment to see what the data type is, and how much space is being used by that data type.)
Working with apps
In iTunes 12.6 and earlier, when you selected the Apps category on the iOS device, you were presented with a combined view of installed apps and app layout screens, like this:
This screen had its issues—the list of apps, for instance, is every app you've ever bought, whether or not it's installed. And scrolling the home screen layout section on the right could be really slow and painful, even on a high-end iMac. There's also a lack of information about each app—no version number or developer name, for instance.
In Configurator, the functions of app management and home screen arrangement have been split, and both work better on their own. To work with apps, click on Apps in the left sidebar for a selected iOS device, and this is what you get: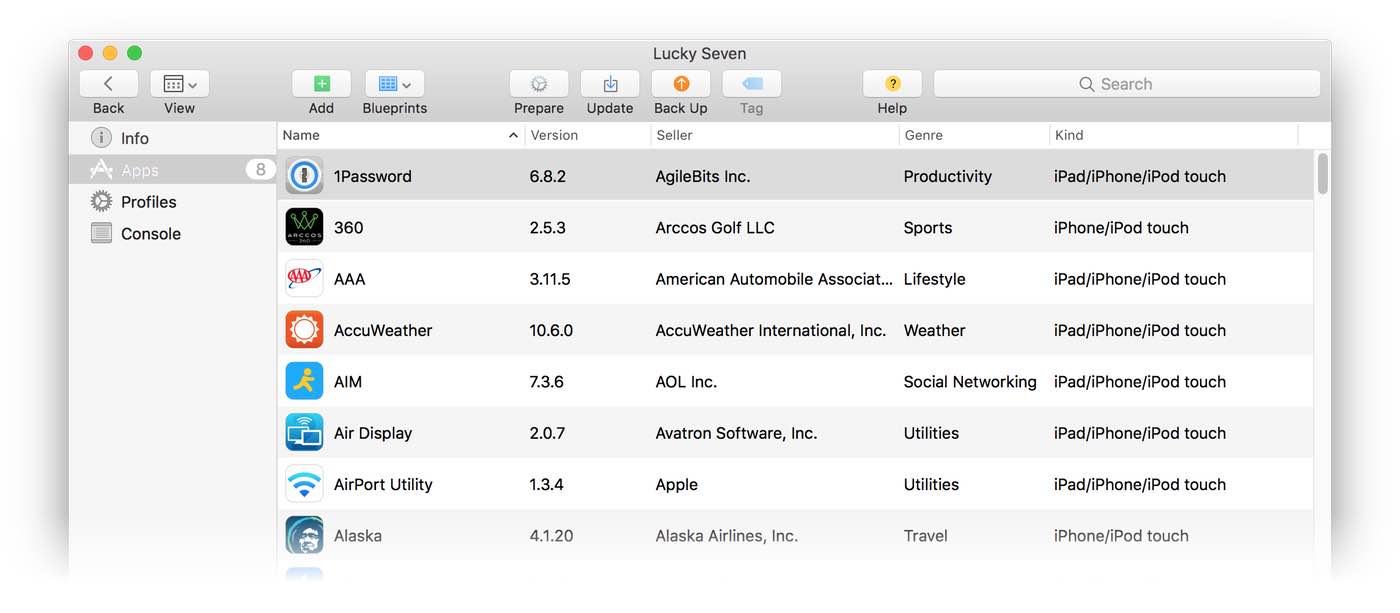 This list contains just those apps installed on the iOS device, and like the summary device info table, you can sort by clicking on any column heading, and you can add/remove columns. (There are only two more that I haven't shown here—release date and purchase date.) You can see version and seller and genre at a glance; I particularly like sorting by genre when trying to thin duplicates off my iOS devices.
But what about previously-purchased apps not on the device? Click the Add button in the toolbar, select Apps (you can also choose Documents or Profiles), and a sheet appears, showing your purchased but not installed apps: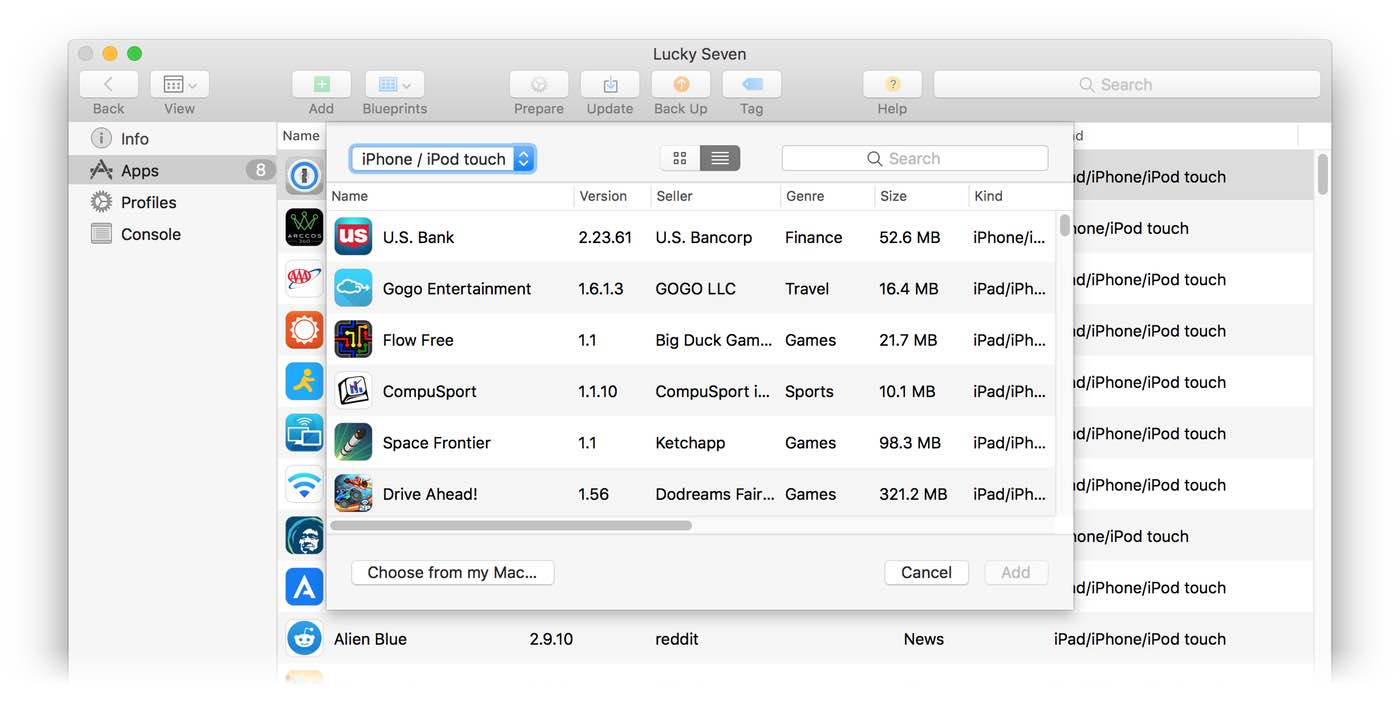 This is actually more than a simple sheet—you can sort it by clicking on the column headings, or right-click on a heading to customize the fields you see. There are actually a couple more fields here than in the installed app view, and you might find the Minimum OS Version column quite useful if you have an older iOS device that can't run the latest version of iOS.
Organizing screens
This is one area where Configurator leaves iTunes in the dust: Rearranging apps is much simpler in Configurator than it was in iTunes…and so far ahead of doing it on an iOS device it's not even worth comparing. One of the main problem in iTunes is that it expanded every folder, and showed your actual device's wallpaper. Both of these things lead to slowdowns—lots more things to scroll through, and slow while the computer renders the wallpaper.
By contrast, Configurator doesn't show folder contents, nor does it try to show your wallpaper. Select Actions > Modify > Home Screen Layout, and a sheet appears, showing your device's screens and dock: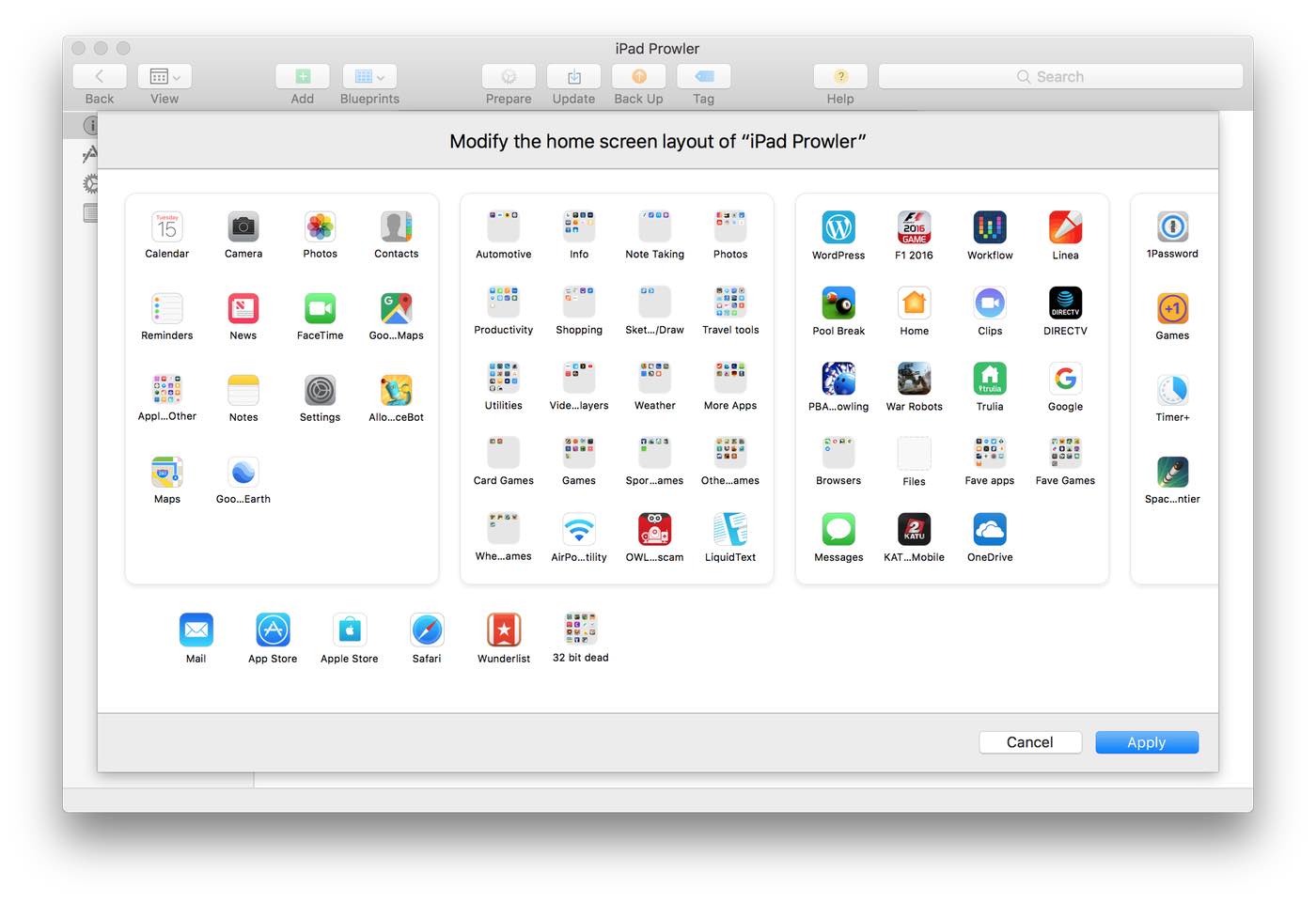 This sheet is also resizable; drag its corner to resize. On my big-screen iMac, I can set it so I see five full panels with large-size icons, making it really easy to work on my iOS devices' screen layouts. (I did find you can set the screen to be too small to be usable—the Dock area will vanish at some point. If that happens, just make the window larger until it reappears.)
You work with folders much as you would if you were directly on an iOS device: Drag an icon over a folder and hover until the folder opens to drop inside a folder (or just drop on the folder, if you don't need to see inside). To move out of a folder, it's a bit different: Double-click to enter the folder, then start dragging the icon you'd like to remove. Drag it over the small 'x' at the left edge of the window, and the folder will close. Now drag to the desired destination and drop.
You can even select multiple items with a simple drag operation; in iTunes, you had to open each screen, then Shift-Click to select more than one icon.
This is, by far, the fastest way I've found to organize my iOS devices' screen layouts.
And so much more…
This writeup just touches on some of the things Configurator can do. As seen in the Actions menu, there's a lot more. Change the wallpaper (in the Modify item), add and remove documents and profiles, export device info or documents, back up and restore, etc.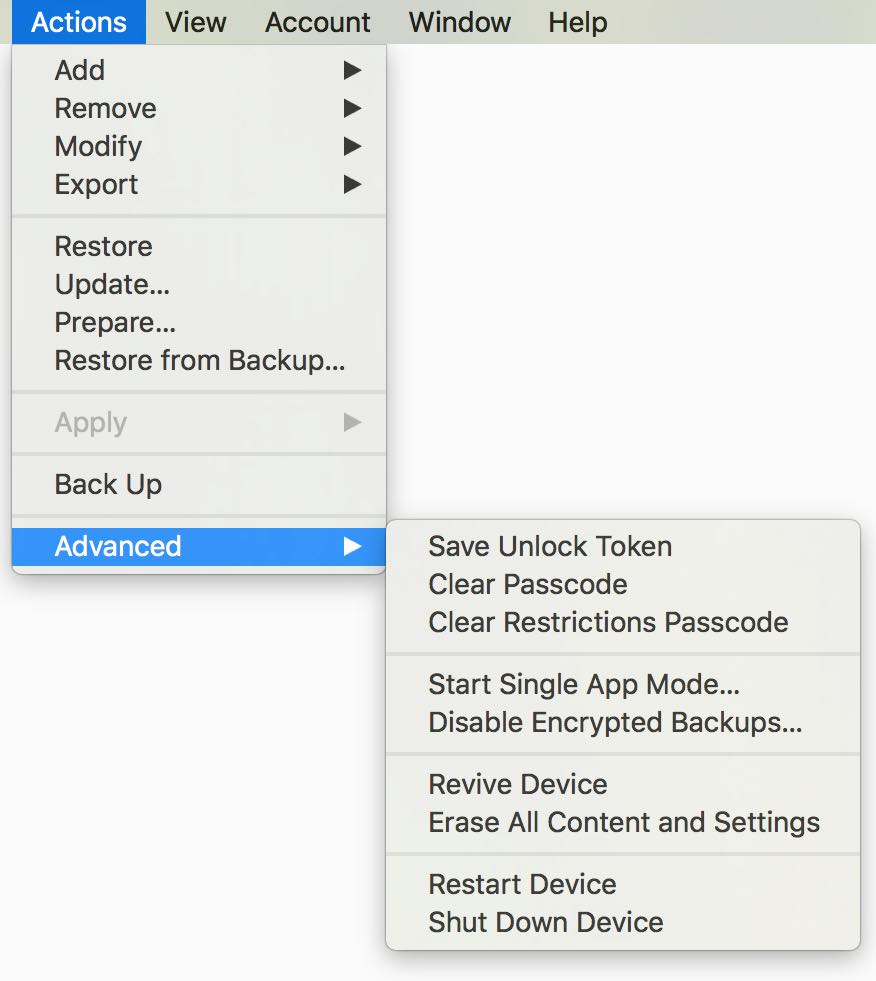 If you set your device to be managed, you can do even more, including enabling single-app mode, which forces the device to run only one app. Such tasks are well beyond the scope of this writeup, not to mention my experience level. But if you're looking for a way to better manage apps on your device in this era of "no iOS apps in iTunes," take a look at Configurator.