I've long known about Apple's general System Status page, which provides a dashboard showing the state of most of Apple's consumer-focused services:
https://www.apple.com/support/systemstatus/
Until yesterday's "why can't I launch any apps?" outage, however, I'd never known that they also have the same type of status page for developer-focused services:
https://developer.apple.com/system-status/
But this page is useful to more than just developers (and it doesn't require a login to view). Had I known about it earlier, yesterday it would've shown that they were having a problem with the Developer ID Notary Service, which is why apps wouldn't launch.
In typical Apple understatement fashion, they've posted the resolved status for that service today: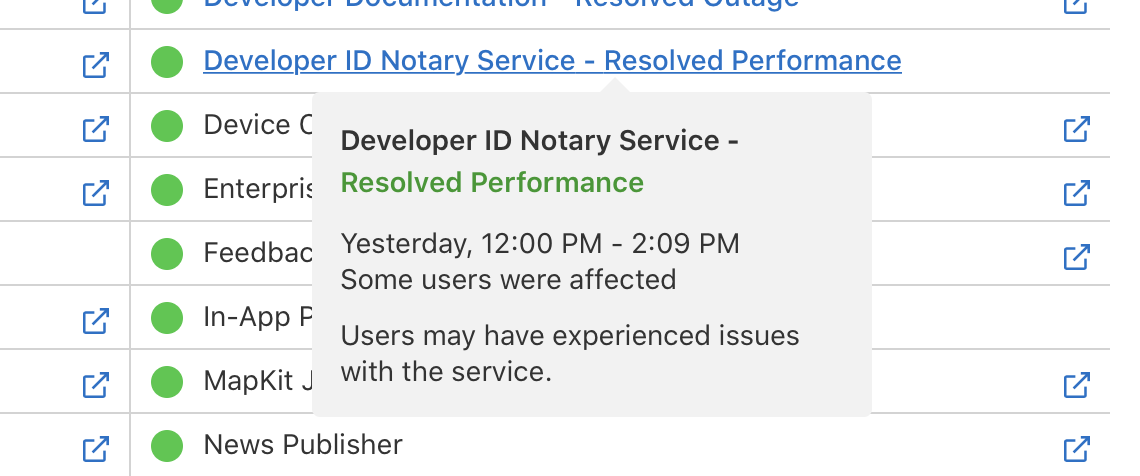 "Some users were affected" and "Users may have experienced issues with the service" certainly make it sound less painful than what it was, i.e. "A ton of users were unable to use their Macs" and "Mac users could not launch their apps for over two hours." Somehow Apple needs to come up with a better failure mode for the service, as the results yesterday were unacceptable.
Note: If it happens again, simply edit the /etc/hosts file as root, and add this as the last line:
0.0.0.0 ocsp.apple.com
That will prevent your Mac from trying to contact the validation server at all. Note: This seems to break the App Store app, but it let me keep working, which was more important at the time.