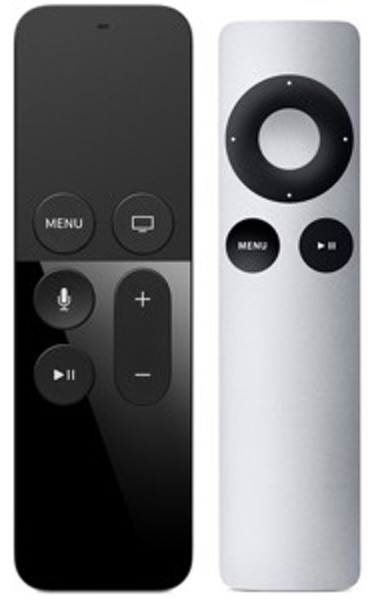 Update: Thanks to John for pointing out the obvious: The old remote works with the new Apple TV. So I guess I can go ahead and replace the one in the bedroom.
We recently changed how we use some of our rooms (eliminated a kids' play room), and as a result, decommissioned a television set. With that TV was a new Apple TV; at first I thought "Great, I can replace the old Apple TV in our bedroom."
Then I remembered the remote. For a device that I often use either while running on the treadmill (yea, it's in our bedroom) or in the dark while going to sleep, the new Apple TV remote is unusable: The touch pad is a nightmare to try to use while running, and it's tricky to use in the dark. It's also nearly impossible to tell which side's up in the dark.
So no, new Apple TV, you're not going to replace the old one in our bedroom. I'm not sure what I'll do with the new one; we have another TV it could go on, but there's no open HDMI port (it's an old TV with just two HDMI ports, and it's got an Xbox and a Blu-ray player). Time for an HDMI switch box?
I'd love a non-touchpad remote for the new Apple TV, but I don't see Apple going that direction at all.