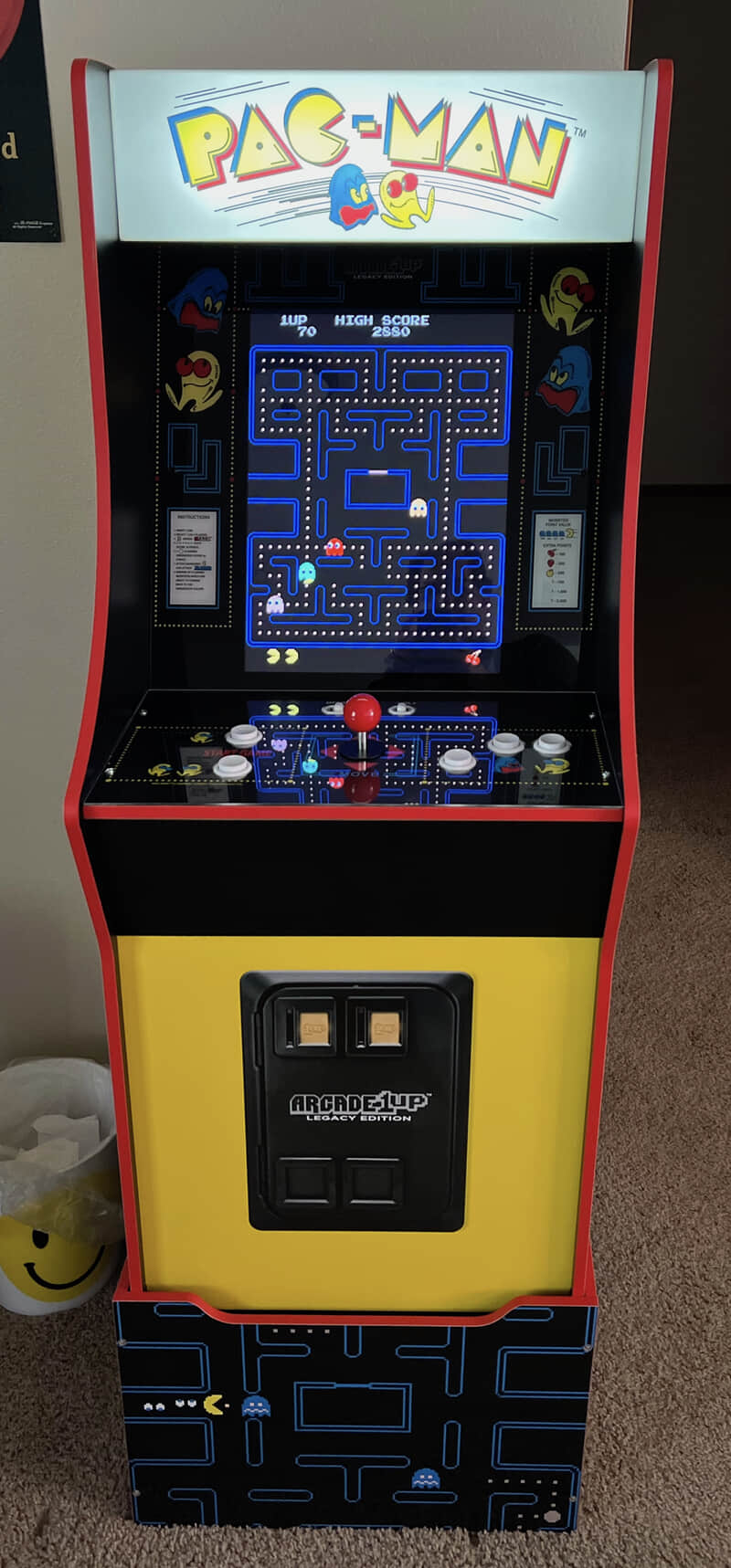 Being a person of a certain vintage, I have a soft spot in my heart for the arcade video games of the 1980s—Asteroids, Pac-Man, Missile Command, etc. I've long wanted to get an original game in its full-sized cabinet, but they're large, increasingly expensive, and complicated to maintain.
So I use MAME to run such games on my Mac, but it's just not the same as a physical machine. I've considered building my own cabinet, but then remembered that I have essentially no carpentry skills (or tools!). Enter Arcade1Up, who offer smaller (yet still substantial) cabinets with fully licensed versions of many classic arcade games.
After watching for sales for a while, I saw a deal on the BANDAI NAMCO Entertainment Legacy Edition Arcade Machine (wow, what a name). This cabinet includes 12 games, though only three—Pac-Man, Galaxian, and Galaga—were of much interest to me. The kit also included the riser, making it playable while standing up.
The kit retails for $449, but I caught it on sale at Walmart (via slickdeals, a site that either saves or costs you a small fortune, depending on how you view it) for under $300. I wasn't quite sure what the quality of the kit would be, as even at $449, it seems relatively inexpensive.
I had the kit sitting here for a bit before I had time to put it together, but now, as you can see by the image at right, it's done. If anyone else is in the market for one of these, I thought I'd share my thoughts on the kit and using the finished product.
The kit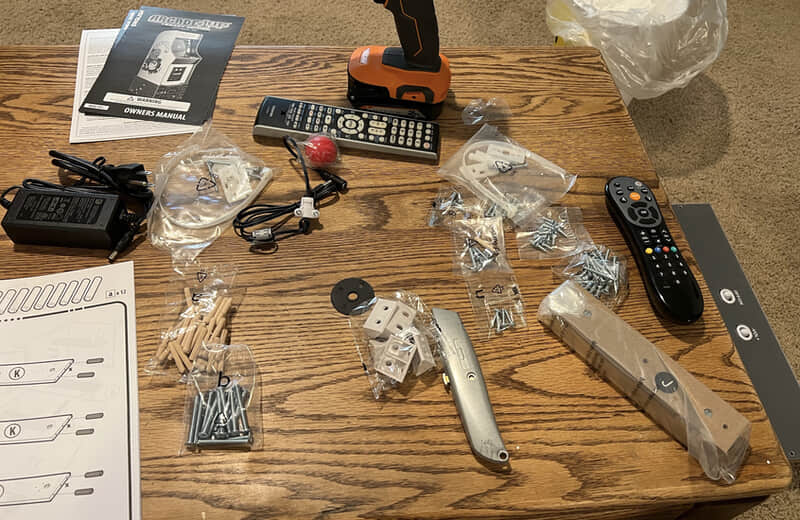 I was impressed with the quality of the kit. Yes, it's particle board, but it's solid heavy particle board.
The kit weighs 80 pounds, and comes in one large box. I was installing it upstairs, and was working alone, so I bungeed the box to a hand truck to pull it up the stairs. Opening the box revealed nicely packed materials, with separators so nothing would get scratched while the box was moved around.
All the screws and nuts and bolts came in separate individually-labeled bags, which greatly eased assembly. I used a power drill for driving the screws, but it's a variable speed drill with adjustable torque, so I set it to give up relatively quickly, so as to not overdrive any of the screws. If you don't have such a drill, a handheld screwdriver is definitely safest.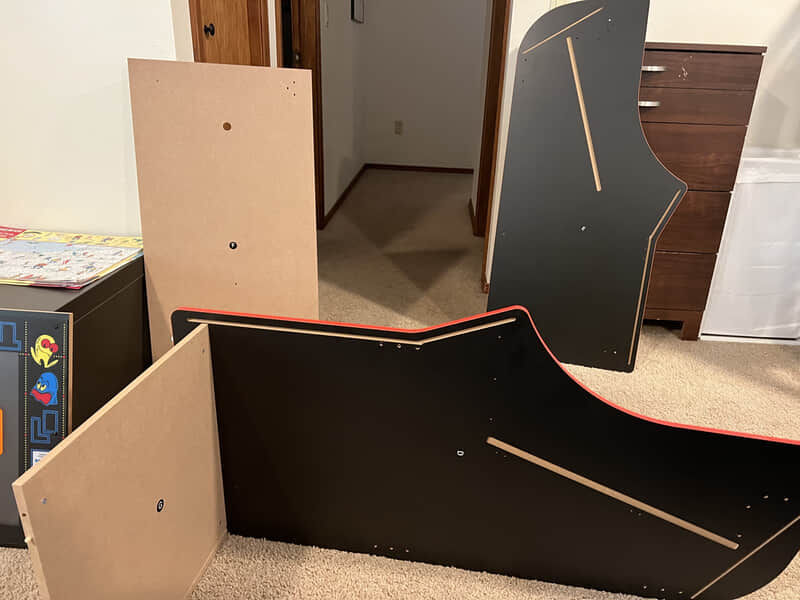 The cabinet consists of two large side pieces with a few cross braces and mounting support for the controller and buttons. The main side panels are slotted to hold the cross braces and mounting support, and to insure things go exactly where they should.
I found the instruction manual clear and easy to follow. It's quite like an IKEA manual, but clearer. Each page shows how the parts fit together, and which bag of screws you need for those parts. The parts themselves are also identified with a letter on a large sticker, so I never felt in fear of putting the wrong part in during any of the steps.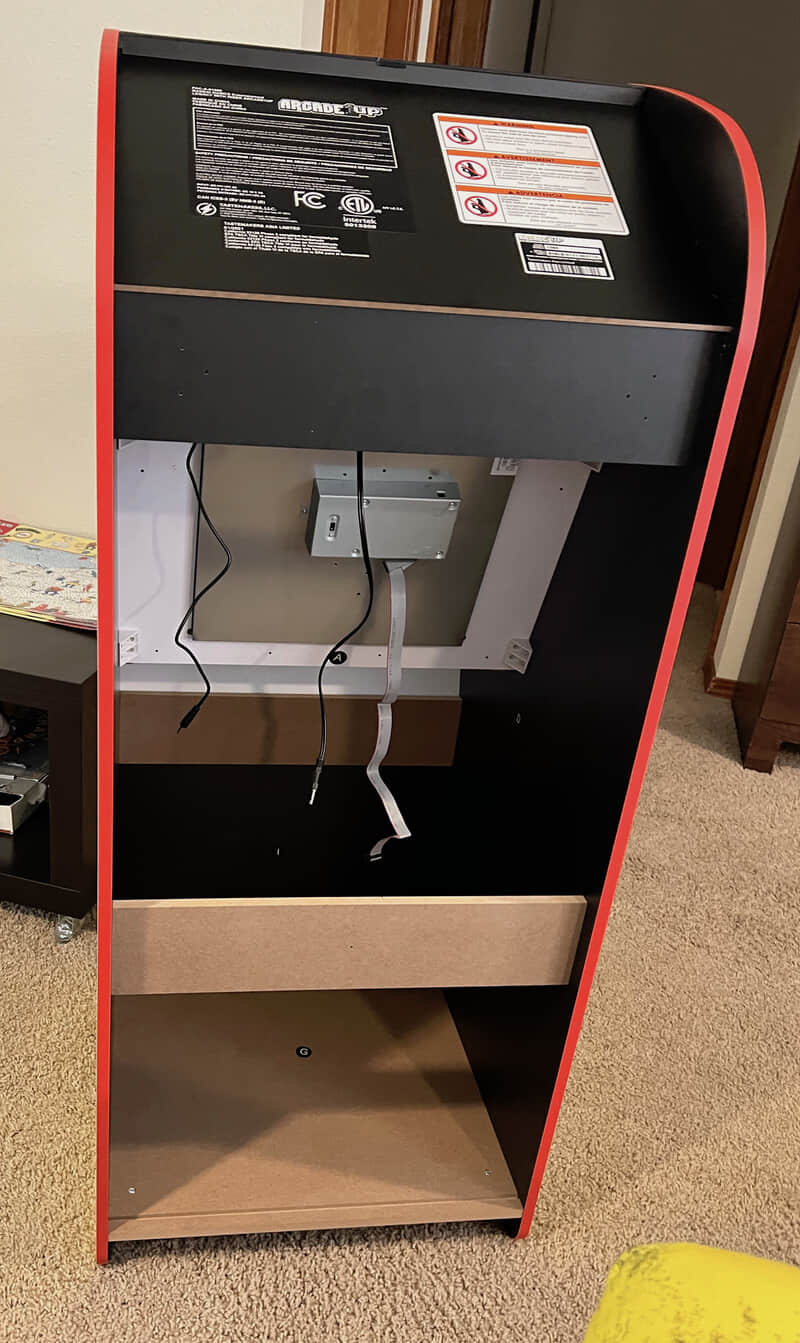 The manual does recommend two people for assembly. Although I didn't have anyone else around to help, there was really only one part (installing the lower front panel pieces) where it would have been nice to have a second set of hands.
If you're going to purchase one of these, and want to be able to play standing up, the riser (which was part of this kit, but isn't included with all 1Up games) is a must-have. Without it, the machine is too low for most adults to play comfortably while standing. With the riser, it's just about perfect—maybe a touch lower than arcade games of old, but quite comfortable.
I didn't keep track of time, and was doing some other stuff when I wanted a break, but the whole thing went together over three-ish hours or so. The end result feels solid, the controller board seems quite sturdy, and while nobody will ever confuse it for an official arcade machine, it looks quite nice.
The light-up upper panel definitely helps with the "pro arcade" look, and the cabinet graphics are basic but well done—the "money grabber" section on the bottom front panel especially so. It really does look 3D, but it's just a sticker.
Time to play!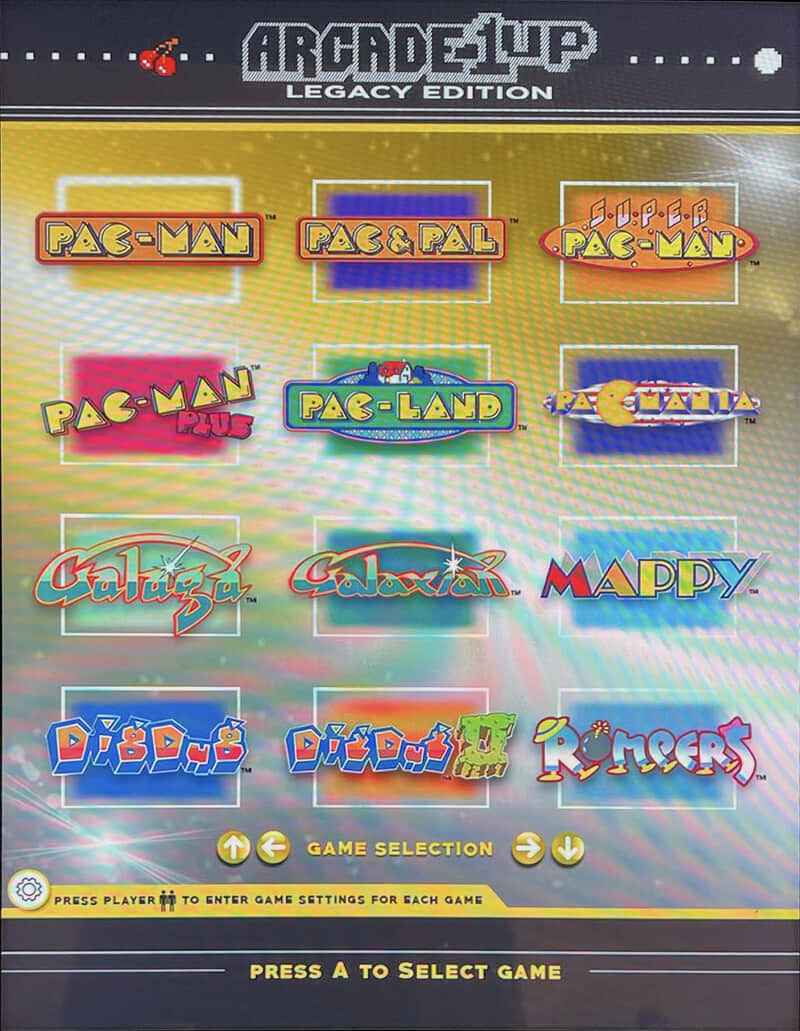 After completing construction and powering up, you're rewarded (hopefully) with a game selection screen, from which it's easy to pick any of the 12 games.
These are all officially licensed games, too, using the original arcade machine ROM code—so they look and play exactly as they did back in the day, because it's the same code. To test this, I fired up Pac-Man and tried a few of the standard gameplay patterns, and they all worked as expected. But I'm getting ahead of myself…
After selecting a game, you'll see a screen of instructions explaining how to play. All of these games are very simple, however, because there just aren't many controls available—one four-direction joystick and three buttons. Speaking of the joystick and the buttons, they both feel like they can take a fair amount of abuse. At first, I was concerned the joystick might not last all that long, but it's been holding up well, and can take some pretty aggressive directional changes without complaint.
The audio sounds good, just like the originals, of course, and the volume levels are more than sufficient for a machine in a house.
In short, this is a well-designed smaller version of the official Pac-Man (and others) arcade games. I'm quite happy with the purchase, especially at the sale price. If you're a fan of older arcade games, the 1UP series (at least based on my one build experience) seem like reasonably good values, especially in a multi-game format.
I'll leave you with just a few seconds' worth of Pac-Man and its sounds (sorry for the background TV noise!).