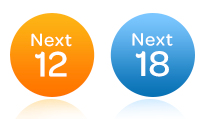 Having studied the AT&T Next plans in great detail, and with the help of some great comments to this post, I feel that I have a very good (though not perfect) understanding of the AT&T Next plan.
Based on what I've learned, here are some bullet points about the Next plans to keep in mind as you decide how to pay for your next phone.
Please keep in mind these are my thoughts based on what I've been told and/or read about—so some of them may be quite wrong! (If you see anything that seems wrong, please let me know. Or if you think of other things to add, let me know that, too.)
---
Next 12 vs Next 18
The Next 12 and Next 18 plans vary only in the number of payments (20 for Next 12; 24 for Next 18) and when you can upgrade (12 months and 18 months, respectively. See the Upgrades section for more details on the upgrade options.
Using AT&T's money
The Next plans let you borrow AT&T's money—at 0% interest, no less!. That's a good thing. Assuming you have the cash to pay off the phone at some point in the future (see Upgrades), you'll want to use AT&T's money as long as possible. So go for Next 18, not Next 12.
How to switch from Next 12 to Next 18
If you signed up for Next 12 due to late-night-itis (umm, that might be me), you can switch to Next 18. Here's how: You have to wait for your phone to arrive, then—before you activate it—take it to an AT&T store. They'll be able to switch the plan—at least, that's what the AT&T rep told me after she consulted with her supervisor.
How to cancel a Next 12/18 purchase
You can apparently cancel an AT&T iPhone 6 order—just call them (1-877-782-8870). I was told I could cancel and reorder as another method to switch to Next 18; I politely declined. But if you want to cancel, apparently this is how you can do it (untested).
Paying in full
The plans can be paid in full at any time, without penalty. That means you can go from a phone you don't own to one you do own in one payment. This becomes important down the line, as you'll see in the Upgrades section.
Next plan limits
AT&T limits you to four devices on Next at any one time. If you need more than that, and you want to keep the non-subsidized discount on those lines, you'll have to pay full price up front. Presently, this means buying the contract-free T-Mobile iPhone from Apple, then getting a SIM from an AT&T store, as AT&T is apparently not yet selling contract-free iPhone 6s.
Family Share Plan and lost discounts If you're presently on a Family Share Plan of any sort, you will lose your monthly discount (either $15 or $25) if you buy a new iPhone on a subsidized contract. That's because the discount is recognition that AT&T is not subsidizing your phone purchase.
However, if your plan offers the $15 discount, you'll actually save a bit of money by buying a contract phone. On the other hand, if your plan offers the $25 discount, you don't want a contract phone.
You can verify these result with the AT&T Family Share Plan calculator I posted earlier.
Upgrades
Upgrading is really the elephant in the room of the Next plans. AT&T pitches that an upgrade every 12 (or 18) months is one of the key features of their Next plans—no more waiting two years! And it very well could be, as long as you do your homework first.
Here's a hypothetical example, using an iPhone 6 64GB, purchased on Next 12 for $37.45 a month. After a year, you've paid $449.40, and owe an additional $299.60 (eight more payments).
If you choose to upgrade the "AT&T way," you send them the iPhone 6 64GB, and buy a new one (on a new Next plan). This means that your $37.45 per month wasn't really a loan payment (as you were paying off an asset acquisition) but rather rent (as you paid to use the phone, then sent it back). That may be good or bad, depending on…
…the market. If the market value of the phone you're turning in is less than what you owe (about $300 in this case), then you should go ahead and send it to AT&T. (Assuming you have no other plans for it, like donating to a relative or needy organization.)
But if the phone is worth more than $300 on the open market, you should pay off your Next plan, so that you own the phone. Then, when the new iPhone comes out, you can sell the old one yourself, and you'll be up the difference between $300 and what you sell it for. Clearly the sooner you sell, the more likely you are to come out ahead.
So before you blindly send in your phone for that annual upgrade, use eBay, Craigslist, and the various iPhone repurchasing sites to get a sense of your phone's value. If it's higher than your outstanding balance, buy the phone from AT&T and then sell it. If it's not, let AT&T have it, and you come out ahead, too (because they're forgiving $300 in payments).
---
Hope this helps!