The popularity of this article led me to write two followups:
Please give these a read if you'd like to know even more about AT&T Next.
Tomorrow (starting at 12:01am Pacific time, apparently) you can order a new iPhone 6/6 Plus. But you probably already knew that. What you may not know is that if you're on AT&T's Family Share Plan, and you enrolled in that plan with phones on a two-year contract, you'll see a large increase in your bill if you upgrade to a new on-contract iPhone 6—even if your current contract has expired and you're now contract-free.
Why would your bill go up, simply moving from an older to a newer iPhone? That's never happened in the past. But we've not had the Family Share Plan in the past. And when AT&T rolled out this plan, they gave folks an incentive to move to it: they offered a discount for on-contract phones, from a $40 per month per device cost to either $25 (for under 10GB of shared data) or $15 (10GB or more) per month per device. So if you look at your bill, you'll see something like this:

That discount was applied to the under-contract (at the time) iPhone 5 I moved to the Family Share Plan; the other two lines we have in the plan show the same discount. But if I buy a new iPhone 6 under contract, the discount will go away. If we upgrade all three phones with contract iPhone 6's, that'd be another $75 per month!
AT&T doesn't exactly hide this fact, but they don't make it completely obvious, either. Here's how AT&T advertises the Family Share Plan's monthly cost for 10GB of shared data (on the Family Pricing tab of the linked page, but I can't link directly to the tab):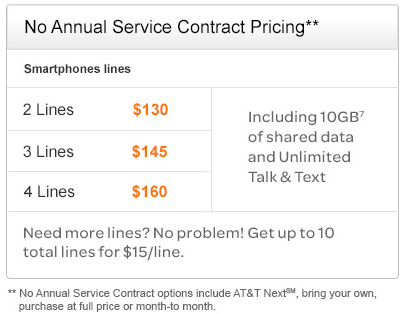 The larger text explains that you can add more lines for $15 per line on a 10GB shared plan. But there's a catch, and the catch is in the "No Annual Service Contract Pricing" double-asterisk footnote, which reads:
No Annual Service Contract options include AT&T Next, bring your own, purchase at full price or month-to-month.
This footnote explains the obvious: phones under contract aren't eligible for the No Annual Service Contract structure, which makes complete sense.
Still, that explanation doesn't tell you that your costs will be different with a phone under contract. But if you scroll down to the "Already an AT&T customer" section and click on the "Click here for upgrade requirements" link, you can find the hidden bad news there (added emphasis mine):
For plans 10GB or higher, customers with smartphones on 2-year agreements prior to 2/2/14 are eligible for the $15/month access rate. For plans 2GB to 6GB, customers with smartphones on 2-year agreements prior to 3/9/14 are eligible for the $25/month access rate. Upgrade: To keep discounted pricing with a new phone, buy via AT&T Next, buy at full price, or bring your own phone.
There it is: if you want to keep the $15 or $25 per month access rate, you cannot do so with a phone under contract. You must either use AT&T Next, or pay full retail price for an iPhone 6.
That means it's time for the math to determine the most cost effective way to buy a new iPhone 6. One key assumption here is that you're planning to keep the iPhone 6 for two years; things will change if you choose to get out early, but I'm not going to get into the alternative scenarios.
The following shows only the variable costs related to a new iPhone 6 64GB model on the 10GB Family Share Plan—the base $100 cost of that plan isn't included, as it doesn't change.
When
Line Item
Buy
Next
Contract
Up Front
iPhone 6 - 64GB
$749
$0
$299
Upgrade Fee
$0
$0
$40
TOTAL UP FRONT
$749
$0
$339
Monthly
Access Charge
$40
$40
$40
Family Share Discount
-$25
-$25
$0
Phone financing
$0
$37
$0
TOTAL MONTHLY
$15
$52
$40
Totals
Monthly - 24 months
$360
$1,109
$960
Plus up-front costs
$749
$0
$339
TWO YEAR COST
$1,109
$1,109
$1,299
Notes: Buy = Purchase phone outright. Next = AT&T Next 12 financing plan. Contract = Purchase with two-year agreement.

The AT&T Next 12 plan requires 20 payments over the 24 months; the four "free" months are reflected in the figures above. Costs for the iPhone came from Apple's iPhone order page.
As you can see, buying it outright is the same as using Next, and it saves about $190 over the contract purchase. (Technically, it saves me $200, because my contract doesn't expire until September 14th: AT&T would require an extra $100 if I order a phone under contract on the 12th—even though I wouldn't receive it until the 19th. How's that for unfair?)
Next is appealing if you don't have the cash in hand to buy the phone now. Keep in mind, though, that you don't own the phone until after all 20 payments have been made. You can also turn it in after 12 months, but you have to do just that: turn it in, and get a new phone on a new plan.
If you buy the phone outright, you can upgrade any time you like (because you're not on contract), and you get to keep (sell on your own, give to relatives, etc.) the current phone. For me, that's the sealer to this deal: I'll be buying my iPhone 6 for cash, saving $190 over the contract, and having the flexibility to do with it what I like in the future.
(Per the comments below, you can apparently prepay your Next financing at any time with no penalty, turning your phone into an owned device, with all the benefits above. This may be the best route; I have four hours left to investigate.)
Please note that the above is based on my research, though I confirmed the lack of discounts for contract phones with an AT&T rep during an online chat. Proceed at your own risk, but you really should look closely before ordering at 12:01am tomorrow!