Safari in Yosemite is a familiar yet new beast. Among the interface changes, I really didn't like the way the URL bar behaved. In particular, these things bugged me:
Not being able to see the full URL.
The width of the URL entry box.
The drop-down that appears when you click in the URL bar (when you have a page loaded).
Thankfully, the fixes for these three issues are easy, if not completely obvious.
Full URL not visible in URL bar
By default, Safari truncates URL to just the base "dot" address, regardless of where you are on a site. So if you're reading my hint about using a dark Dock, Safari's URL bar will display this:
https://robservatory.com
But you're really on this page:
https://robservatory.com/yosemite-dark-dock-and-app-switcher-with-light-menu-bar/
If you prefer knowing where you are in the site hierarchy at all times, the fix is simple. Open Safari's Preferences, go to Advanced, and add a checkmark next to "Show full website address."

The URL box will now show the full URL of the page you're viewing. Of course, that will lead to a second problem—the URL box isn't large enough to display much of the extended URL. Thankfully, that too is an easy fix.
Widen the URL entry area
With the expanded URLs on display, you may find the URL entry area way too small:

The fix here is to right-click on an empty area at the top of Safari's window and select Customize Toolbar. When you do, you'll see two "flexible spaces" on each side of the URL bar. They're the boxed areas as seen here:

Remove these (by dragging them out of the toolbar), and you should wind up with a larger URL entry area:

You still can't see the full URL, but you can see more of it.
Remove the URL box drop down panel
When you've loaded a site in Safari, and then click in the URL bar (or press Command-L), you'll be "treated" to this spectacularly large and useless (99% of the time) dropdown sheet: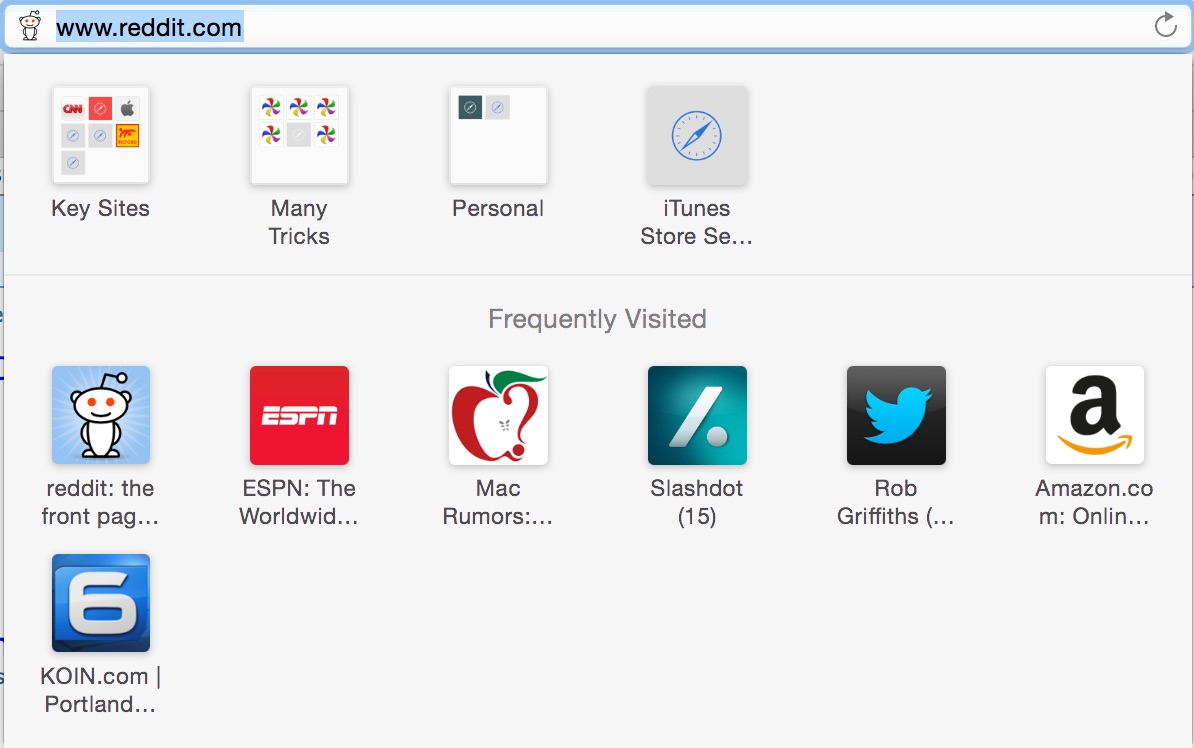 When I click in the URL bar, it's for one of two reasons: to copy the URL for use elsewhere, or to enter a new URL. If I want to go to one of my favorites, I'll use the favorites bar…and if I visit a site frequently, it's going to be in my favorites, so I don't need those "most visited" icons there, either.
To make all this useless cruft vanish, open Safari's preferences, click on Search, then remove the checkmark next to "Show Favorites."

With that box unchecked, nothing will drop down when you click into the URL entry area. With this change—and the other two—in place, I'm much happier with my time in Safari in Yosemite.