I spent the last three-ish weeks on the east coast, visiting family along with various tourist sites. We flew in and out of Dulles International Airport, via a direct flight (oh wow, they still exist!) from/to Portland.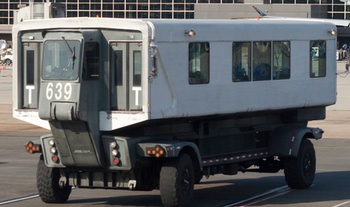 If you've never been through Dulles, it's an interesting airport—though a bit less interesting now than in the past.
In the past, you entered the main terminal, cleared security, and then boarded a bus (a two-headed elevating bus, similar to what's seen in the image at right, often with tails on top to help them be seen from the control tower) to one of the outlying buildings holding the actual gates.
Now most terminals are served by a train system, or via a walkway. But Concourse D is still accessed via the bus, and that's where we were set to fly out. It was just me and my kids for the flight home; my wife had returned a week earlier. We arrived at the main terminal about 90 minutes before departure. After clearing security, we were headed for the bus to Concourse D when I happened to check a departure sign…and discovered that our flight was delayed for 50 minutes. Ugh.
The Concourse D building at Dulles isn't one of the nicest places to wait, especially with kids (it can be noisy and hard to find space to relax). But I didn't really want to head back through security either. Standing there near the entrance to the shuttle busses, I spotted a sign for "Z gates," which I'd never heard of before. So we headed down that way, just to see if we could find somewhere quiet to pass the time before boarding the shuttle bus.
What we found was a wonderful, nearly deserted oasis of peace and quiet right in the heart of Dulles.
As we walked into the Z gates area, I was amazed. It was completely quiet, and nearly devoid of people—I think there was one guy sitting there reading a book. This was on a Sunday afternoon, around 4:30pm, and the airport was bustling (20 minutes to check bags, 15 minutes for security).
It's not a huge area, but it's clean, well lit with lots of windows, and down at the end, there's food and drink, courtesy of a Subway shop. In addition to peace, quiet, and food, there was a multi-outlet USB charging station and a number of power outlets. What more could one need?
Here's the view back towards the bus departure area, taken from just in front of Subway: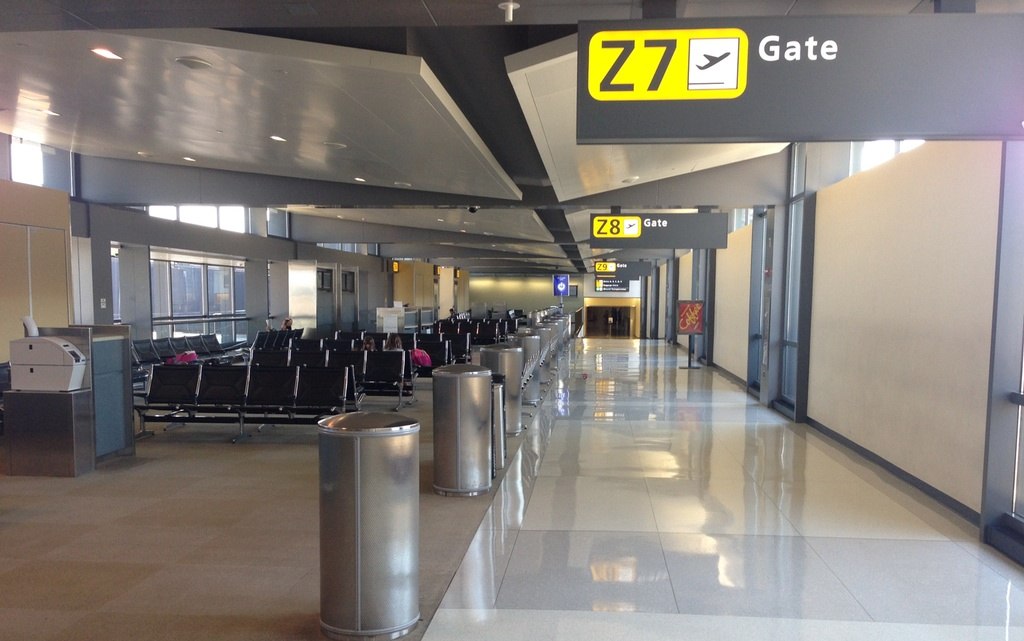 The windows look out towards Concourse A, giving a nice view of planes transiting across Dulles, and arriving/departing from the Concourse A gates. The Subway shop was a perfect spot to grab a quiet dinner—interestingly, the clientele was basically all airport workers, other than us. Employees were also nearly all of the foot traffic down the Z gate area, too—this area seems to be favored by the employees, probably because of the peace and quiet.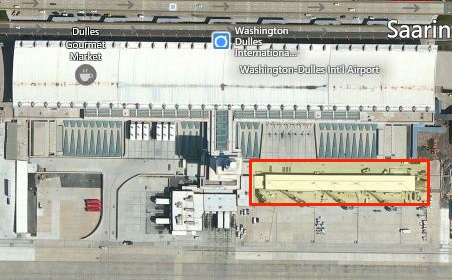 So how do you find this oasis? It's not really hidden, but you do have to keep an eye out for it. As seen from above on a mapping site, the Z gates are on the right side of the bus departure area, as highlighted in the image at right.
As you approach the bus (and train, though that may be down a level?) departure area on foot, look to your left, and you should see the Z gates concourse. I have no idea what traffic goes into and out of those gates, though I'd guess it's small regional jets and/or turboprops. And who knows, perhaps they're busier at other times of the day or days of the week. But if you find yourself with some excess time at Dulles, and you're looking for a nice quiet hideaway, the Z gates area may be just what you need.
(And yes, I know that publishing it means it's not so secret any more…but my blog isn't that widely read, and the area's not really hidden, given it's included in the terminal map PDF on the Dulles site.)