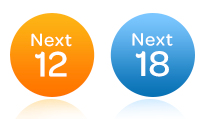 Having studied the AT&T Next plans in great detail, and with the help of some great comments to this post, I feel that I have a very good (though not perfect) understanding of the AT&T Next plan.
Based on what I've learned, here are some bullet points about the Next plans to keep in mind as you decide how to pay for your next phone.
Please keep in mind these are my thoughts based on what I've been told and/or read about—so some of them may be quite wrong! (If you see anything that seems wrong, please let me know. Or if you think of other things to add, let me know that, too.)
---
Next 12 vs Next 18
The Next 12 and Next 18 plans vary only in the number of payments (20 for Next 12; 24 for Next 18) and when you can upgrade (12 months and 18 months, respectively. See the Upgrades section for more details on the upgrade options.
Using AT&T's money
The Next plans let you borrow AT&T's money—at 0% interest, no less!. That's a good thing. Assuming you have the cash to pay off the phone at some point in the future (see Upgrades), you'll want to use AT&T's money as long as possible. So go for Next 18, not Next 12.
How to switch from Next 12 to Next 18
If you signed up for Next 12 due to late-night-itis (umm, that might be me), you can switch to Next 18. Here's how: You have to wait for your phone to arrive, then—before you activate it—take it to an AT&T store. They'll be able to switch the plan—at least, that's what the AT&T rep told me after she consulted with her supervisor.
How to cancel a Next 12/18 purchase
You can apparently cancel an AT&T iPhone 6 order—just call them (1-877-782-8870). I was told I could cancel and reorder as another method to switch to Next 18; I politely declined. But if you want to cancel, apparently this is how you can do it (untested).