Note: The following is my unofficial eulogy for Mac OS X Hints; IDG has not announced any plans regarding the site, though I would hope they'll leave it online, even if no new hints appear in the future. The site is now officially in read-only mode; there will be no new hints. So it's officially comatose, at least.
Dearly beloved…
On this, the occasion of its 14th birthday, we're gathered here to mark the passing of Mac OS X Hints.
While it can be hard to tell exactly when a web site has died, the signs are fairly obvious. It's been over 45 days since the last new hint appeared on the site. There is no way for new users to sign up for an account. There's been one new comment posted in the last two days. A sidebar box proudly proclaims Latest Mountain Lion Hints. The site design, logo, and icons were last updated when I worked for Macworld, over four years ago. To paraphrase a Star Trek character, "it's dead, Jim."
To be fair, it's a bit more Monty Python "I'm not dead!" than officially dead, but really, the site is a dead man walking. Now that I'm done with movie analogies, let me explain why the passing of Mac OS X Hints isn't a bad thing. (Note that Mac OS X Hints' passing is in no way a reflection of its management by Macworld. In fact, the opposite is true: I believe the site would have ceased to exist years ago without their involvement.)
The simple truth is that the need for OS X hints has tapered off to near zero over the last 14 years. And that's a good thing.
When Mac OS X was new, there were millions of Mac users getting their first exposure to Unix and Terminal—not because they necessarily wanted to, but because they had to if they wanted to use Apple's new OS—lots of stuff was only possible, or worked better, only with some help from Terminal commands.

Beyond the Unix side, much of the OS X GUI was new, and so there were lots of things to find and explore. Now, 14 years in, the OS X GUI is mostly set. Sure, we get minor changes every so often, but really, it's the same GUI we've seen since the Public Beta. (Hey, Apple…how about something beyond Blue or Graphite?)
Important note: I'm focused here on OS X itself, not the applications within OS X. While the OS X GUI has been relatively stable, the apps are a different story. Just consider the changes in iTunes 12; Kirk McElhearn is regularly posting tips about the changes in the app.
Over the 83 releases of OS X, Apple has greatly refined the user experience. Many things that were hacks before have been built into the OS; other things that were hacks before have simply gone to the wayside—the 2D dock, dock pinned to screen corners, dock located at top of screen, etc. Where Terminal was once a required skill to make the most of OS X, now it's mainly useful for power users and those who live and breath Unix; "regular" users have probably never even launched Terminal, and may not even know that OS X is powered by Unix.
Apple has also made it harder to "hack" OS X, where "hack" is used in its "modify to do fun stuff" connotation. In the early days, it was possible for a bit of Cocoa code to actually modify other running apps' code—Unsanity and their haxies, for example, made use of this ability to add window shade capabilities to all apps.
Even without modifying the code, enterprising users could discover hidden OS X features simply by exporting some text from various binaries, then searching for interesting looking words.
But those strings are now stored as binary, and with the demise of gdb, not even the hard way of extracting strings works any more. So discovering what's been hidden is oh so much more difficult.
Taken together, all of these things have either—in a good way or a bad way—greatly reduced the importance of a site like Mac OS X Hints. You can see this effect over time by looking at the number of hints posted per year: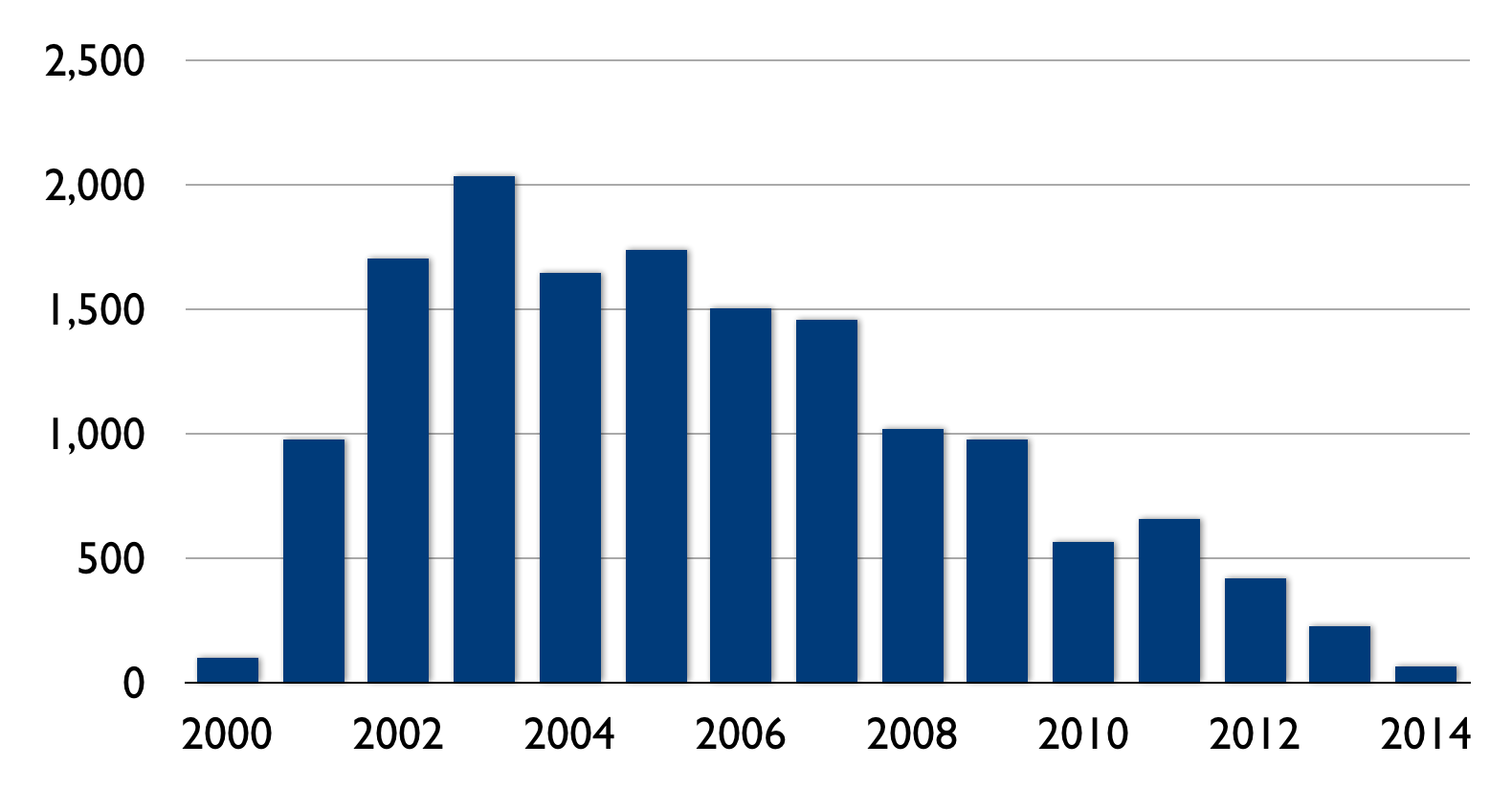 The halcyon days were in the 2002 to 2007 timeframe, when OS X was still relatively young—the number of hints per year drops off rapidly after 2007, as OS X became more mature and established.
So yes, Mac OS X Hints is dead (or close to it). But it had a wonderful run, and I'd like to think that the knowledge shared there helped make everyone's time with Apple's then-new operating system more productive and enjoyable.
I know it did so for me—and it still does, as I often find myself there, looking up some old hint that I will hope still works in the latest OS X release. Here's hoping that the site remains online, even if new activity is nil, as the database is a treasure trove of community knowledge. Thank you, Mac OS X Hints, for 14 wonderful years.