When I bought my prior 9.7" iPad Pro back in 2018, I wanted to find a case that met my criteria:
Full coverage - front, back, and sides
Storage for Apple Pencil
Auto-sleep on cover open/close
Apple Keyboard support was not important to me
Relatively inexpensive
I wound up ordering a few from Amazon, tested each of them, kept one, and sent the others back. The one I kept back then is the same general model as the one I've put on my new iPad Air: The JUQITECH iPad Case with Pencil Holder: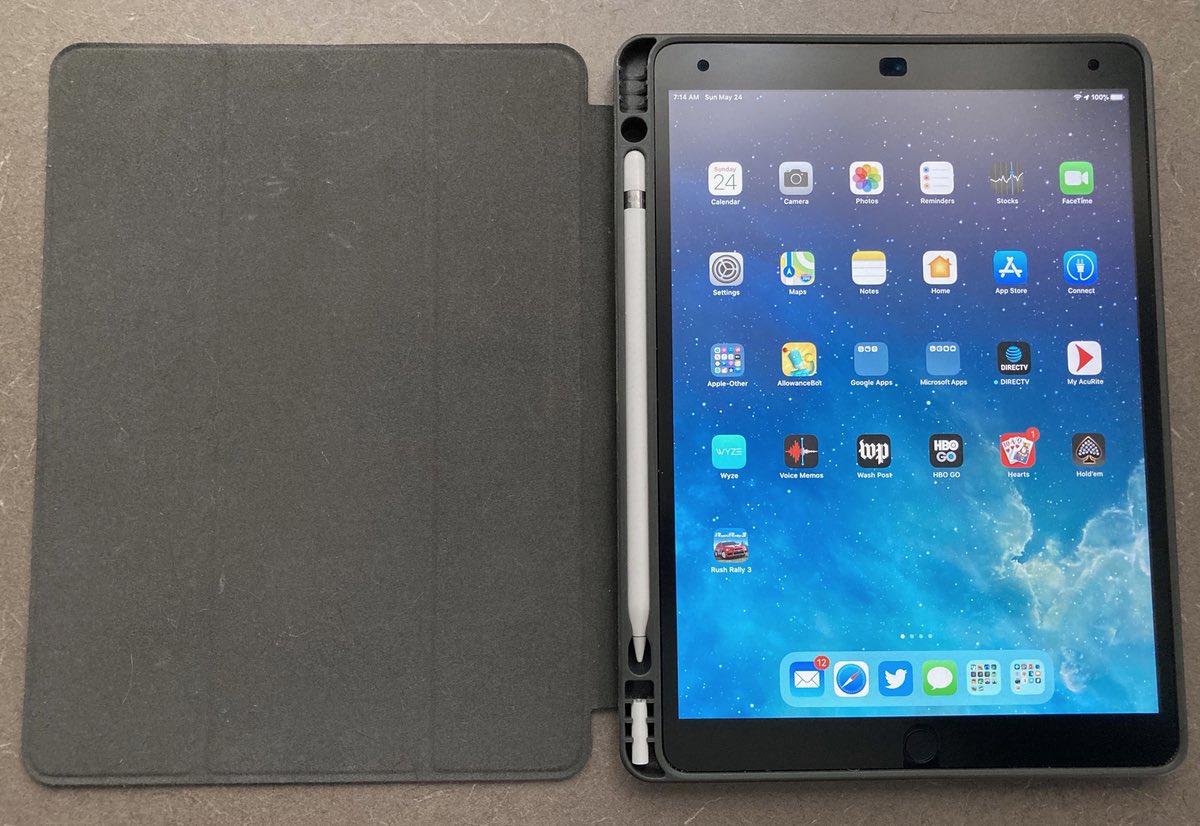 This case cost all of $11, and for that, you get a full-coverage case with room not only for the pencil, but the small USB adapter the pencil uses to connect to regular Lightning cables. And when the charging cap is off, it fits in the small hole above the pencil.
(JUQITECH has a full line of iPad products, including keyboard covers. I don't have any experience with anything other than this particular model of cover, however.)
The pencil fits incredibly snugly—it is not going to fall out!—which you might think would make it difficult to remove. But the designers solved that problem by adding a push-through hole, which you can see after opening the cover: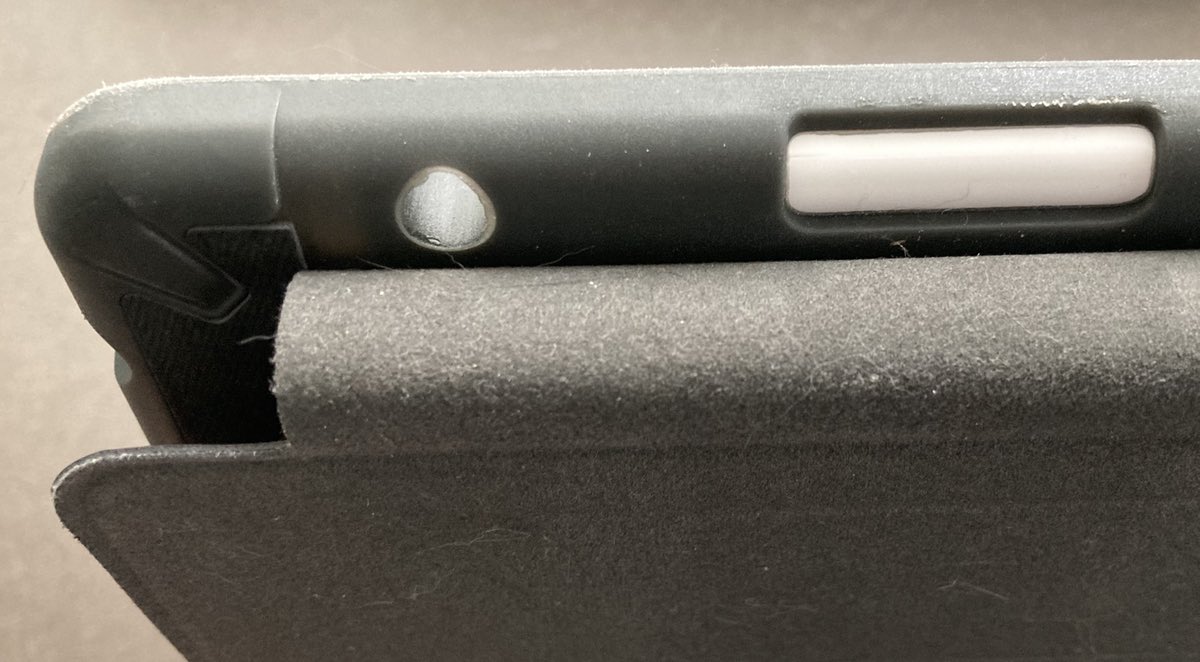 Push up on the pencil through the hole, and it pops right out.
The entire case fits snugly on the iPad, yet is easy to remove—the back is relatively flexible. Bend it a bit, and you can free one corner, then another, and then it's off. I've run into no issues with the cover displacing my Moshi iVisor screen protector when I add or remove the case
I like this case because it's well-built—my first one stood up to years of use and abuse—and features the magnetic-close cover that sleeps/wakes the iPad on close/open. The exterior has some sort of softish-touch smooth coating (it feels fabric-like, but I have no idea what it actually is) that feels nice in the hands.
Over time, it will show wear spots near where you open and close the cover, but in two years with the prior cover, that's about the worst of the issues I ran into. And it was all of $11.
Downsides? The biggest problem with this case is that it is a heavy case, weighing in around 10 ounces. The sides are thick, and the extra space for the pencil and adapter probably adds a couple of ounces.
If you often hold your iPad in your arms, unsupported, you probably don't want this case. My use is nearly always on a desk, table, or in my lap, so it's not an issue—and I love how well-protected the iPad is when I put it in a bag with who knows what other stuff.
Also, because it's a full coverage case, it's incompatible with Apple's Smart Keyboard. As I don't own one, nor ever plan to own one, this wasn't an issue for me.
But for $11, this case is an incredible bargain, as long as the weight and lack of keyboard support aren't an issue for you. My first one was still going strong after nearly 2.5 years of constant use, and I expect the same out of this one.