Yesterday, I wrote about an apparent change in Finder's Library shortcut key. To wit, it used to be that holding the Option key down would reveal a Library entry in Finder's Go menu.
However, on my iMac and rMBP running macOS 10.12.3—and on others' Macs, as my report was based on similar findings by Michael Tsai and Kirk McElhearn—the Option key no longer worked; it was the Shift key. But on a third Mac here, running the 10.12.4 beta, the shortcut was back to the Option key.
To further add to the confusion, a comment on the original article—as well as replies to the others' tweets—states that the user's Mac is still using the Option key in 10.12.3. So I thought I'd create a new user account, and see if I could figure out what was going on.
After some experimentation, I was able to discover why the shortcut key changes, and how to change it between Shift and Option at any time. This clearly isn't a feature, so I guess it's a bug, but it's a weird bug.
On the new user account, running macOS 10.12.3 and with no changes in Finder's prefs or view options, the Option key reveals the Library entry in the Go menu. So, that simple test led to an obvious conclusion:
Conclusion #1: Apple did not change the Option key shortcut in 10.12.3.
So then why was the shortcut key set to Shift for multiple users, myself included?
I started playing with the Show Library Folder setting in Finder's View Options (⌘J) pop-up menu. Once enabled, a Library entry appears in the menu, as expected, and the shortcut is irrelevant. Disabling and enabling this setting multiple times caused no change in the shortcut key.
Here's how I finally switched the shortcut key from Option to Shift:
Open the View Options pop-up menu with the user's home folder selected.
Click the Show Library Folder checkbox.
Close the View Options pop-up menu.
Hold Option and right-click on Finder's Dock icon and choose Relaunch from the contextual menu.
When Finder relaunches, it will be in a strange state. You'll see the Library folder in Finder, as expected. But if you open the Go menu…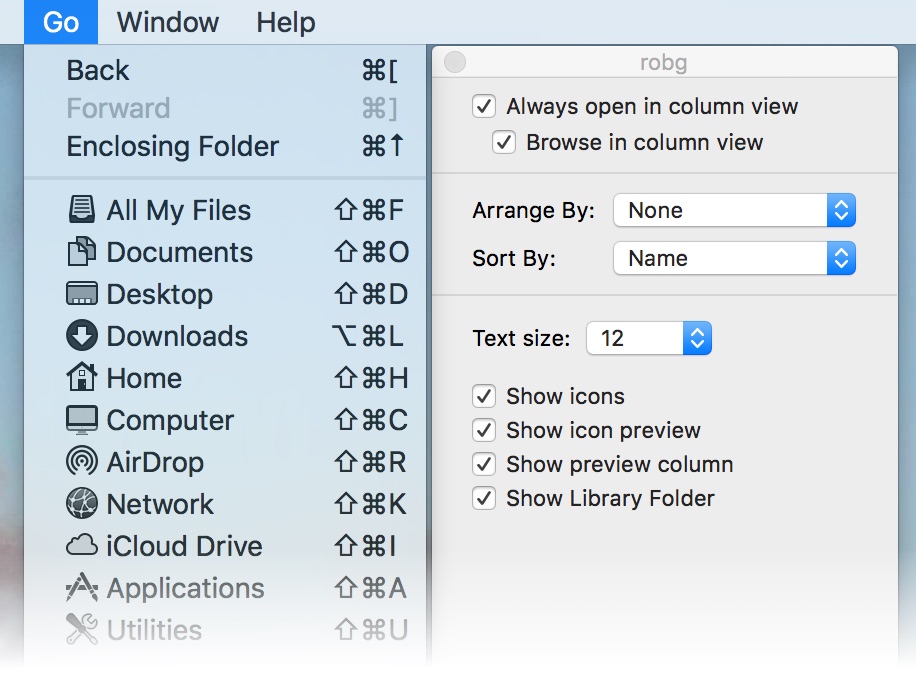 …the Library folder entry is missing. (Because the folder is visible, Library should be listed here, along with its ⇧⌘L shortcut.) Pressing the Option key won't make it show, either…but pressing the Shift key will reveal the Library folder. Bingo!
To get out of this weird state, toggle Show Library Folder off in the View Options pop-up menu—as soon as you do so, the Shift key shortcut is gone, replaced by the usual Option key.
Enabling Show Library Folder again makes everything work as expected: Library is listed in the Go menu, and in Finder, and Shift and Option are irrelevant, as the Library folder is listed. But if you relaunch Finder again, you'll be back to the messed-up configuration.
What makes this glitch especially tricky is that this weird state persists across logout/login and across restarts! The only way to fix it is to toggle Show Library Folder off.
Conclusion #2: Strange things happen when you relaunch Finder.
Basically, users who are seeing Shift as their "reveal Library folder in Go menu" shortcut key must have relaunched Finder at some point in time, but only after enabling Show Library Folder in Finder's View Options pop-up menu. And once in that state, the only fix is to uncheck the Show Library Folder option.
Wow, was that a weird glitch!