Given my background with macosxhints.com, it's quite clear I'm an OS X fan. But that doesn't mean I think it's perfect. While there are many, many things it does quite well, there are also areas that bother me, and make using OS X tougher than it should be.
One such area is the consistency of applications' interfaces. Long a hallmark of the Mac experience, major pieces of that consistency have been falling away slowly but surely as OS X and its applications evolve. With the recent release of OS X 10.4, I thought I'd take a look at the state of application consistency in OS X. Generally speaking (Java applications excepted), menus remain a high point of consistency. File and Edit are always there, with there generally familiar choices. After that, of course, the menu structure is up to the program designer. But overall, I have no complaints with menu consistency in OS X. It's the actual application interfaces that are bugging me.

Interface Indecision
Generally speaking, I think Apple's applications can be divided into six types of interfaces -- these are just Apple's apps, not any third-party stuff (and I'm leaving Java out of it for now). Although there are no standards for this, I've made up some groupings for each application and utility included in the standard OS X 10.4 installation. I've also included some of Apple's 'for sale' programs (these are noted with emphasis in the lists). Next to each entry is a small thumbnail of that type of interface (click it for a larger version), along with my commentary on what I think of that particular look. The number in [brackets] next to each category is the number of Apple-provided (free) applications and utilities in that category, to give some idea of the distribution. Although some programs seem to have elements of different interfaces, I went with what felt "most right" for the given application.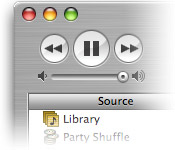 Old School Metal [15]
These are programs that have what I call "heavy metal" windows from early versions of OS X, as seen at right. This category includes:
Address Book, Automator, Calculator, DVD Player, Finder*, Font Book, iCal, iChat, iDVD, iMovie HD, iPhoto, iSync, iTunes, QuickTime Player, Safari, Sherlock, Grapher, Keychain Access

* The Finder can also have an Aqua-ish interface, if the Toolbar is turned off.
When this look first appeared, I liked it, though I found it quite heavy to look at for long periods of time. At first, this wasn't a problem, as there weren't many applications on the list that I spent a lot of time using. Then Safari came out, and things changed -- suddenly, I was looking at the dark metal header area for hours at a time. Though I still don't hate the look, it's no longer my favorite. I hope, over time, tha the 15 or so entries in this category slowly migrate away from this look.
---
Aqua [25]
More design holdouts from OS X 10.0 (with some tweaking, of course), these programs have an Aqua-patterned toolbar topped by Tiger's new smooth metal window border. Thanks to JPEG compression, the Aqua stripes are a bit tough to see in the screenshot at right, but they're there. The Aqua apps include:
AppleScript Utility, Script Editor, Internet Connect, Keynote, Pages, Preview, TextEdit, Activity Monitor, Airport Admin Utility, Airport Client Monitor, Airport Management Utility, Airport Setup Assistant, Audio MIDI Setup, Bluetooth Firmware Updater, ColorSync Utility, Console, Digital Color Meter, Directory Access, Disk Utility, Migration Assistant, Netinfo Manager, Network Utility, ODBC Administrator, Printer Setup Utility, Software Restore, System Profiler, VoiceOver Utility
Over the years, the Aqua stripes have really been toned down, to the point where they don't bother me as much as they used to. In particular, the stripes in the menus used to be much more pronounced than they are now, and on certain monitors, I found them really hard to read. Now the stripes (in both menus and toolbars) are much more subtle, adding just a bit of depth. It's still not my favorite look, but the subtle striping really isn't bad at all.
---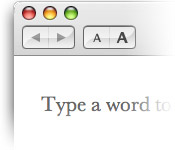 Smooth Metal 1 [5]
New with Tiger, these programs have replaced the Aqua-striped toolbar with a 'light metallic' toolbar, though Aqua stripes may still appear in window backgrounds. Toolbar buttons, if present, are outlines without a fill color. They include:
Dictionary, Help Viewer, Image Capture, Spotlight, System Preferences
Interestingly, Smooth Metal toolbars take on an Aqua appearance when placed in the background, making them look identical to an active Aqua window. I like the Smooth Metal look, as there aren't any remnants of the Aqua lines in the toolbar to grab my eyes' attention. The very subtle gray gradient also lends a pleasing quality to the toolbar area, making it less intrusive than, for instance, the Heavy Metal look. About the only thing I don't really like about this interface are the toolbar buttons. I find them bland, similar looking, and (on a busy toolbar) hard to click on quickly without really paying attention.
---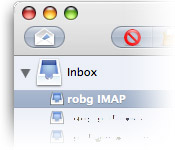 Smooth Metal 2 [1]
Very similar to Smooth Metal I, but the toolbar buttons are colored in. So far, there's only one program in this category:
Based on the response on the web to date, this new toolbar look is quite divisive: it seems most people either love it or hate it, with few falling in the middle ground. Personally, I'm in the 'love it' camp. It starts with the clean Smooth Metal 1 look, and adds some color and differentiation to the toolbar buttons -- this makes it easier for me to quickly find the button I'm after. This is by far my favorite look for an OS X application.
While it's not perfect, I hope this is an example of the future direction of Apple's interface plans. I love the smooth metal, I like the button design, and (in the case of Mail), I like the use of color to differentiate the sidebar area from the message areas.
---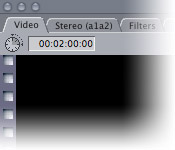 Pro Interface [0]
Think dark. Think really dark. That's it. That's the "Pro" interface which you'll find on Apple's "pro" audio and video applications. Below the normal Mac toolbar, you'll get a flat-gray background, black-on-gray buttons, a small font, and a very dark overall feel. The list includes:
DVD Studio Pro 4, Final Cut Pro 5, Final Cut Express HD, Logic Pro 7, Logic Express, Motion 2Shake, Soundtrack Pro
I have only a few of the Pro apps (DVD Studio, Motion, and Final Cut Express), and I can't say that I like the look. I'm sure they have their place in dark editing rooms where people spend hours on every last detail of color and sound ... but for my extremely non-Pro use, I find them somewhat difficult to use. The problem, of course, is that there's just so much power hiding in all these Pro apps that it becomes very difficult to design an efficient interface. With the praise and awards these programs earn in the industry, it's clear that Apple has succeeded with the users who count. But for me, I'd much rather have something that looks more like a typical Mac application.
---
Other or No Interface [7]
Something that doesn't fit any of the above categories. Generally just really, really different ... or no interace (i.e. no toolbar, buttons, sidebars, or even a window). The list:
Chess, Dashboard, GarageBand, Stickies, Bluetooth File Exchange, Grab, Installer, Terminal,
There's no screenshot here, of course, as these programs all vary so much. And that's not necessarily a bad thing -- each has a specific purpose, and its customized (or non-existent) interface.
So What's Next?
Only Apple knows, of course. But as a user, I hope to see the five main interface types reduced to simply two: one for all "non-pro" apps, based on the new "Smooth Metal" look, and the somber-looking Professional application interface. The other existing looks could easily be changed into the Smooth Metal look, with minimal user disruption (functionality wouldn't have to change, just the GUI elements). Finally, calling out the Finder in particular, there's got to be a better way to go from Toolbar to No Toolbar other than the complete shock of a heavy-metal header vanishing and leaving a largely pure white window. I don't have the answer, of course, but hopefully someone does.
None of these differing interfaces is enough to make me consider another platform, of course. It's just that I'd enjoy the experience that much more if the look of all the bundled applications were consistent ... and don't even get me started on Java's different interfaces (I'll save that rant for another day).