For the past few years on April Fool's Day, I've run some sort of prank announcement on macosxhints.com--everything from switching to WindowsXP hints to the triple-CPU G5 Cubed to running OS X on an iPod to this year's 30th Anniversary Mac.
When thinking about what to do for this year, the Apple Music/Apple Computer lawsuit was getting a lot of press. Using that as the setup, I thought I'd run a cool story about a new Apple/Apple agreement that would finally put Beatles music on iPods. I even went so far as to mock up a line of special edition iPods created just for the occasion. Ultimately, I trashed the concept and went with the Intel/PowerPC Mac, but I thought I'd share the Beatles Special Edition iPod designs here (click the image for a larger version):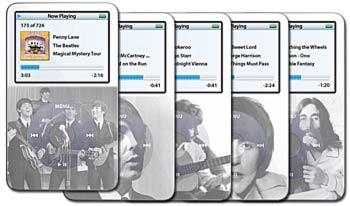 I had written up most of the story, too, but that's long since gone. The only other thing I have left is the sales flyer sheet I put together with some specs on the units--you can see the full-size flyer by clicking on the small image at the top right of this story. You'll see a full view of each iPod, along with some tech notes about the units. Be aware that the full-size image is a 173KB PNG file, so those with modems (are there any of you?) may wish to avoid doing that.
In the end, I felt the Intel/PowerPC thing would be more interesting, so that's what I went with. But when I look at the custom iPods, I think "geez, if Apple offered some sort of custom iPod image silkscreening feature, I'd probably buy one." I think they'd look much more interesting than the current plain black or white versions, based on looking at even my relatively poor Photoshop work. And it'd be a nice way to customize your unit, by including an image of your choice directly on the machine itself.