At home, our network routing and firewall is handled by an open-source software package called pfSense®; it has a ton of features, and is relatively easy to configure. I built a mini PC (a box roughly 9" per side) for pfSense, and it's been running smoothly for over five years1I'll be writing more about pfSense and my routing PCs in a future post..
While it's not the world's loveliest box…ok, so it may be the world's ugliest box…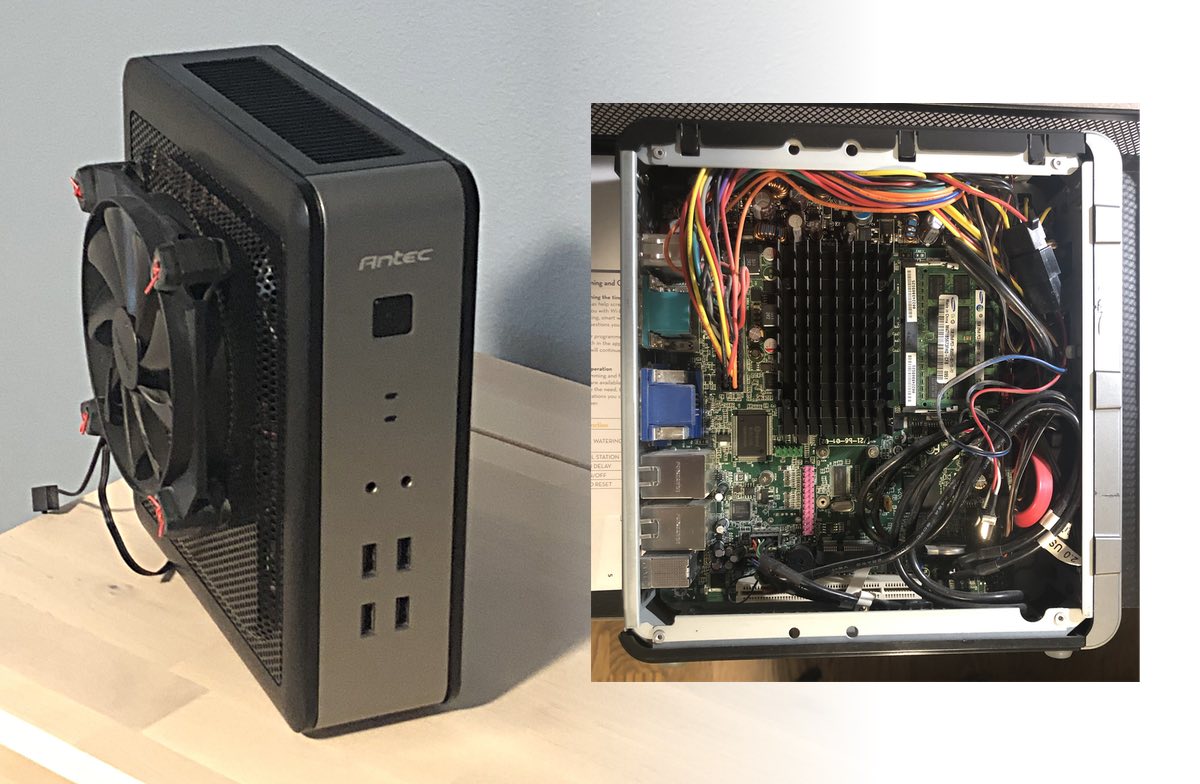 …it's been rock solid since day one. However, it's aging and its CPU won't be supported in an upcoming pfSense release, so I decided to replace it. (That way, I'll have a spare if the new one breaks…at least until that unsupported version of pfSense is released.) Here's the new box…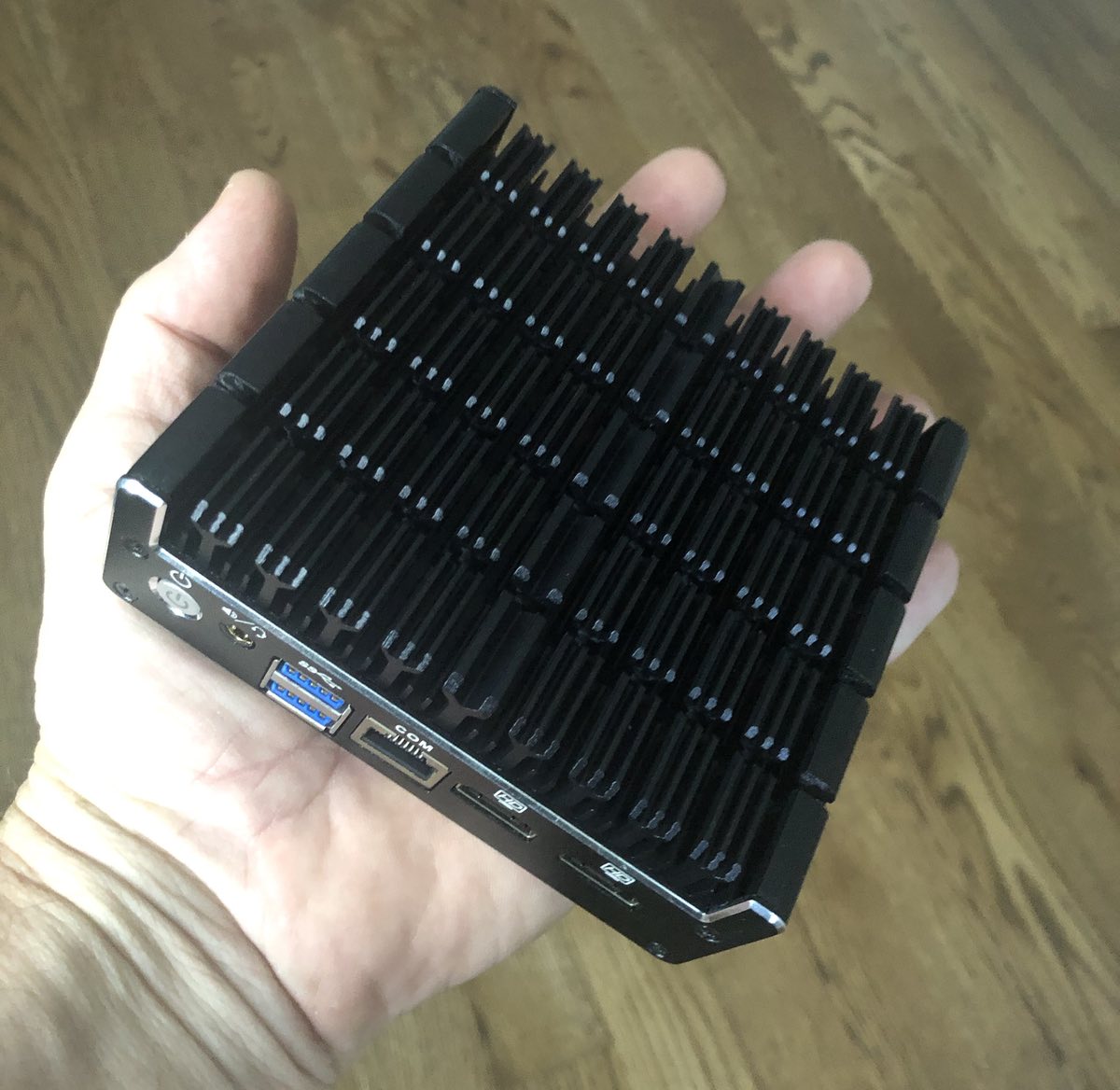 That's a Protectli fanless Firewall Appliance with a quad-core Celeron J3160 CPU, 4GB of RAM, and 32GB of storage. And yes, it's just a bit smaller and more elegant than my old box—the entire thing is roughly the size of my old box's external cooling fan.
And therein lies the point of this post: The Protectli is a fanless design, so cooling is all via the huge heat sink on top of the thing. After I got everything configured and running, the temp report in pfSense looked liked this: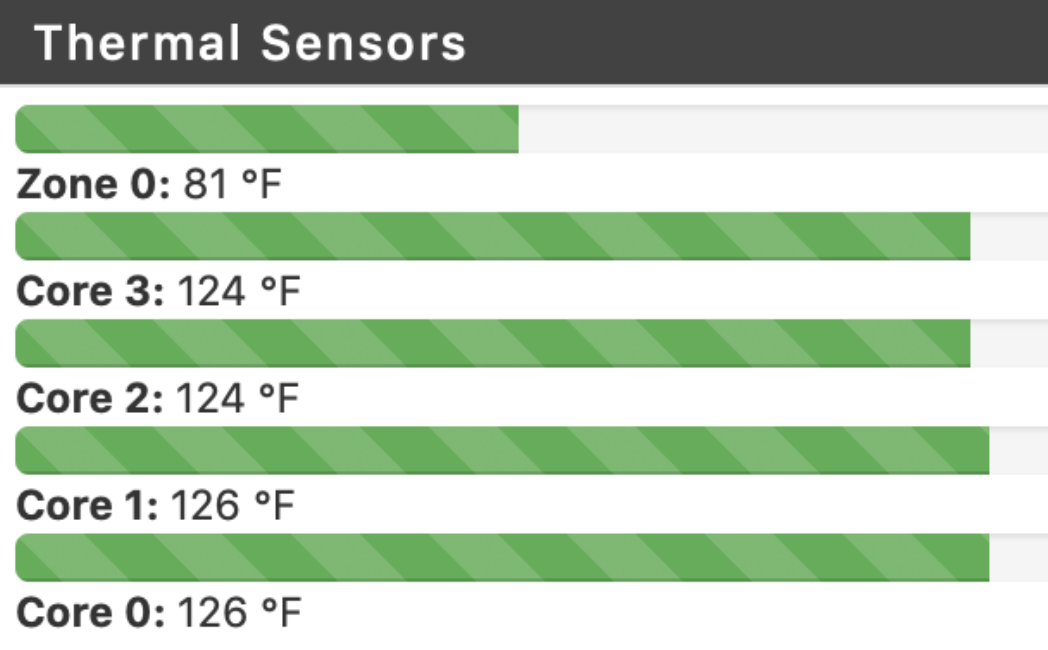 Not shown is the overall average temp, which was in the 120F to 125F range. My old box—which had a dual-core Atom—ran much cooler, at around 100F overall. (It lacked the multiple temperature sensors of this newer CPU.) The Celeron J3160 has a temperature design limit of 194F, so in theory, there's no danger of overheating. But I generally figure if something's running cooler, it should last longer, so I was curious as to what impact a small fan would have on the temperature figures—a big heat sink is great (convection FTW!), but a fan the moves the hot air off the heat sink (thereby replacing it with cooler air) helps cool things even more effectively.
Searching Amazon, I found this USB-powered cooling fan…or rather, dual cooling fans: I thought it was two separate fans (I only needed one), but it's two fans wired together. For now, I have the other one just sitting on another shelf; assuming I want to keep this setup, I'll either perform surgery on the USB cable or swap it for the single-fan version.
I placed the fan on top of the Protecli box, with the airflow upwards to move the warm air away from the heat sink. I set the fan's speed to its lowest setting—it's inaudible from more than a few inches away. I wasn't expecting much from a slow-running tiny fan, but after 15 minutes or so, the temps had stabilized at these levels…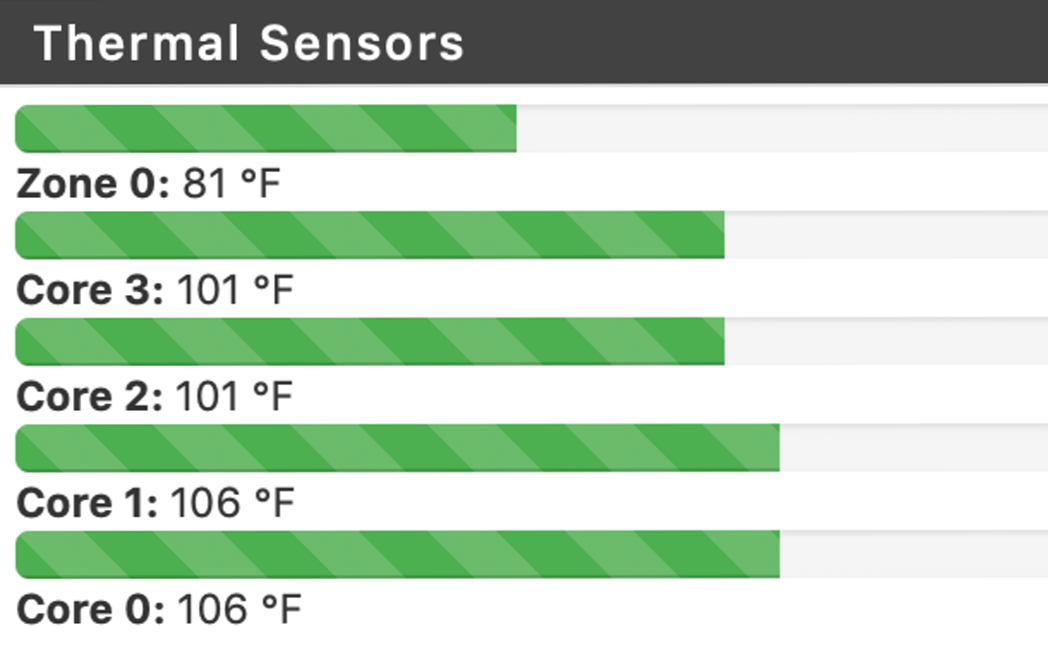 I don't know what/where Zone 0 is, but it remain unchanged…but the four CPU core temps all dropped dramatically, over 20F on each core. The overall temperature fluctuates between 98F and 103F, basically where it was with my previous box. I knew moving air would cool the box…I didn't know such a small amount of air would do so this effectively. So for now, at least, my elegantly-tiny new router also now features an external fan, just like its predecessor…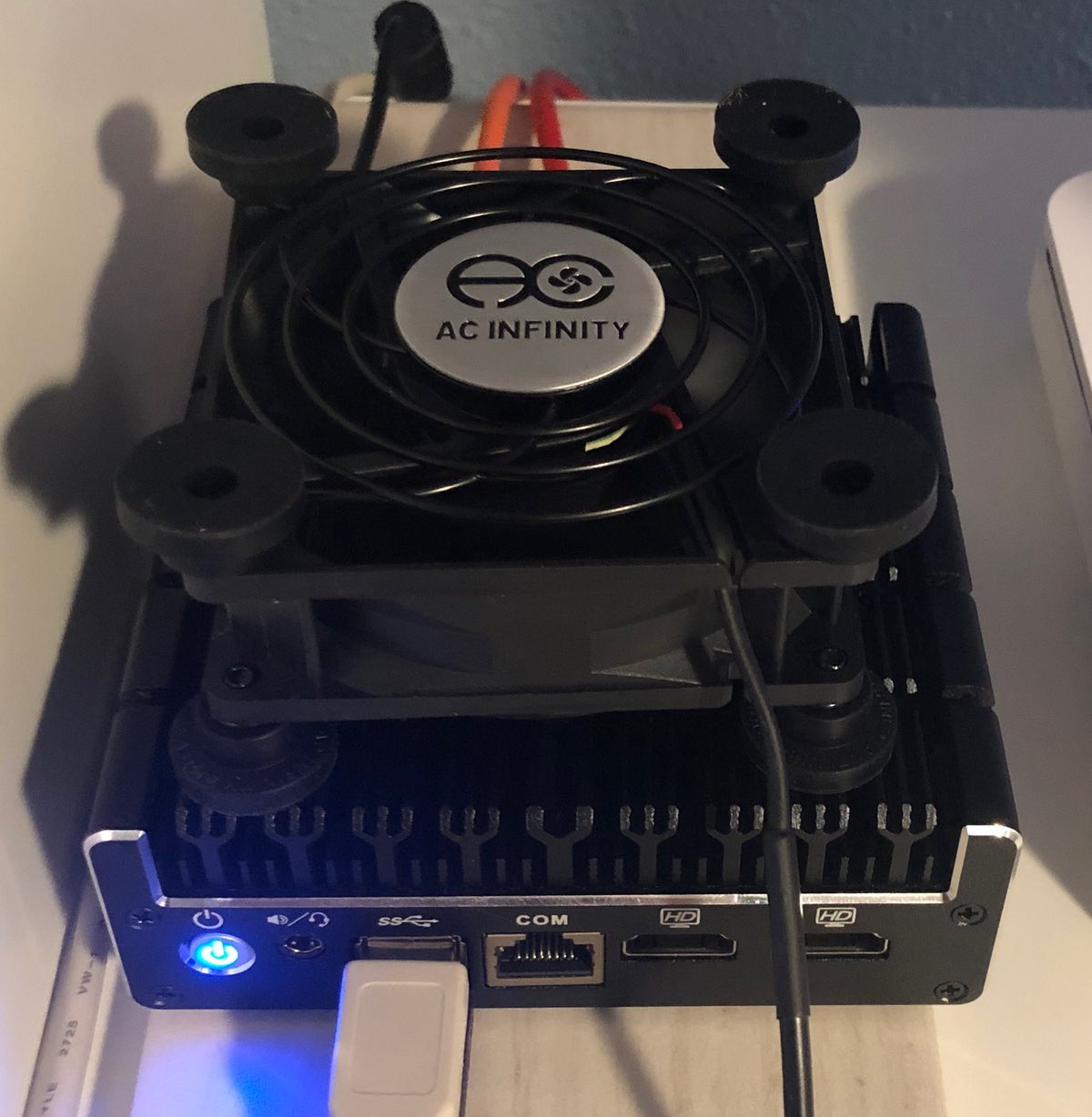 Function rules over form in my house, that's for sure.