As part of my job, I occasionally have to make screencasts, usually demonstrating features in our various apps. Sometimes I need to record the entire screen, as I'll be demonstrating things that require activating and selecting menu items. I have a demo account I use for these recordings that lacks all of my usual menu bar add-ons, so the look is quite clean.
And in versions of macOS prior to Big Sur, I also hid the menu bar clock (via System Preferences → Date & Time → Clock, uncheck "Show date and time in menu bar.") But in Big Sur, the menu bar clock is also the button you click to open Notification Center…so there's no way to remove the clock from the menu bar.
Most of the time, this isn't a problem. But when recording screencasts, it's a big issue. I often record segments across days, and at multiple times a day. I then splice those bits together, often times not in a linear fashion. With the default Big Sur settings (displaying the full date and time), this leads to a real annoying time travel experience as the clock jumps around like crazy.
The following two tips help greatly with this problem, though being able to hide the clock entirely would be a much better solution…
Tip #1: Simplify the date and time display
The first thing to do is to simplify the menu bar clock, so it takes up much less room, and more importantly, no longer shows the full date—and the actual time isn't nearly so precise. Open System Preferences, then go to Dock & Menu Bar, and scroll down to the Clock section: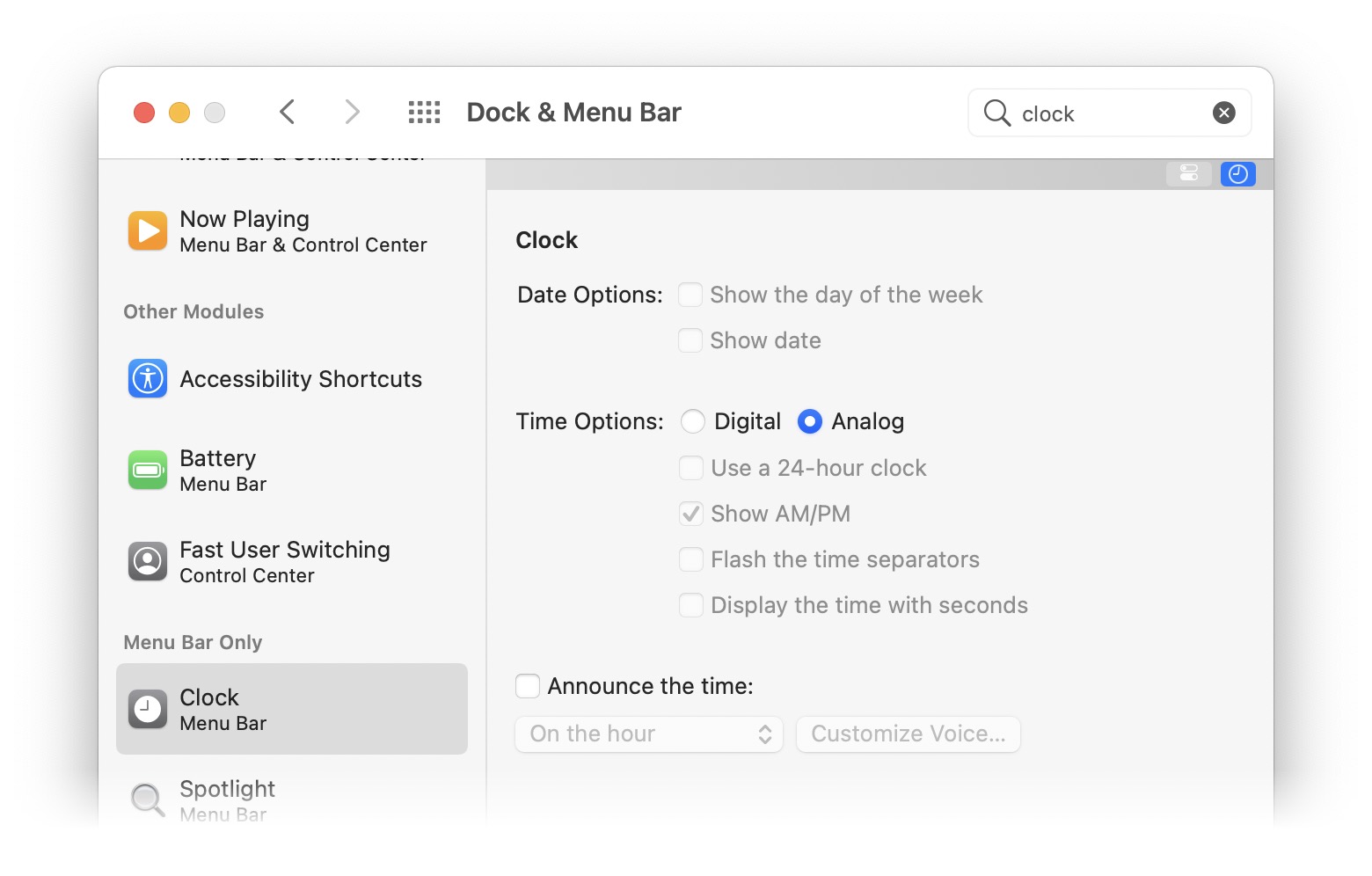 As seen in the screenshot, you want to uncheck both the Date Options boxes, and switch the Time Options to Analog. At the top right of the window, you'll see a preview of the new much simplified analog clock (in blue highlight above).
If you're making a short screencast, one that you record in one shot and don't splice together, this is probably enough—the clock may move slightly in the finished product, but it won't be distracting. But if you're recording over days, and/or at various times of the day, you'll want to add the second tip…
Tip #2: Fix the clock with a fixed clock
As I use ScreenFlow to record and edit my videos, this tip is specific to that app—but it's general enough it's quite easy to adopt to any video editor with track support.
To put an end to random time travel in my videos, I've added a still image of the menu bar clock as the topmost track in my project:

To do this, I used screen capture's region capture mode to capture just the clock and a bit of surrounding menu, which gets saved as a PNG image. I then imported that file into ScreenFlow's media manager, and dragged it to the timeline. I then positioned the fake clock directly over the real clock in the preview window, and that was that.
Note: I have reduced translucency enabled, which is why the menu bar is gray—I find it annoying to have a tinted menu bar. This same trick should work with the translucent menu bar, as long as you don't let the desktop picture change while recording.
I was afraid there might be some sort of visual giveaway, but even zoomed in, it's a perfect match:

So if you're wondering why any upcoming Many Tricks' screencasts seem to be frozen in time, now you know.