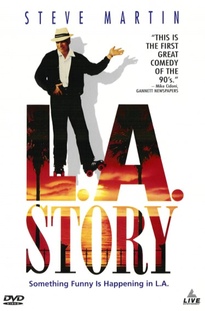 L.A. Story (1991) is one of my favorite Steve Martin movies, due primarily to its hilarious overgeneralization of the California lifestyle (but the story and performances are both also quite good).
Steve plays Harris Telemacher, a TV weatherman who spends most of his time doing comedy instead of weather because, hey, this is LA, and the weather never changes! Things are going great, until Harris loses his job. This causes a period of introspection, in which he gets assistance from a "talking" (by way of customized messages) freeway sign.
During Harris' journey, you'll experience number of jokes (both verbal and visual) about the California/LA lifestyle. These will be even more humorous if you know the city and its peculiar customs. As my dad lived in LA for a number of years, I found the movie spot-on in a number of its over-the-cop characterizations of the city.
Steve Martin wrote the film, and both he and the supporting cast are wonderful. Marilu Henner plays his cheating girlfriend, Sarah Jessica Parker is a stereotypical "valley girl," and Victoria Tennant (Steve's real-world wife at the time) has a great role as tuba-playing British journalist.
If you've never seen it, and you're familiar at all with the "California lifestyle," L.A. Story is well worth a watching. (At the time of this writing, the movie doesn't seem to be available on Blu-ray; however, both iTunes and Amazon streaming have the HD version.)