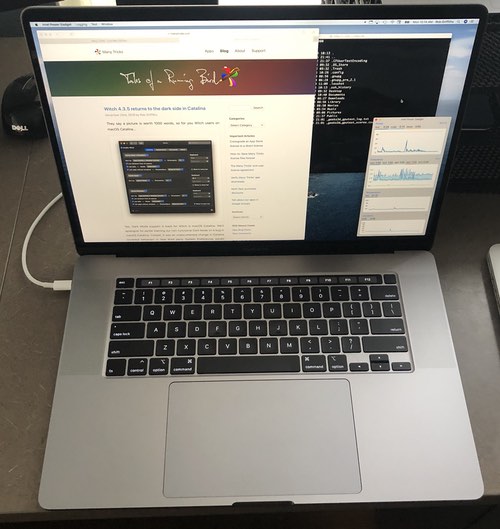 Despite my hatred for the Touch Bar, I recently purchased a new 16" Touch Bar-equipped MacBook Pro (and promptly did my best to minimize the Touch Bar's annoyances). Why buy a machine with an interface I dislike? There are a number of reasons…
First and foremost, I've decided it's not really worth the effort to maintain two laptops—my old 2013 MacBook Pro is used for beta versions of macOS, so that I can test Many Tricks' apps, and my 2018 Air is my travel and "around the house" machine.
With the new APFS filesystem, though, creating additional volumes (basically equivalent to a partition in the old world) is really simple, and with ultra-fast solid state drives, rebooting is relatively quick.
So it's my intent to replace both machines with the new MacBook Pro. Yes, it'll be more of a pain when I travel (heavier and bigger), but I don't travel a ton, and even when I do, I do most of my work in hotel rooms, not in airplanes. And I'll appreciate the larger screen and improved performance, in exchange for lugging a bit more weight around.
What follows is a look at my new portable Mac, comparing its performance with both the 2013 MacBook Pro and the 2018 MacBook Air—similar to what I've done for that same MacBook Air and my 2019 iMac (Part One, Part Two, and Addendum).