Last weekend, I was working on a relatively large--OK, a huge--17.8GB QuickTime movie. This was the raw capture of 35 or so minutes of flying time in X-Plane.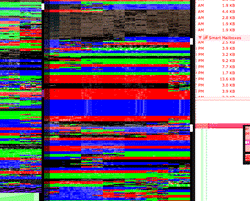 I had the original movie open in QuickTime Player, and I had also exported a notably smaller (200MB) H.264 version, which I was playing with in Motion. Then, for no apparent reason, all heck broke lose--both screens on my system suddenly went 70s psychedelic on me, as seen in the grab at right of a portion of the screen (click for full-size).
In addition to the messed-up colors, things were also not in the right spot on the screen--you can see this with the location of the Smart Folders object in the large screenshot. The system seemed to be working fine; I just couldn't make anything out on either screen--except the menubar (but not the menus themselves). So I used Command-Tab and the 'Q' key to quit various running apps, including QuickTime and Motion.
After quitting nearly everything I had running, the screen returned to nearly normal--the only remaining issue was that objects' shadows were really messed up, showing pieces of other windows instead of a fuzzy gray/black shadow. I logged out and back in, and that fixed that issue.
What this reminded me of, more than anything, was mucking about with my Apple ][ back in the day--if you "poked" some data into the wrong memory locations, you could mess up your display in quite a creative manner! It almost seemed like that's what OS X was doing--I had used all the available RAM, so it started using the video card's RAM for storage instead. Yes, I know this isn't possible, and it's in no way what happened.
Anyway, in five years of OS X usage, this is by far the oddest visual distortion I've ever seen, so I thought I'd share. I was quite impressed that the system itself was still usable--I have yet to restart since that incident, in fact, and all has been fine after the re-login.