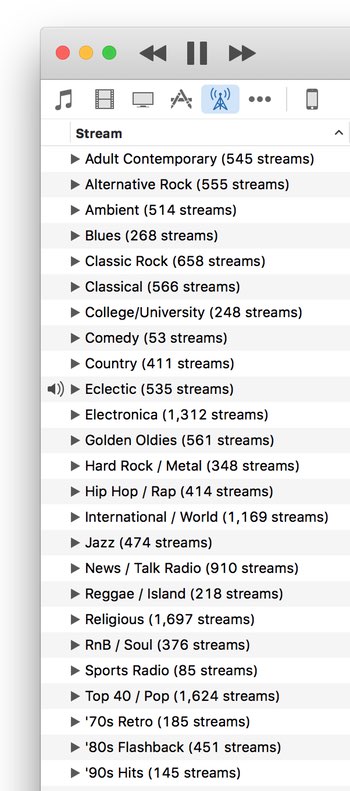 In case you missed the news, Apple has now officially ended the free streaming of iTunes Radio. To listen to these stations now, you have to subscribe to Apple Music, which isn't something I want to use. (If they offered a "use but don't integrate into library," I'd subscribe in a heartbeat…but they don't.)
There are any number of other radio services out there - Pandora, Spotify, etc. But I wanted something that existed in iTunes, as I didn't want to have to run another app, nor (shudder) use my browser as a radio station front end. Then I remembered that iTunes has a huge—as in tens of thousands—assortment of Internet Radio stations.
I hadn't looked at internet radio in a long time, as I'd been quite happy with my selection of iTunes Radio stations. But Apple's move inspired me to take another look, and so far, I like what I've found. If you'd like to explore the world of Internet Radio in iTunes, here are a few tips to ease the exploration.
In newer versions of iTunes—I'm not sure how new, probably with 10.12 or 10.13—you'll need to follow the Newer iTunes Versions section. Older versions of iTunes, well, yea, read the Older iTunes Versions section. Regardless of which iTunes version you have, make sure Internet Radio is enabled—open iTunes Preferences, go to Restrictions, and insure that the Internet Radio box is not checked in the Disable section.
Newer iTunes Versions:
Make sure you're viewing your Music library, then hover over the word Library in the sidebar. This will reveal an Edit button; click that, and you'll see a list of customizable entries for the Library section. Make sure there's a checkmark next to Internet Radio (there won't be by default):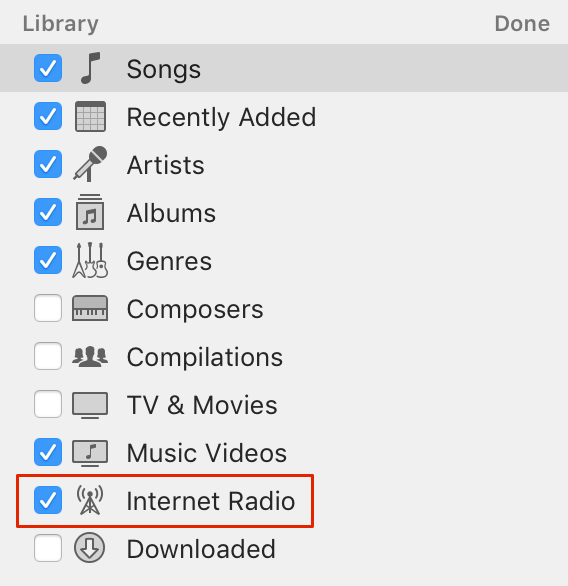 Older iTunes Versions:
To view the station list, you'll probably have to click the three dots in the iTunes icon bar and choose Internet Radio from the pop-up menu. To make it simpler to access Internet Radio, select Edit from the three dots' pop-up menu, and then check Internet Radio: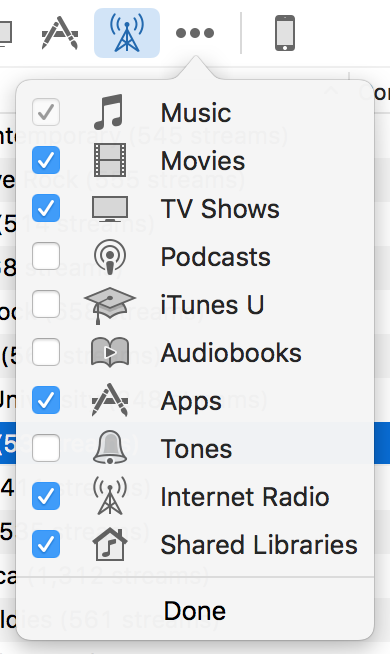 From now on, Internet Radio will appear in the iTunes icon bar, alongside Music and Movies, etc.
All iTunes Versions:
You can add any station to a playlist by dragging it to the left edge of the iTunes window (or onto the Playlists header in newer iTunes versions); when you do this, the iTunes sidebar will slide out, and you can drop the station on an existing playlist, or into a clear area to create a new playlist. (Can I just mention how much I hate hidden UI like this? It's horrid!)
You can then access these playlists while viewing your Music, where the sidebar can be set to be permanently visible.
The audio quality of a station's stream depends on its bit rate, but by default, that information isn't displayed. To remedy that, right-click on the header bar (where it says Stream and Comments), and select Bit Rate from the pop-up menu. Once visible, click on that column, and you can sort by bit rate to find the highest-quality streams: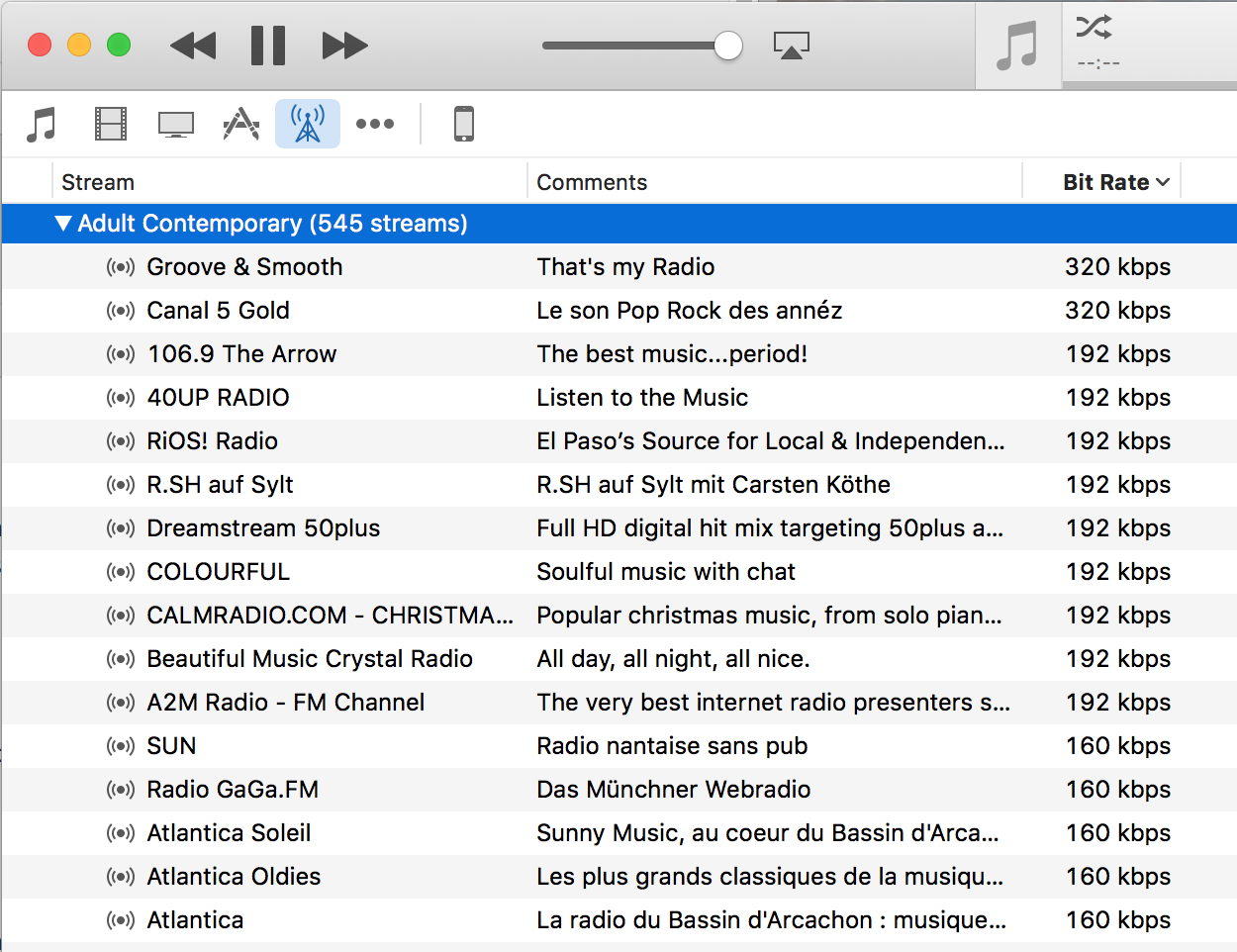 I find anything down to 128kbps sounds OK on my desktop speakers; below that, things take on a decidedly "AM radio" quality.
I've only been playing with Internet Radio for about a day, but I've already found a number of stations that are working well to replace those I used in iTunes Radio…and that play more music with less idiotic blathering than Beats 1.