Over the years we've had our home, we've added some pull-out shelves to some of our lower kitchen cabinets. These work great in the narrower cabinets, making it easy to get to stuff in the way back. However, in wider cabinets, if you use two of the sideouts side-by-side, you give up a fair bit of space due to the sliders and baskets. And we seem to need every inch of storage space we can muster.
So I went looking for a full-width solution for our wider cabinets, expecting to have to pay a small fortune for a custom piece. After a lot of time visiting various sites, I decided to try Shelves That Slide, and we're very happy with the results…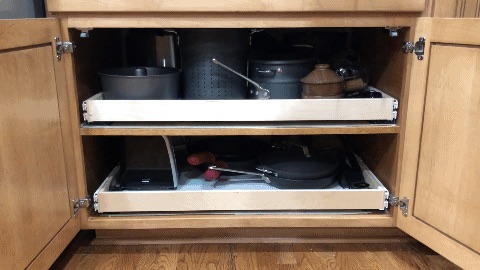 Why did we choose Shelves That Slide? Not sure, really, other than I liked the look of their product, the prices seemed fair, and they had some good customer testimonials on their site. (It wasn't, however, the modern professional appearance of their home page that sold me—and that's fine, I'd rather a company focus on what they do than waste time prettying up their web site.)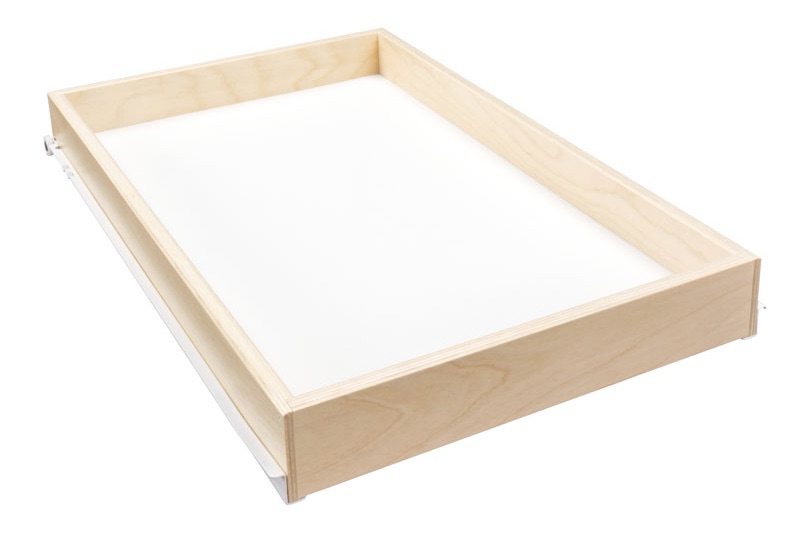 We chose the Premium model, as seen at right, as it can support up to 100 pounds per shelf. The shelves' sides are nine-play half-inch laminated Birch, while the bottom is 1/4" MDF, covered with a white easy-clean coating.
For the slides, we went with Blum full-extension sliders. These are not as nice looking—nor as smooth-rolling—as the ball-bearing models, but they add strength to the shelves, as they attach to the edge and bottom of each shelf. and are covered with a lifetime (instead of five-year) guarantee.
I measured everything out and submitted my order for five slide-outs; they recommend you measure and order one first, to make sure you're doing it right, but I'm not a smart person, so I went all in. Amazingly, all my measurements were spot on, and all five shelves fit perfectly.
The installation went very quickly, once I stopped trying to use their instructions. They recommend you put the slides/mounts in the cabinet loosely, then attach the shelf and position. I tried it this way with the first one, and it was really tricky. For the rest, I assembled the slides onto each shelf, then just lifted the whole assembly into position. I found this method much easier.
Keep in mind you will lose some space with the slideouts—they sit about a half-inch off the underlying shelf, and you lose the edge space on each side due to the slide hardware. For us, being able to reach stuff at the back of each shelf makes this tradeoff well worth it.
The best part of this project is that it was nowhere near as expensive as I figured. The small slideout I linked above from Amazon is $60; these drawers ranged from $75 for the smallest (24" wide) to $85 for the largest (34"). Not inexpensive, but very fair when compared to the much smaller unit. With a 100 pound weight limit, they should work just fine in our kitchen for years to come.