In 1909, Henry Ford described his philosophy on offering customers different car colors:
Any customer can have a car painted any color that he wants so long as it is black.
While paint is no longer only available in black, it seems that car interiors are—or at least, they might as well be. And to me, that's a shame—I really dislike dark interiors. (They get overly hot in the sun, they show every single scuff, and they hide some lovely design details. They can also make interiors feel much smaller than they are.)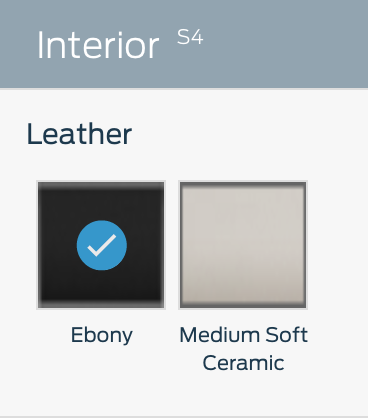 You'd never know this is a problem, though, when you start looking at cars on manufacturers' web sites. Visit most any car maker's web site, and for most any car you're interested in, you'll see a mix of available interior colors—black, grey, tan, brown, red, etc.
Using the ubiquitous configuration tools on such sites, you can mix and match your exterior and interior colors to get what you want. (Not all interior colors will be available with all exteriors.) For me, of course, I build with light interiors.
But if you want to actually buy the car you've designed, and you like light interiors, you'll find you'll probably have to custom order your vehicle. Why? Because dealers (at least in the USA) don't stock the light colors.
To demonstrate how hard it is to find light-colored interiors on dealers' lots, a while back I looked the dealer inventories for Audi's A3 Sportback e-tron and Ford's Fusion.
For Ford, which has lots and lots of dealers, I took a random sampling of dealers in Washington and Oregon. For Audi, with comparatively few dealers, I used all dealers in those two states. The results speak for themselves:
| Car Model | Total Inventory | Black Interior | Not Black Interior |
| --- | --- | --- | --- |
| Ford Fusion | 451 | 406 (90.0%) | 45 (10.0%) |
| Audi A3 e-tron | 104 | 96 (92.3%) | 8 (7.7%) |
| Totals | 555 | 502 (90.4%) | 53 (9.6%) |
Overall, out of 555 vehicles, only 53 had non-black interiors. Those aren't good odds if you're looking for a light interior vehicle. At first, I thought this might be a regional thing, so I looked further at the Audi dealers: I was certain that the mix would differ in the super-warm desert cities of Phoenix and Tucson.
Nope; Phoenix had two of 25 non-black interiors (8%), and Tucson had one of five (20%). Intrigued, I then expanded my Audi search to every dealer west of (and including) Montana, Wyoming, Colorado, and New Mexico. That's 62 dealers with an inventory of 752 e-trons.
What did I find? Pretty much the same thing: 89.5% of the 752 cars have black interiors. I then spot-sampled some dealers on the east coast, and found the same general mix. Why is this, you might ask? It's because that's what the dealers order, because they look good in showrooms and don't show as much wear from test drives, apparently.
Basically, if you don't want a black interior on the major investment that is a new car purchase, it's a lot of work. When we bought our Subaru a few years back, I flew to Idaho, where they had the only light-colored-interior version in a three-state area. Some dealers may be able to do an inventory swap with another dealer to get your car. Barring getting lucky or a dealer swap, though, you'll have to custom order if you want a light interior. (And some manufacturers, like Honda, won't even let you custom order.)
Have I mentioned how much I dislike black interiors?