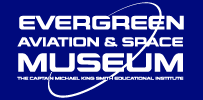 If you're an aviation enthusiast (as I am), and you're ever in Oregon, you owe yourself a trip to the Evergreen Air and Space Museum.
Despite living here for nearly 20 years, I'd never been until last week. The kids had a day off school, and we had some tickets we'd bought during a fundraiser for OMSI, so we went and made a day of it.
The museum has a large collection (100+) of aircraft, all in impeccable shape. In addition, there's quite a collection of space memorabilia, including a full-size Titan rocket. The star attraction, though, is the Spruce Goose, Howard Hughes' massive flying boat. There's also a waterpark whose key feature is four water slides that drop out of the side of an actual 747, which sits on top of the water park's building. Our passes included cockpit access to the Spruce Goose as well as a tour of the cockpit of the 747 sitting on top of the waterpark.
As you might expect of an aviation enthusiast, I snapped a ton of pictures. The more bearable of my efforts can be seen in this album (set to open in a new window). You can navigate with the on-screen buttons, the arrow keys, or by clicking directly on each image; you can also resize your browser window, and the image sizes will adjust.
If you enjoy all things aviation, you should put the Evergreen Air and Space Museum on your list; it's definitely worth the time and effort it takes to get there.