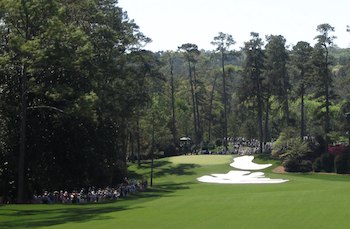 If you're a golf fan, these are the greatest four days of the year; it's time for the 2014 Masters. With Tiger Woods out this year, who will win? I honestly have no idea, but here's some interesting history.
Tiger Woods has missed only four majors in his professional career (pretty amazing, given his injuries and personal issues, I'd guessed way more than that). Here's the full list, along with those events' winners:
2008 British Open: Padraig Harrington
2008 PGA Championship: Padraig Harrington
2011 US Open: Rory McIlroy
2011 British Open: Darren Clarke
See a trend there? Padraig Harrington is from Ireland; Darren Clarke and Rory McIlroy are both from Northern Ireland. So if you're the betting type, put your money this week on Rory, Darren, or Graeme McDowell, the only three golfers from those countries in this year's event.
If you want to extend things a bit, you could add David Lynn, Ian Poulter, Matthew Fitzpatrick, Garrick Porteous, Luke Donald, Justin Rose, or Lee Westwood (all from England). Or maybe Stephen Gallacher (Scotland) or Jamie Donaldson (Wales).
If you're into the long shots, but want to stay with the odds when Tiger's out, go with Ian Woosnam (Wales) or Sandy Lyle (Scotland).
Regardless of who wins, I'm certain we're going to see four days of the best players on the greatest course in the world. Related: You can keep the leaderboard onscreen if you'd like to keep one eye on the action (and you have the excess screen real estate).