In general, I don't use Safari—mainly because I'm addicted to the add-ons I get with Chrome and Firefox. (Yes, I know Safari has extensions…but they're underpowered and feature limited compared to what you can get in the other browsers.) However, during Masters week, Safari has a key role in my following the tournament, thanks to one key feature: web clip, i.e. Open in Dashboard.
While The Masters has an excellent iPad app, I don't like having the iPad locked into one app for hours at a time. So, to follow the leaderboard, I turn to Safari's Open in Dashboard feature, along with a favorite old Mac OS X Hints hint that allows me to drag widgets out of the Dashboard. Using these two things together, I can view the full Masters leaderboard, floating in a window all its own.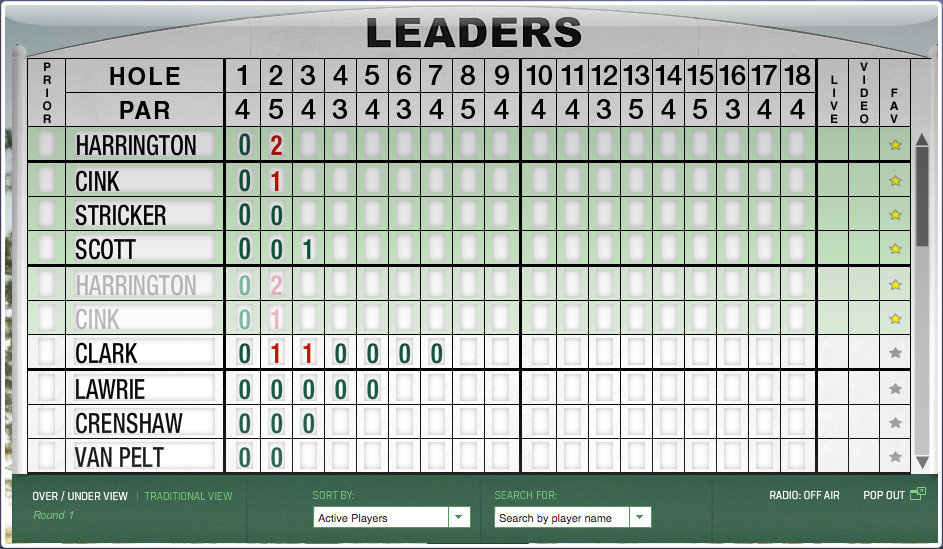 Best of all, the interactivity of the leaderboard is preserved, so I can re-sort the list, expand a player's scores, and do all the other things I can do on the actual leaderboard page.
Note that you'll need some spare monitor space for this trick: the dragged Widget floats over every other window, so it will get in the way if you're using, for instance, an 11" MacBook Air.
If you'd like to do the same, here's how…

Implement the referenced hint, so you can drag Widgets out of the dashboard.
In Safari, open The Masters' leaderboard page.
Select File > Open in Dashboard, then hover your mouse over the main leaderboard area (it will highlight), then click Add in the purple bar at the top of the window.
Dashboard will open, showing the leaderboard in its own window. Now start dragging that window, then press F12 to exit Dashboard. The dragged window will still be with you; drop it where you'd like to keep it, and you're done.
You can quit Safari at this point; once the web clip is created, you don't need Safari running.
Note that web clippings like this are ephemeral—if you close the widget, you'll have to create it again from scratch. You can also drag it back on the Dashboard, by reversing the process: start dragging, press F12 to activate Dashboard, then release the drag.