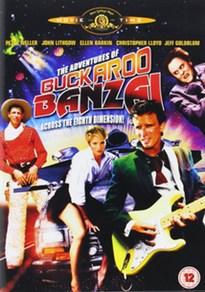 The Adventures of Buckaroo Banzai Across the Eighth Dimension (1984) has perhaps the longest name of any movie I've seen—so long, in fact, that I had to truncate it for use in the title.
Anyway, the titular character, played by a very young Peter Weller (Robocop was still three years away), is a Japanese/American race car driver…and a neurosurgeon…and a rock star…and a comic book hero. He also dabbles in scientific invention, and has created an oscillation overthruster that allows him to travel into and out of the eighth dimension. Confused yet? Try watching the trailer. It actually won't help your confusion any, but it gives you a good taste of what the movie is like.
The movie waivers between a satire of sci-fi movies and a rollicking good sci-fi adventure movie. You may have to watch the movie a couple times to begin to have an understanding of what you've just seen. But that's not a bad thing, because the cast here is full of great actors, many in their early- or even pre-fame days. You'll see Jeff Goldblum, John Lithgow, Ellen Barkin, Christopher Lloyd, and a few other faces that may be familiar, even if the names are not. (Keep an eye out for Vincent Schiavelli, the ghost from Ghost, for instance.)
The story is convoluted, some (ok, most) of the special effects are cheesy and cheap looking, and you're never sure whether to take the movie seriously or not. But it all moves at a good pace, and there are numerous funny bits to keep you wondering what's going to happen next. And hey, you'll probably never see another movie whose lead character is a neurosurgeon, race car driver, and a rock star, right?