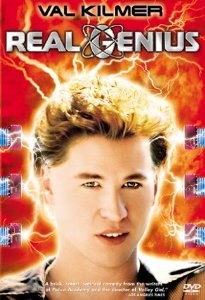 I cannot recall the first time I saw Real Genius (1985), but it wasn't in the theater.
Whenever it was, the movie made enough of an impression that it became one of my fave comedies—something that's still true today. I owned it on VHS, I own it on DVD, and if it comes out on Blu-ray, I'll probably buy that, too. (I noticed while writing this that the iTunes version is listed as HD, so I may have to invest in that one.)
The cast is a bunch of names you've never heard of, except for a very young Val Kilmer. The plot centers on two geniuses at a college, working together on a laser project that just happens to have military applications.
There are any number of hilarious mini sub-plots running through the movie, and Val Kilmer is very funny as the older genius at the college. Toss in a guy living in the basement below the closet, a lottery fix, a sexy woman on a mission, ice skating in a dorm hallway, and a slew of one-liners, and you've got a recipe for a very entertaining 108 minutes of movie fun. Thought provoking? No. Well-developed plot? Not so much. But fun? Yea, it's got that to spare.