Update: macOS 13.1 brings the Locations feature back to macOS Ventura, so you can ignore this blog post. To use locations, open the Network section of System Settings, then tap the ellipsis with the down arrow at the bottom of the window: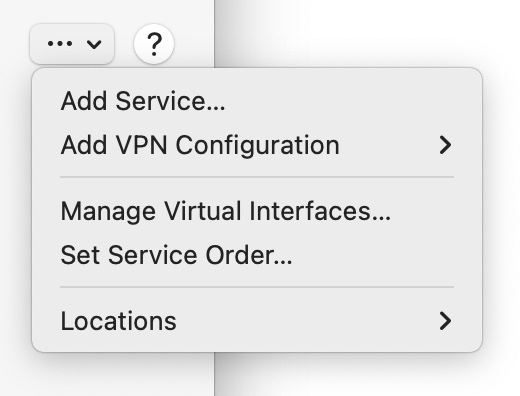 While this is still a bit hidden, it's much more usable than having to visit Terminal. I don't know why they vanished, but I'm glad Locations have returned from their brief hiatus.
This weekend, I finally migrated my 2019 5K iMac from Mojave to Ventura. There were many reasons for remaining on Mojave, starting with the fact that I liked the OS and it worked very well for me. But I also had a couple 32-bit apps I relied on, as well as a number of 32-bit games I enjoyed playing now and then. As time went on, though, there were more and more current apps that I couldn't update to the latest versions, as they all required something newer than Mojave.
(I wasn't a complete macOS luddite—my 14" MacBook Pro runs Ventura, and that's what I use when supporting Many Tricks customers.)
After the update, I remembered one of the bugaboos about Ventura: Apple, in their infinite wisdom, removed the Locations feature from the Network System Settings panel.
I use locations a lot, as they make it easy to switch between various network configurations. In my case, I have locations created that enable or disable my ad blocker, change my settings for when I'm on my VPN, one I need to use to set up my mesh router, and another for when I'm traveling. All of that seemingly gone.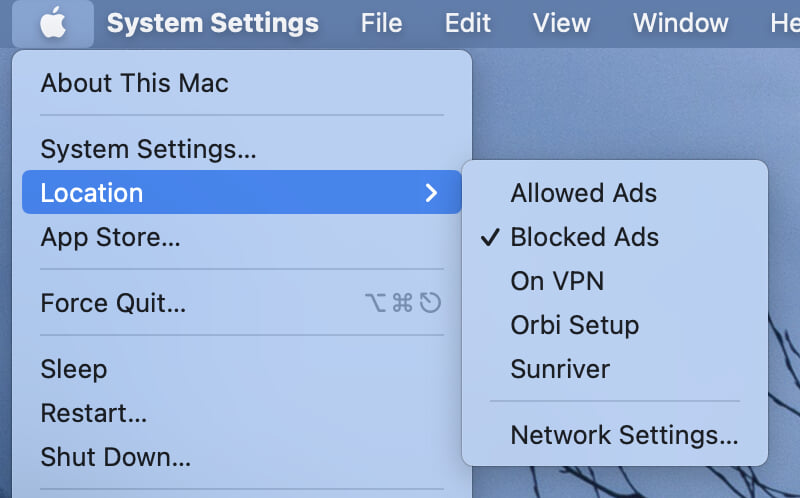 The good news, sort of, is that they're not really gone. If you had existing locations before installing macOS Ventura, you'll find them listed in a sub-menu in the Apple menu. (Note that they've been in the Apple menu a long time; I just never knew about it!)
This location for Locations makes a lot more sense, as it's much easier to get to. However, if you didn't have any locations, or you want to add, delete, or modify your locations, it appears you're out of luck, as there's no GUI to do any of that. But we do still have Terminal, and the locations code itself is still in macOS.
(I found the following in this post on Apple's discussion forum, but I'm replicating the key bits here in case that post ever vanishes.)
The key command is networksetup, and here are the relevant options from the man page:
 -listlocations
         List all network locations.

 -getcurrentlocation
         Display the name of the current set.

 -createlocation location [populate]
         Create a set with the user-defined-name name and optionally populate it with the default services.

 -deletelocation location
         Delete the set.

 -switchtolocation location
         Make the specified set the current set.

At this point, I haven't actually used any of these commands yet. From what I can tell, if you want to create a new location, you'd first use the createlocation option—if you include the populate bit, it will be created with default network settings, otherwise, it will be completely empty.
You'd then use the Locations entry in the Apple menu to select the new location, then open System Settings > Network and configure that location. I'm assuming that when you click OK and close the Network panel that all your changes are then saved with that location, but as noted, I haven't yet played around with this to see exactly how it works.