My friend Kirk McElhearn recently wrote about returning his iPhone 6:
I used the iPhone 6 for a week; I went back to the iPhone 5s on Friday, to see if I really liked it better. And I did.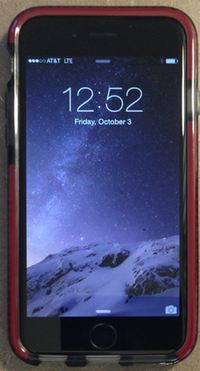 At the time Kirk wrote that, I didn't yet have my iPhone Six Plus—it was still on order. I do now have an iPhone 6, though, and I have to say that I think Kirk's passion for Shakespeare has muddled his modern-day thinking—he's probably out shopping for an abacus right now. As for me, well, there's no way my iPhone 6 is going back!
But I'm jumping ahead of myself, because as of this morning, I didn't actually have an iPhone 6. I still had an iPhone Six Plus on order, with a ship date expected between yesterday and October 13th. I was planning on waiting it out, but after numerous trips to both the AT&T and Apple stores over the last week or so, I decided that the Six Plus was simply too big—despite what I wrote earlier.
This morning, I called AT&T and canceled my iPhone Six Plus order (which they handled very pleasantly). I only did this, though, after using the "check availability" button in the Apple online store's iPhone section. We're lucky enough to have three Apple Stores in the Portland area, and the tool indicated I could find a space gray 128GB AT&T phone at two of the three (Bridgeport Village and Pioneer Place but not Washington Square).
All my previous iPhones have been secured on launch day, either via the mail or by waiting in line. I was curious how it'd go now, a couple weeks after launch. By the time I got my phone, I had been surprised a number of times.
Surprise #1: When I arrived at the Bridgeport Village store, there were about 15 people standing outside, in a queue area. I went in and asked if that was the iPhone line, and the rep said yes it was, and that it forms each day around 8:30am. If I were to come back at that time next week, I'd probably get a phone. Unfortunately, that time conflicts with getting the kids out the door for school.
Surprise #2: The rep told me they were out of phones. I had checked the Apple Store iOS app when I parked my car, and it indicated they still had phones. She told me they did not, and that the people outside were waiting to see what came in on delivery! She was somewhat surprised the app showed availability, but confirmed they didn't have any in stock. After talking with a supervisor, they noted that the app doesn't keep up with actual inventory.
Oh crud, what now? I called the Pioneer Place store, but hung up after being on hold for nearly 10 minutes. I checked the AT&T app, which told me that none of the 50 closest stores (50!) had any iPhone 6 models in stock. Now I was resigned to returning home and ordering online for a seven to 10 day delivery.
Surprise #3: I checked the Apple Store app one more time, and it was now indicating that the Washington Square store did have the 128GB space gray iPhone 6 in stock. The app still indicated the other stores had them, too, but this was a definite change in status for the Washington Square store. Hmm, maybe?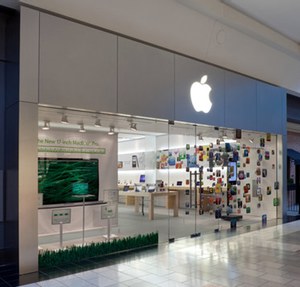 Before driving there on another fruitless search, I called the Washington Square store, and eventually got connected to a real person. (I find the human-like robot that answers the phone quite…eerie…but that's a story for another day.) The phone rep took a moment and confirmed that yes, they did have my particular iPhone 6 model in stock. However, she couldn't reserve one for me, so I had to get to the store as soon as possible.
Thankfully, Bridgeport and Washington Square are only about 15 minutes apart (maybe less if you're hustling for an iPhone), so I got there fairly quickly.
Surprise #4: There wasn't a line at the Washington Square store. Of the two stores on my side of Portland, this one's in an indoor mall, so you can wait without weather worries (Bridgeport is in an outdoor mall). I figured for sure they'd have a line, but there wasn't a queue to be seen.
Surprise #5: When I told the rep what I wanted, she replied, "Oh, I'm sorry; we don't have any iPhone 6 models in stock." Huh? Given I'd just talked to an employee at the store who had told me the opposite, this was definitely the biggest surprise of the day.
"Are you sure? Another rep I spoke to not 10 minutes ago told me that you do."
The rep seemed doubtful, but said "Hang on, let me double-check." After a minute or so of iPhone tapping, she looked at me with a very surprised expression on her face, and said "It seems we do have some in stock."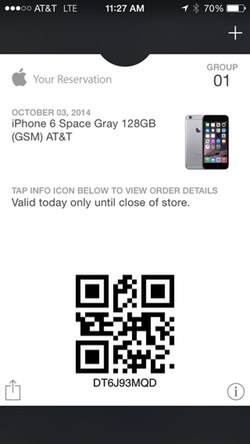 At that point, she texted a reservation to my phone; I'd never seen this before. It installed itself (after asking approval) in Passbook. I was then told to wait for another rep to complete the transaction.
So I wandered around and drooled on the Mac Pro for a while; eventually a new rep showed up, box in hand. Sure enough, there was my space gray iPhone 6. We then spent a few minutes going through screens on her iPhone point-of-sale device, getting everything done. I bought the phone using AT&T Next 18, in order to keep my monthly discount. I thought this might be troublesome, but the AT&T-Apple setup seems very well thought out.
Surprise #6: At one point in the process, she had to print the loan financing documents and have me sign them. After signing, she gave me the signed papers—the only physical copy I signed. I thought this odd, and said "Why do I have to sign them if you're just giving them to me?" She said "I'm not sure, but we have to see you sign it." I then agreed to the same terms on her iPhone, which seems to be the official record.
The whole process took about 10 minutes, maybe a bit less. I was then shuffled off to the personal setup table, where a rep helped me unbox the phone (perhaps so I didn't do this to it?), and offered to run through the setup with me. We went through just enough of it to activate the phone, and that was that.
I then stopped by the case section, and picked up a case for the phone—I was thinking I might just use this phone with a clear plastic back protector, but it's quite slippery. (More on the case I chose in a follow-up post.)
As an aside, I think the Apple Store is simply the best retail shopping experience on the planet—nowhere else I shop even comes close. They're very good at making you feel you're the most important person in the room, even when there are 500 others milling about.
I've only had the phone for a few hours now—I haven't even loaded up most of my apps yet. But in my brief time with it, I love it. The size isn't an issue for me to use the phone one handed (though I do hope they offer a four-inch iPhone 6S next year, as it'd be a boon for those with smaller hands), it's amazingly thin and comfortable in my hand, the screen is simply stunning, and the camera is terrific.
So while Kirk has decided the iPhone 6 is not for him, I'm having no such thoughts—my iPhone isn't going back to the store, except as a visitor!