Recently, I gave in to the urgings of a friend (and my father, who's been after me for years) and started watching Season One of the Fox drama 24. I had never seen an episode, but had been using my past experience with Fox television as a reason not to watch—the only thing on the network that I've ever liked was their football broadcasts. Nontheless, I gave in and asked for the first season of 24 for Christmas.
After I got home, I fired up the first show, and…was hooked in about 20 minutes. Since then, I've been staying up later than usual, and waking up even earlier than usual, and have managed to work my way through the first season and part of the second. But this post isn't really about 24; it's about 'artistic license' as applied by directors of TV shows and movies. In particular, one of the opening scenes in Season Two really caught my eye (click for larger image):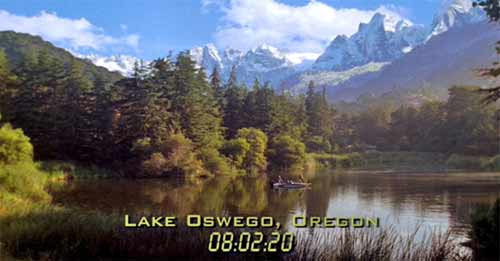 You see, Lake Oswego, Oregon is about 10 miles from where I live, and I guarantee you, it looks nothing like the above image.
First and foremost, there aren't any mountain ranges like that near Portland. Yea, we're part of the Cascade range, but we have precisely one large, local peak — Mt. Hood. (Mt. St. Helens is close, but further north and it's not much of a "peak" any more.) As you can see, there aren't any other peaks close to Mt. Hood:

The mountains in the background of the shot in 24 strike me as unlike most anything I've seen in North America, too—most of the Rockies aren't that jagged, until you get further north. If I had to guess, I'd say it might be somewhere around Jackson Hole, Wyoming, or perhaps somewhere in the Canadian Rockies. But the Alps might be just as good of a guess. Anyone have any ideas?
The second big issue is that Lake Oswego isn't nearly as rural as it was depicted. Yes, there's a lake there, but it's a mostly-human-made private lake surrounded by multi-million-dollar homes. There's even a big commercialized lagoon at one end:

Here's another shot of the lake and the downtown area:

As you can see, while it may be a smaller town, it's clearly not a middle-of-nowhere spot with nothing but trees, water, and mountains. A quick trip to Google Maps reveals that Lake Oswego sits about seven miles south of Portland, midway between two interstates. Hardly the rural escape depicted in 24.
I know directors take creative liberties all the time. But in this case, why go so far to make a real town look completely fictitious? They could have either used a fictitious name to begin with, or just chosen a more-realistic location. By my measure, it's about 820 air miles from Los Angeles to Lake Oswego. It's nearly that exact distance to Denver, meaning they could've used nearly any town in the Utah, Colorado, or southern Wyoming rockies without even altering the show's timelines. Anything other than Lake Oswego would have worked better as far as realism goes. Quite strange. It doesn't change the fact that the show is interesting and engrossing, but it does make me snicker each time the scene shifts to the "Northwest Operations Center."
I realize that this probably only bothered me because I know what the town should look like. But still, why go to the trouble of creating an entire mountain range where none exists, when the location doesn't seem to figure into the actual plot in any way (other than being remote from Los Angeles and DC)?