For those who don't know, the rules of golf only allow you to carry 14 clubs. But in my case, I do carry a 15th "club" in my bag: a ball retriever. If you don't, this little story might convince you that you should, too.
I don't know anyone who likes paying for golf balls. But most people do enjoy playing with nice, clean, new-looking balls. By carrying a 15th club that is a golf ball retriever, you can play with others people's nice new golf balls!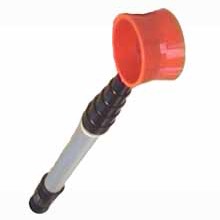 I carry JB's nine foot model, and its telescoping poles and simple head design have worked well for me. Expect to spend $15 to $50 for a retriever, depending on the length you desire, the design of the head unit, and the construction quality. Whatever you spend up front, with a dozen golf balls costing $20 to $60, your retriever will quickly pay for itself.
As an extreme example, I recently played at a course that features a creek that meanders between the last two holes. As I was playing alone, and way out in front of everyone, I took about 20 minutes to wander along this creek as I played the last two holes (see note below) I didn't walk the creek's entire length, nor did I retrieve every ball I saw. And my retriever is only nine feet long, so there were balls I could see but couldn't reach.
* Note: This is not something you could do during a normal round. During a normal round, I just walk near ponds and creeks, and if I see a ball, I'll quickly scoop it up while my partners are busy prepping for their shots. Using this technique, I can still collect up to 20 balls a round. If you're delaying the game due to ball collecting, you're doing it wrong.
So how many balls do you think I collected in that time, given those restrictions? Two holes, 20 minutes. 10? 20? 30? 50?